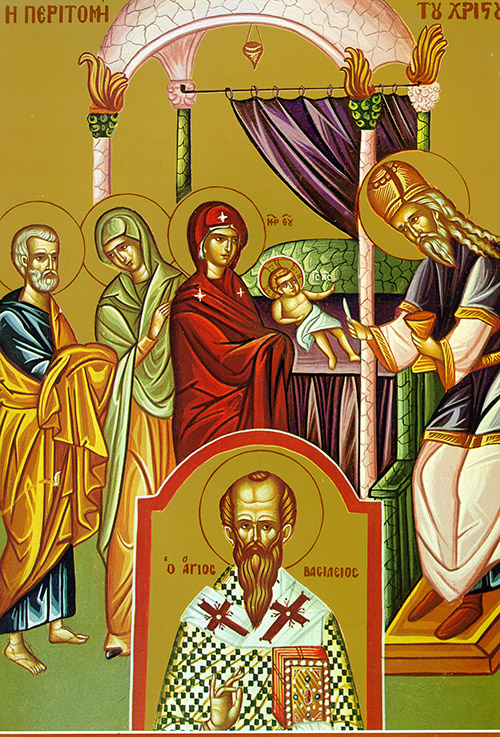 The circumcision of Our Lord, God, and Savior Jesus Christ.
Coming eight days after the birth of Christ, this feast commemorates his naming and his becoming a member of the Covenant of Moses.
Troparion
O Jesus, although You are seated on a fiery throne with the eternal Father and Your divine Spirit, You were pleased to be born of a virgin maiden, your Mother who has never known man. Therefore, as man You were also circumcised when You were eight days old. Glory to Your most noble decision! Glory to Your salvation! Glory to Your humility! You alone love mankind.
Kontakion
The Lord of all endures circumcision and being good, He cuts away the sins of mortals. Today He grants salvation to the world, and the bishop Basil, the Creator's morning star, rejoices; he has initiated into the mysteries of Christ.
Epistle
Colossians 2: 8-12
Brothers and sisters: See to it that no one deceives you through any empty, seductive philosophy that follows mere human traditions, a philosophy based on cosmic powers rather than on Christ.
In Christ the fullness of deity resides in bodily form. Yours is a share of this fullness, in him who is the head of every principality and power. You were also circumcised in him, not with the circumcision administered by hand, but with Christ's circumcision which strips off the carnal body completely. In baptism you were not only buried with him but also raised to life with him because you believed in the power of God who raised him from the dead.
Gospel
Luke 2: 20-21 & 40-52
At that time the shepherds returned to their flocks, glorifying and praising God for all they had heard and seen, in accord with what had been told them. When the eighth day arrived for his circumcision, the name Jesus was given to the child, the name the angel had given him before he was conceived.
The child grew in size and strength, filled with wisdom, and the grace of God was upon him. His parents used to go every year to Jerusalem for the feast of Passover, and when Jesus was twelve they went up for the celebration as was their custom… As they were returning at the end of the feast, the child Jesus remained behind unknown to his parents. Thinking he was in the party, they continued their journey for a day, looking for him among their relatives and acquaintances. Not finding him, they returned to Jerusalem in search of him. On the third day they came upon him in the temple sitting in the midst of the teachers, listening to them and asking them questions. All who heard him was amazed at his intelligence and his answers.
When his parents saw him they were astonished, and his mother said to him: "Son, why have you done this to us? You see that your father and I have been searching for you in sorrow." Jesus said to them: 'Why did you search for me? Did you not know I had to be in my Father's house?" But they did not grasp what he said to them.
Jesus went down with them then, and came to Nazareth, and was obedient to them. His mother meanwhile kept all these things in memory. Jesus, for his part, progressed steadily in wisdom and age and grace before God and men.
Our Holy father Basil the Great, Archbishop of Caesarea in Cappadocia,
who is called "great" in learning and wisdom. He taught meditation on the Scripture and manual work in obedience and fraternal love to his monks, and established a way of life for them in the Rules he wrote. He taught the faithful by his excellent writings and shone forth by his pastoral care for the poor and sick.
Troparion
Your voice resounds to the whole world which has received your word of instruction in divine dogmas. You explained the nature of creation and gave rules to order human conduct. O royal priest, O venerable father Basil, beg Christ our God to grant us His great mercy.
Kontakion
You have appeared as the unshakable foundation of the Church, leading all mortals to safe pasture in the Lord, and confirming them by your teachings, O venerable Basil, revealer of heavenly mysteries.
Epistle
Hebrews 7: 26 thru 8: 2
Brothers and sisters: It was fitting that we should have such a high priest [as Jesus]: holy innocent, undefiled, separated from sinners, higher than the heavens. Unlike other high priests, he has no need to offer sacrifice day after day, first for his own sins and then for those of the people; he did that once for all when he offered himself. For the law sets up as high priests men who are weak, but the word of the oath which came after the law appoints as priest the Son, made perfect forever.
The main point in what we are saying is this: we have such a high priest, who has taken his seat at the right hand of the throne of the Majesty in heaven, minister of the sanctuary and of that true tabernacle set up, not by man, but by the Lord.
Gospel
Luke 6:17-23
At that time, coming down the mountain with the twelve, Jesus stopped at a level stretch where there were many of his disciples; a large crowd of people was with them from all Judea and Jerusalem and the coast of Tyre and Sidon, people who came to hear him and be healed of this diseases. Those who were troubles with unclean spirits were cured; indeed, the whole crowd was trying to touch him because power went out from him which cured all. Then, raising his eyes to his disciples, he said: "Blest are you poor, the reign of God is yours. Blest are you who hunger; you shall be filled. Blest are you who are weeping; you shall laugh. Blest shall you be when men hate you, and proscribe your name as evil because of the Son of Man. On the day they do so, rejoice and exult, for your reward shall be great in heaven."
Icon images courtesy of Jack Figel, Eastern Christian Publications – www.ecpubs.com
Friday, December 31 –