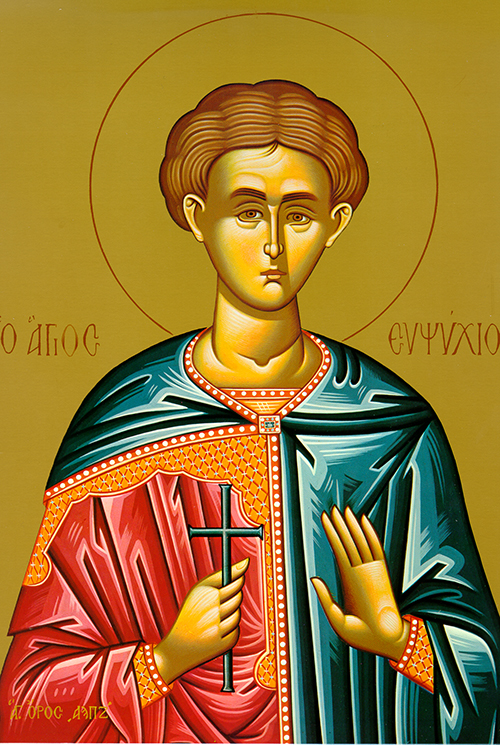 Eupsychius was of noble birth and was well instructed in pious beliefs. During the reign of Julian the Apostate, when St. Basil the Great governed the Church of God in Caesarea, Eupsychius entered into marriage with a prominent maiden. But alas, it was not given to him to live even one day in marriage. At the time of his wedding, it so happened that there was a pagan feast with sacrificial offerings to the idol Fortune. Eupsychius, with his companions, entered the temple, smashed all the idols, and even demolished the temple itself. Hearing of this, Julian became enraged and ordered that the culprits be beheaded, that many Christians be inducted into the army, that an enormous tribute be imposed upon all Christians, and that the city be deprived of it honorary name "Caesarea," given to it by Caesar Claudius, and be called by its former name, Maza. Eupsychius was first tied to a tree and brutally tortured, then he was beheaded in the year 362.
Troparion
O Lord our God, your holy martyr Eupsychius has deserved the crown of immortality on account of his good fight. Armed with your strength, he has vanquished his persecutors and crushed Satan's dreadful might. Through his supplication, O Christ our God, save our souls.
Kontakion
Having accomplished heroic deeds with a good spirit, you vanquished the enemy, O martyr. You received honor and miracles from God; therefore, the whole Church of the faithful praises you, venerating your memory from age to age.
Epistle
Hebrews 12:28-13:8
Brothers and sisters: We who are receiving the unshakable kingdom should hold fast to God's grace, through which we may offer worship acceptable to him in reverence and awe. For our God is a consuming fire.
Love your fellow Christians always. Do not neglect to show hospitality, for by that means some have entertained angels without knowing it. Be as mindful as prisoners as if you were sharing their imprisonment, and of the ill-treated as of yourselves, for you may yet suffer as they do. Let marriage be honored in every way and the marriage bed be kept undefiled, for God will judge fornicators and adulterers. Do not love money but be content with what you have, for God has said, "I will never desert you, nor will I forsake you." Thus we may say with confidence: "The Lord is my helper, I will not be afraid; what can man do to me?" Remember your leaders who spoke the word of God to you; consider how their lives ended, and imitate their faith. Jesus Christ is the same yesterday, today, and forever.
Gospel
John 11: 1-45
At that time there was a certain man named Lazarus who was sick. He was from Bethany, the village of Mary and her sister Martha. (This Mary whose brother Lazarus was sick was the one who anointed the Lord with perfume and dried his feet with her hair.) The sisters sent word to Jesus to inform him, "Lord, the one you love is sick." Upon hearing this, Jesus said: "This sickness is not to end in death; rather it is for God's glory, that through it the Son of God may be glorified."
Jesus loved Martha and her sister and Lazarus very much. Yet, after hearing Lazarus was sick, he stayed on where he was for two days more. Finally he said to his disciples, "Let us go back to Judea." "Rabbi," protested the disciples, "With the Jews only recently trying to stone you, you are going back up there again?" Jesus answered: "Are there not twelve hours of daylight? If a man goes walking by day he does not stumble because he sees the world bathed in light. But if he goes walking at night he will stumble since there is no light in him."
After uttering these words, he added, "Our beloved Lazarus has fallen asleep, but I am going there to wake him." At this the disciples objected, "Lord, if he is asleep his life will be saved." Jesus had been speaking about his death, but they thought he meant sleep in the sense of slumber. Finally Jesus said plainly: "Lazarus is dead. For your sake I am glad I was not there, that you may come to believe. In any event, let us go to him." Then Thomas (the name means "Twin") said to his fellow disciples, "Let us go along, to die with him."
When Jesus arrived in Bethany, he found that Lazarus had already been in the tomb four days. The village was not far from Jerusalem–just under two miles– and many Jewish people had come out to console Martha and Mary over their brother. When Martha heard that Jesus was coming she went to meet him, while Mary sat at home. Martha said to Jesus, "Lord, if you had been here, my brother would never have died. Even now, I am sure that God will give you whatever you ask of Him." Jesus reassured her, "Your brother will rise again." Martha replied, "I know he will rise again in the resurrection on the last day." Jesus told her: "I am the resurrection and the life; whoever believes in me, though he should die, will come to life; and whoever is alive and believes in me will never die. Do you believe this?" "Yes, Lord," she replied. "I have come to believe that you are the Messiah, the Son of God: he who is to come into the world."
When she had said this she went back and called her sister Mary. "The Teacher is here, asking for you," she whispered. As soon as Mary heard this, she got up and started out in his direction. (Actually Jesus had not yet come into the village, but was still at the spot where Martha had met him.) The Jews who were in the house with Mary consoling her saw her get up quickly and go out, so they followed her, thinking she was going to the tomb to weep there. When Mary came to the place where Jesus was, seeing him, she fell at his feet and said to him: "Lord, if you had been here my brother would never had died." When Jesus saw her weeping, and the Jews who had accompanied her also weeping, he was troubled in spirit, moved by the deepest emotions. "Where have you buried him?" Jesus asked. "Lord, come and see," they said. Jesus began to weep, which caused the Jews to remark, "See how much he loved him!" But some said, "He opened the eyes of that blind man. Why could he not have done something to stop this man from dying?" Once again troubled in spirit, Jesus approached the tomb.
It was a cave with a stone laid across it. "Take away the stone," Jesus directed. Martha, the dead man's sister, said to him, "Lord, it has been four days now; surely there will be a stench!" Jesus replied, "Did I not assure you that if you believed you would see the glory of God displayed?" They then took away the stone and Jesus looked upward and said: "Father, I thank you for having heard me. I know that you always hear me but I have said this for the sake of the crowd, that they may believe that You sent me."
Having said this he called loudly, "Lazarus, come out!" The dead man came out, bound hand and foot with linen strips, his face wrapped in a cloth. "Until him," Jesus told them, "and let him go free."
This caused many of the Jew who had come to visit Mary, and had seen what Jesus did to put their faith in him.
Icon courtesy of Jack Figel, Eastern Christian Publications – ecpubs.com
Friday, April 8 –