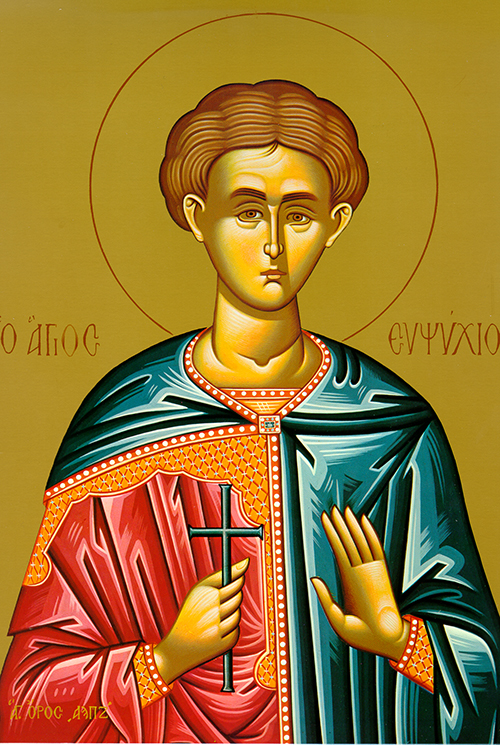 The holy martyr Eupsychius was of noble birth and was well instructed in pious beliefs. During the reign of Julian the Apostate, when St. Basil the Great governed the Church of God in Caesarea, Eupsychius entered into marriage with a prominent maiden. But alas, it was not given to him to live even one day in marriage. At the time of his wedding, it so happened that there was a pagan feast with sacrificial offerings to the idol Fortune. Eupsychius, with his companions, entered the temple, smashed all the idols, and even demolished the temple itself. Hearing of this, Julian became enraged and ordered that the culprits be beheaded, that many Christians be inducted into the army, that an enormous tribute be imposed upon all Christians, and that the city be deprived of it honorary name "Caesarea," given to it by Caesar Claudius, and be called by its former name, Maza. Eupsychius was first tied to a tree and brutally tortured, then he was beheaded in the year 362.
Troparion
O Lord our God, your holy martyr Eupsychius has deserved the crown of immortality on account of his good fight. Armed with your strength, he has vanquished his persecutors and crushed Satan's dreadful might. Through his supplication, O Christ our God, save our souls.
Kontakion
Having accomplished heroic deeds with a good spirit, you vanquished the enemy, O martyr. You received honor and miracles from God; therefore, the whole Church of the faithful praises you, venerating your memory from age to age.
Epistle
Acts 1: 1-9
In my first account, Theophilus, I dealt with all that Jesus did and taught until the day he was taken up to heaven, having first instructed the apostles he had chosen through the Holy Spirit. In the time after his suffering he showed them in many convincing ways that he was alive, appearing to them over the course of forty days and speaking to them about the reign of God. On one occasion when he met with them, he told them not to leave Jerusalem: "Wait, rather, for the fulfillment of my Father's promise, of which you have heard me speak. John baptized with water, but within a few days you will be baptized with the Holy Spirit."
While they were with him they asked, "Lord, are you going to restore the rule to Israel now?" His answer was: "The exact time it is not yours to know. The Father has reserved that to himself. You will receive power when the Holy Spirit comes down on you; then you are to be my witnesses in Jerusalem, throughout Judea and Samaria, yes, even to the ends of the earth." No sooner had he said this than he was lifted up before their eyes in a cloud which took him from their sight.
Gospel
John 1: 1-17
In the beginning was the Word; the Word was in God's presence, and the Word was God. He was present to God in the beginning. Through him all things came into being, and apart from him nothing came to be. Whatever came to be in him, found life, life for the light of men. The light shines on in darkness, a darkness that did not overcome it. There was a man named John sent by God, who came as a witness to testify to the light, so that through him all men might believe–but only to testify to the light, for he himself was not the light. The real light which gives light to every man was coming into the world. He was in the world, and through him the world was made, yet the world did not know who he was. To his own he came, yet his own did not accept him. Any who did accept him he empowered to become children of God. These are they who believe in his name– who were begotten not by blood, nor by carnal desire, nor by man's willing it, but by God. The Word became flesh and made his dwelling among us, and we have seen his glory: The glory of an only Son coming from the Father, filled with enduring love. John testified to him by proclaiming: "This is he of whom I said, 'The one who comes after me ranks ahead of me, for he was before me.'" Of his fullness we have all had a share – love following upon love. For while the law was given through Moses, this enduring love came through Jesus Christ.
Icon courtesy of Jack Figel, Eastern Christian Publications – ecpubs.com
Saturday, April 8 –