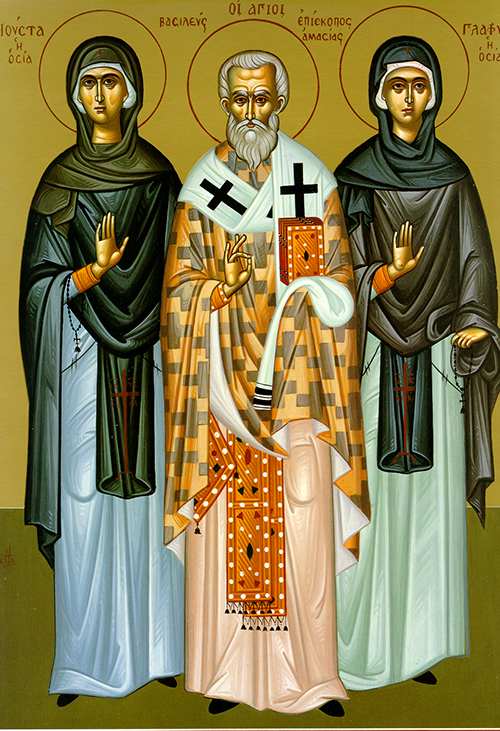 The Hieromartyr Basil, Bishop of Amasea, lived at the beginning of the fourth century in the Pontine city of Amasea. He encouraged and comforted the Christians suffering persecution by the pagans. During this time the Eastern part of the Roman Empire was ruled by Licinius (311-324), the brother-in-law of the holy emperor Constantine the Great. Licinius deceitfully signed St. Constantine's Edict of Milan (313), which granted religious toleration to Christians but he hated them and continued to persecute them.
Troparion
O holy priest-martyr Basil, you lent yourself to the apostles' way of life and succeeded them on their throne. Inspired by God, you found the way to contemplation through the practice of virtue. Therefore, you became a perfect teacher of truth, fighting for the faith unto the shedding of your blood. Intercede with Christ our God that He may save our souls.
Kontakion
By disobeying the edict of the king, you gained heaven. As you now raise your song there, remember us who commemorate you, O priest-martyr Basil.
Epistle
Acts 8:18-25
In those days, Simon [the magician] observed that it was through the laying on of hands that the apostles conferred the Spirit, and he made them an offer of money with the request, "Give me that power too, so that if I place my hands on anyone he will receive the Holy Spirit."
Peter said in answer: "May you and your money rot–thinking that God's gift can be bought! You can have no portion or lot in this affair. Your heart is not steadfastly set on God. Reform your evil ways. Pray that the Lord may pardon you for thinking the way you have. I see you poisoned with gall and caught in the grip of sin." Simon responded, "I need the prayers of all of you to the Lord, so that what you have just said may never happen to me."
After giving their testimony and proclaiming the word of the Lord, they went back to Jerusalem bringing the good news to many villages of Samaria on the way.
Gospel
John 6: 35-39
The Lord said to the people coming to him: "I myself am the bread of life. No one who comes to me shall ever be hungry, no one who believed in me shall ever thirst. But as I told you – though you have seen me, you still do not believe. All that the Father gives me shall come to me; no one who comes will I ever reject, because it is not to do my own will that I have come down from heaven, but to do the will of him who sent me. It is the will of him who sent me that I should lose nothing of what he has given me; rather, that I should raise it up on the last day."
Icon courtesy of Jack Figel, Eastern Christian Publications – ecpubs.com
Tuesday, April 25 –