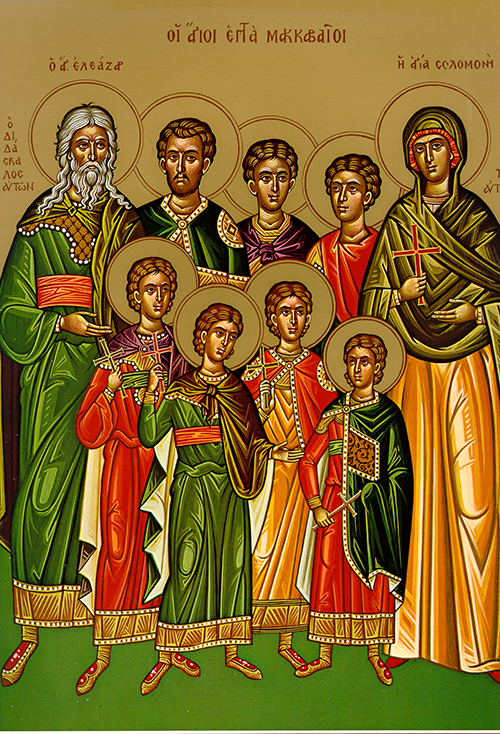 The feast of the procession of the Wood of the venerable and life-creating Cross was established in the reign of the Greek Emperor Manuel as a memorial of the Greek victory over the Saracens. The procession with the relic of the Precious Cross was made from the imperial palace to the church of Hagia Sophia; there the relic remained for fourteen days, and was then carried back in procession to the church in the palace grounds.
The holy seven Maccabees, their mother Solomonia, and the elder Eleazar at Antioch in Syria, under Antiochus Epiphanes the king: For the sake of keeping the law of the Lord with unconquered faith, they were cruelly handed over to death with their mother. She suffered with her sons as they were martyred, one by one, and was crowned with them, as it is written in the second book of the Maccabees [2 Mac. 7]. Likewise is commemorated St. Eleazar, one of the first scribes, a man of advanced age. In that same persecution, refusing to eat forbidden meat on account of his love for the Torah of the Lord, he achieved a most glorious death rather than a shameful life; he voluntarily went to his punishment, leaving an excellent example of virtue.
Troparion – Cross
Save your people, O Lord, and bless your inheritance. Grant victory to your Church over evil and protect Your people by Your cross.
Troparion – Martyrs
We beseech You, O Lord; and through the sufferings these saints endured for Your sake, we implore You heal all our infirmities.
Kontakion – Cross
Christ our God, who were willingly raised upon the cross, grant Your mercies to the new people who bear Your name. By Your power grant joy to the Church. Give her victory over evil with Your invincible trophy, the weapon of peace, as an ally.
Kontakion – Martyrs
Seven pillars of divine wisdom, seven beacons of divine light, great martyrs before the age of martyrs, pray to God for all of us, O wise Maccabees, for we observe your memory with devotion.
Readings for the Cross
Epistle
1 Corinthians 1: 18-24
Brothers and sisters: The message of the cross is complete absurdity to those who are headed for ruin, but to us who are experiencing salvation it is the power of God. Scripture says, "I will destroy the wisdom of the wise, and thwart the cleverness of the clever." Where is the wise man to be found? Where the scribe? Where is the master of worldly argument? Has not God turned the wisdom of this world into folly? Since in God's wisdom the world did not come to know him through "wisdom," it pleased God to save those who believe through the absurdity of the preaching of the gospel. Yes, Jews demand "signs" and Greeks look for "wisdom," but we preach Christ crucified–a stumbling block to Jews, and an absurdity to Gentiles; but to those who are called, Jews and Greeks alike, Christ the power of God and the wisdom of God.
Gospel
John 19: 6-11, 13-20, 25-28, 30b-35a
At that time when the chief priests and the temple guards saw Jesus with Pilate they shouted, "Crucify him! Crucify him!" Pilate said, "Take him and crucify him yourselves; I find no case against him." The Jews responded, "We have our own law, and according to that law he must die because he made himself God's Son." When Pilate heard this kind of talk, he was more afraid than ever. Going back into the praetorium, he said to Jesus, "Where do you come from?" Jesus would not give him any answer. "Do you refuse to speak to me?" Then Pilate asked him "Do you not know that I have the power to release you and the power to crucify you?" Jesus answered: "You would have no power over me whatever unless it were given from above."
Pilate heard the people shouting so he brought Jesus outside and took a seat on a judges' bench at the place called the Stone Pavement – Gabbatha in Hebrew. It was the Preparation Day for Passover, and the hour was about noon. Pilate said to the Jews, "Look at your king!" At this they shouted "Away with him! Away with him! Crucify him!" "What!" Pilate exclaimed. "Shall I crucify your king?" The chief priests replied, "We have no king but Caesar." In the end, Pilate handed Jesus over to be crucified.
Jesus was led away, and carrying the cross by himself, went out to what is called the Place of the Skull (in Hebrew, Golgotha). There they crucified him, and two others with him; one on either side, Jesus in the middle. Pilate had an inscription placed on the cross which read, JESUS THE NAZOREAN THE KING OF THE JEWS. This inscription, in Hebrew, Latin, and Greek, was read by many of the Jews, since the place where Jesus was crucified was near the city. The chief priests of the Jews tried to tell Pilate, "You should not have written, 'The King of the Jews.' Write instead, 'This man claimed to be King of the Jews.'"
Near the cross of Jesus there stood his mother, his mother's sister, Mary the wife of Clopas, and Mary Magdalene. Seeing his mother there with the disciple whom he loved, Jesus said to his mother, "Woman, there is your son." In turn he said to the disciple, "There is your mother." From that hour onward, the disciple took her into his care.
Then Jesus bowed his head, and delivered over his spirit. Since it was the Preparation Day the Jews did not want to have the bodies left on the cross during the sabbath, for that sabbath was a solemn feast day. They asked Pilate that the legs be broken and the bodies be taken away. Accordingly, the soldiers came and broke the legs of the men crucified with Jesus, first of the one, then of the other. When they came to Jesus and saw that he was already dead, they did not break his legs. One of the soldiers thrust a lance into his side, and immediately blood and water flowed out. This testimony has been given by an eyewitness, and his testimony is true. He tells what he knows is true, so that you may believe.
Readings for the martyrs
Epistle
Hebrews 11: 33-40
Brothers and sisters: By faith [the Saints] conquered kingdoms, did what was just, obtained the promises; they broke the jaws of lions, put out raging fires, escaped the devouring swords; though weak they were made powerful, became strong in battle, and turned back foreign invaders. Women received back their dead through resurrection. Others were tortured and would not receive deliverance, in order to obtain a better resurrection. Still others endured mockery, scourging, even chains and imprisonment. They were stoned, sawed in two, put to death at sword's point; they went about garbed in the skins of sheep or goats, needy, afflicted, tormented. The world was not worthy of them. They wandered the earth. Yet despite the fact that all of these were approved because of their faith, they did not obtain what had been promised. God had made a better plan, a plan which included us. Without us, they were not to be made perfect.
Gospel
Matthew 10: 32-42
The Lord said to his disciples: "Whoever acknowledges me before men I will acknowledge before my Father in heaven. Whoever disowns me before men I will disown before my Father in heaven. Do not suppose that my mission on earth is to spread peace. My mission is to spread, not peace, but division. I have come to set a man at odds with his father, a daughter with her mother, a daughter-in-law with her mother-in-law: in short, to make a man's enemies those of his own household. Whoever loves father or mother, son or daughter, more than me is not worthy of me. He who will not take up his cross and come after me is not worthy of me. He who seeks only himself brings himself to ruin, whereas he who brings himself to nought for me discovers who he is.
"He who welcomes you welcomes me, and he who welcomes me welcomes him who sent me. He who welcomes a prophet because he bears the name of prophet receives a prophet's reward; he who welcomes a holy man because he is known to be holy receives a holy man's reward. And I promise you that whoever gives a cup of cold water to one of these lowly ones because he is a disciple will not want for his reward."
Readings for the day
Epistle
1 Corinthians 15: 29-38
Brothers and sisters: If the dead are not raised, what about those who have themselves been baptized on behalf of the dead? If the raising of the dead is not a reality, why be baptized on their behalf? And why are we continually putting ourselves in danger? I swear to you, brothers and sister, by the very pride you take in me, which I cherish in Christ Jesus our Lord, that I face death every day. If I fought those beasts in Ephesus for purely human motives, what profit was there for me? If the dead are not raised, [Scripture says] "Let us eat and drink, for tomorrow we die!" Do not be led astray any longer. "Bad company corrupts good morals." Return to reason, as you ought, and stop sinning. Some of you are quite ignorant of God; I say it to your shame.
Perhaps someone will say, "How are the dead to be raised up? What kind of body will they have?" A nonsensical question! The seed you sow does not germinate unless it dies. When you sow, you do not sow the full blown plant, but a kernel of wheat or some other grain. God gives body to it as he pleases – to each seed its own fruition.
Gospel
Matthew 21: 23-27
At that time Jesus entered the temple precincts, and while he was teaching, the chief priests and elders of the people came up to him and said: "On what authority are you doing these things? Who has given you this power?" Jesus answered: "I too will ask a question. If you answer it for me, then I will tell you on what authority I do the things I do. What was the origin of John's baptism? Was it divine or merely human?" They thought to themselves, "If we say 'divine,' he will ask us, 'Then why did you not put faith in it?'; while if we say 'merely human,' we shall have reason to fear the people, who all regard John as a prophet." So their answer to Jesus was, "We do not know." He said in turn, "Then neither will I tell you on what authority I do the things I do."
Icon courtesy of Jack Figel, Eastern Christian Publications – ecpubs.com
Monday, July 31 –