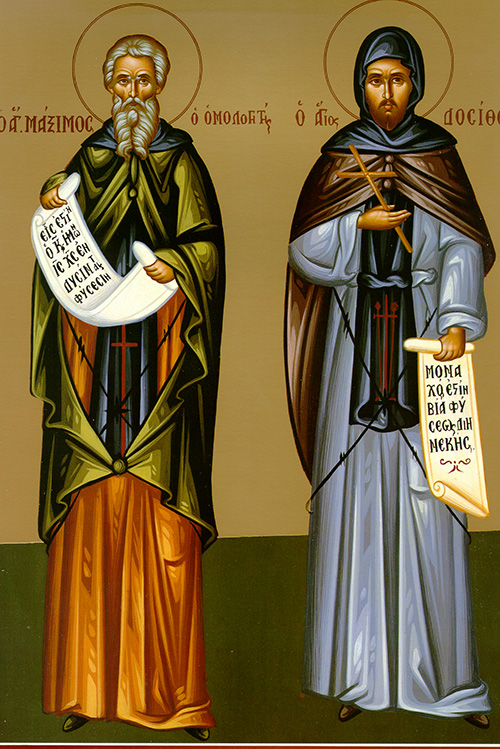 Our venerable father Maximos the Confessor was the hegumen of Chrysopolis near Constantinople. He was notable for his teaching and zeal for the Catholic truth. When he vigorously fought against the Monothelites, he had his right hand cut off by the heretical emperor Constans. Along with two of his disciples, both named Anastasius, after a harsh imprisonment and many tortures, Maximos was exiled to the region of Lazica and rendered his spirit to God in the year 662.
Troparion
Guide to Orthodoxy, teacher of piety and holiness, luminary for the world, inspired adornments of monks, O wise Maximos, harp of the Spirit, you enlightened with Christ our God to save our souls.
Kontakion
Taking its abode within your heart, the thrice-brilliant light made you a chosen vessel. It has revealed heavenly things in you, O blessed saint. You made deep and complicated ideas clear to us, and you preached the eternal Trinity to everyone, O Maximos.
Epistle
1 Corinthians 9: 2-12
Brothers and sisters: Although I may not be an apostle for others, I certainly am one for you. You are the very seal of my apostolate in the Lord.
My defense against those who criticize me is this: Do we not have the right to eat and drink? Do we not have the right to marry a believing woman like the rest of the apostles and the brothers of the Lord and Cephas? Is it only myself and Barnabas who are forced to work for a living? What soldier in the field pays for his rations? Who plants a vineyard and does not eat of its yield? What shepherd does not nourish himself with the milk of his flock? You may think the reasons I am giving are merely human ones, but does not the law itself speak of these things? It is written in the law of Moses, "You shall not muzzle an ox while it treads out grain." Is God concerned here for the oxen, or does he not rather say this for our sakes? You can be sure it was written for us, for the plowman should plow in hope and the harvester expect a share in the grain. If we have sown for you in spirit, is it too much to expect a material harvest from you? If others have this right over you, is not our right even greater? But we have not used this right. On the contrary, we put up with all sorts of hardships so as not to place any obstacles in the way of the gospel of Christ.
Gospel
Matthew 18: 23-35
The Lord said: "The reign of God may be said to be like a king who decided to settle accounts with his officials. When he began his auditing, one was brought in who owed him a huge amount. As he had no way of paying it, his master ordered him to be sold, along with his wife, his children, and all his property, in payment of his debt. At that the official prostrated himself in homage and said, 'My lord, be patient with me and I will pay you back in full.' Moved with pity, the master let the official go and write off the debt. But when that same official went out he met a fellow servant who owed him a mere fraction of what he himself owed. He seized him and throttled him. 'Pay back what you owe,' he demanded. His fellow servant dropped to his knees and began to plead with him, 'Just give me a time and I will pay you back in full.' But he would hear none of it. Instead, he had him put in jail until he paid back what he owed. When his fellow servants saw what had happened they were badly shaken, and went to their master to report the whole incident. His master sent for him and said, 'You worthless wretch! I canceled your entire debt when you pleaded with me. Should you not have dealt mercifully with your fellow servant, as I dealt with you?' Then in anger the master handed him over to the torturers until he paid back all he owed. My heavenly father will treat you in exactly the same way unless each of you forgives his brother from his heart.
Icon courtesy of Jack Figel, Eastern Christian Publications – ecpubs.com
Saturday, August 12 –