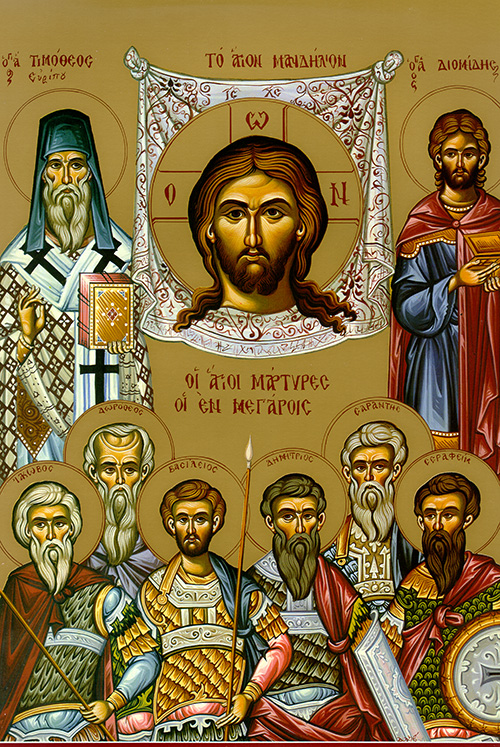 The Translation of the Icon of our Lord, God, and Savior Jesus Christ, the icon "not made by human hands," from Edessa to Constantinople in 944: Tradition related that Abgar, prince of the city of Edessa, suffered from leprosy. Having heard of Jesus the healer in Palestine, he sent a portrait painter named Ananias with a letter to Jesus, asking him to come and cure his leprosy. Being unable to come, the Lord took a napkin and wiped his face, leaving the perfect reproduction of the Holy Face on it. Ananias took the napkin back to Abgar, along with the message that he would be partially cured of his disease, and later completely. The Apostle Thaddeus of the Seventy, preaching the Gospel, came to Abgar and healed him.
The holy martyr Diomedes was a physician from Tarsus who taught people the Christian faith as he ministered to their suffering bodies. The emperor Diocletian ordered him to be beheaded in Nicea in the year 298.
Troparion – Holy Veil
We bow before your sacred image, O gracious Lord, and beg forgiveness for our offenses, O Christ our God; for You, of Your own good will, ascended the cross in Your human nature to deliver from the enemy's bondage those whom You created. Therefore we gratefully cry out to You: By your coming to save the world, O Savior, You have filled all with joy.
Troparion – Martyr
Your martyr, Diomedes, O Lord our God, in his struggle received an incorruptible crown from You. With Your strength, he brought down the tyrants and broke the cowardly valor of demons. Through his prayers, O Christ our God, save our souls.
Kontakion – Holy Veil
We have come to realize the extent of your victory, the inexpressible plan of your perfect incarnation, and to recognize this miraculous and unpainted icon as a banner of that divine triumph. With hearts full of love we kiss it in homage and piety.
Kontakion – Martyr
You vanquished the torturer and became a champion, crowned with the laurels of victory, O Diomedes. You are an initiate in the heavenly mysteries of grace and faith and an unconquerable and faithful martyr.
Readings for the Holy Veil
Epistle
Galatians 3:23 – 4:5
Brothers and sisters: Before the faith came we were under the constraint of the law, locked in until the faith that was coming should be revealed. In other words, the law was our monitor until Christ came to bring about our justification through faith. But now that faith is here, we are no longer in the monitor's charge. Each one of you is a son of God because of your faith in Christ Jesus. All of you who have been baptized into Christ have clothed yourselves with him. There does not exist among you Jew or Greek, slave or freeman, male or female. All are one in Christ Jesus. Furthermore, if you belong to Christ you are the descendants of Abraham, which means you inherit all that was promised.
Brothers and sisters: as long as a designated heir is not of age his condition is no different from that of a slave, even though in name he is master of all his possessions; for he is under the supervision of guardians and administrators until the time set by his father. In the same way, while we were not yet of age we were like slaves subordinated to the elements of the world; but when the designated time had come, God sent forth his Son born of a woman, born under the law, to deliver from the law those who were subjected to it, so that we might receive our status as adopted sons.
Gospel
Luke 9: 51-56
As the time approached when Jesus was to be taken from this world, he firmly resolved to proceed toward Jerusalem, and sent messengers on ahead of him. These entered a Samaritan town to prepare for his passing through, but the Samaritans would not welcome Jesus because he was on his way to Jerusalem. When his disciples James and John saw this, they said, "Lord, would you have us call down fire from heaven and destroy them?" Jesus turned toward them only to reprimand them. Then they set off for another town.
Readings for the day
Epistle
2 Corinthians 6: 11-16b
Men of Corinth, we have spoken to you frankly, opening our hearts wide to you. There is no lack of room for you in us; the narrowness is in you. In fair exchange, then (I speak as a father to his children), open wide your hearts!
Do not yoke yourselves in a mismatch with unbelievers. After all, what do righteousness and lawlessness have in common, or what fellowship can light have with darkness? What accord is there between Christ and Belial, what common lot between believer and unbeliever? Tell me what agreement there is between the temple of God and idols. You are the temple of the living God.
Gospel
Mark 1: 23-28
At that time there appeared in their synagogue a man with an unclean spirit that shrieked: "What do you want of us, Jesus of Nazareth? Have you come to destroy us? I know who you are – the holy One of God!" Jesus rebuked him sharply: "Be quiet! Come out of the man!" At that the unclean spirit convulsed the man violently and with a loud shriek came out of him. All who looked on were amazed. They began to ask one another: "What does this mean? A completely new teaching in a spirit of authority! He gives orders to unclean spirits and they obey!" From that point on his reputation spread throughout the surrounding region of Galilee.
Icon courtesy of Jack Figel, Eastern Christian Publications – ecpubs.com
Tuesday, August 15 –