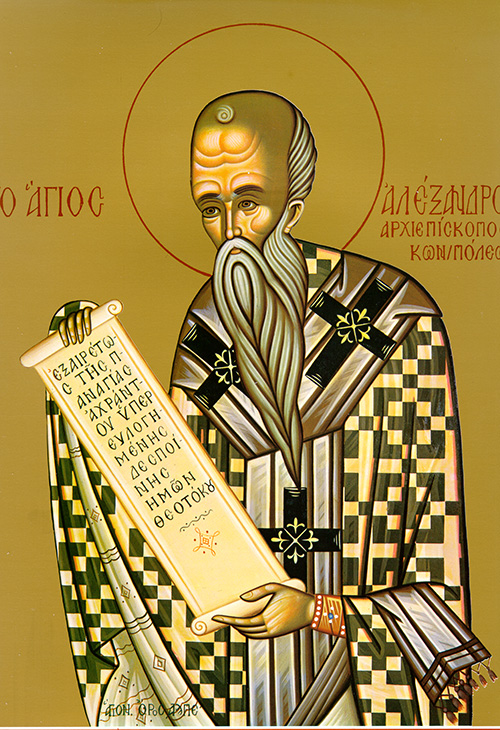 Our holy fathers Alexander, John, and Paul the Younger, patriarchs of Constantinople: Alexander took part in the First Ecumenical Council. John the Faster governed the Church in the days of the wicked emperor Anastasius. Paul IV governed the Church for five years and then took the Great Schema to repent for his early support of the Iconoclasts.
Troparion
God of our fathers, You always deal with us in Your kindness. Take not Your mercy away from us; but through your prayers guide our life in peace.
Kontakion
These glorious saints were inflamed with love for Christ and shouldered His cross with zeal and fervor. They imitated His life and entered His glory. Standing before His throne, O Alexander, John, and Paul, pray for the salvation of our souls.
Epistle
2 Corinthians 13: 3-13
Brothers and sisters: You are, after all, looking for a proof of the Christ who speaks in me. He is not weak in dealing with you, but is powerful in you. It is true he was crucified out of weakness, but he lives by the power of God. We too are weak in him, but we live with him by God's power in us. Test yourselves to see whether you are living in faith; examine yourselves. Perhaps you yourselves do not realize the Christ Jesus is in you — unless, of course, you have failed the challenge. I hope you will understand that we have not failed. We pray to God that you may do no evil — not in order that we may appear approved but simply that you may do what is good, even though we may seem to have failed. We cannot do anything against the truth, but only for the sake of the truth. We even rejoice when we are weak and you are strong. Our prayer is that you may be built up to completion.
I am writing in this way while away from you, so that when I am with you I may not have to exercise with severity the authority the Lord has given me — authority to build up rather than to destroy. And now, brethren, I must say goodbye. Mend your ways. Encourage one another. Live in harmony and peace, and the God of love and peace will be with you. Greet one another with a holy kiss. All the holy ones send greetings to you. The grace of the Lord Jesus Christ, and the love of God, and the fellowship of the Holy Spirit be with you all!
Gospel
Mark 4: 35-41
The Lord said to his disciples: "Let us cross over to the farther shore." Leaving the crowd, they took him away in the boat in which he was sitting, while the other boats accompanied him. It happened that a bad squall blew up. The waves were breaking over the boat and it began to ship water badly. Jesus was in the stern through it all, sound asleep on a cushion. They finally woke him and said to him, "Teacher, does it not matter to you that we are going to drown?" He awoke and rebuked the wind and said to the sea: "Quiet! Be still!" The wind fell off and everything grew calm. Then he said to them, "Why are you so terrified? Why are you lacking in faith?" A great awe overcame them at this. They kept saying to one another, "Who can this be that the wind and sea obey him?"
Icon courtesy of Jack Figel, Eastern Christian Publications – ecpubs.com
Tuesday, August 29 –