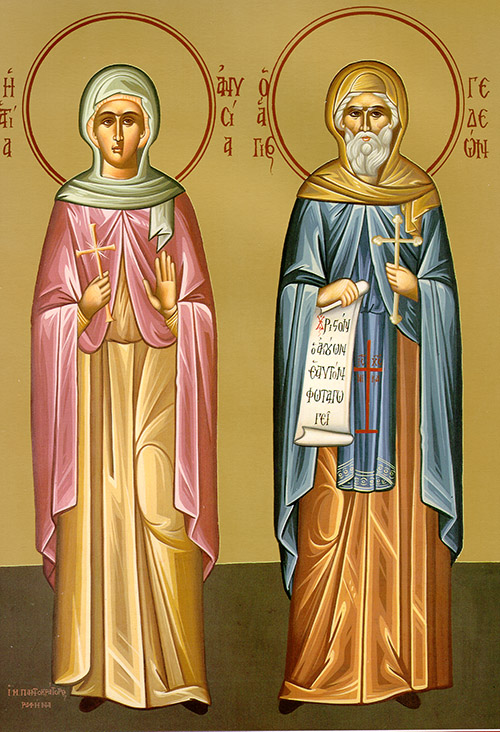 The holy martyr Anysia was arrested at Thessalonica when she entered that city to attend the synaxis of the faithful, and was put to death in 304 during the reign of Maximian Galerius.
The venerable Zoticus, was a holy priest of Rome who went to Constantinople where he established hospitals and havens of refuge for the poor. (344)
Troparion – Anysia
Your lamb Anysia, O Jesus, cries out in a loud voice: I love You, my Bridegroom; I seek You with painful longing; I am crucified with You; in You baptism, I am buried with You; I suffer for You that I may reign with You; and I die for You that I may live with You. Receive me as a spotless sacrifice immolated with love for You. By her prayers, O merciful One, save our souls.
Troparion – Zoticus
In you, O father, the divine image was strictly preserved; taking up your cross, you followed Christ. You taught us by example how to spurn the flesh, for it passes away, and how to care for the soul, which is immortal. Therefore, O venerable Zoticus, your soul rejoices with the angels.
Kontakion – Anysia
Today this martyr smashes the demon by her steadfast faith and grinds to bits the enemy of holiness by martyrdom. The angels bring her crowns and gifts. O God on high and Savior of the world, save us.
Kontakion – Zoticus
You loved the poor for the love of Christ, and you gave them aid and comfort. Now you have inherited heaven's wealth, O most-wealthy Zoticus. This is why we all venerate you and solemnly celebrate your memory.
Epistle
Hebrews 11: 8-16
Brothers and sisters: By faith Abraham obeyed when he was called, and went forth to the place he was to receive as a heritage; he went forth, moreover, not knowing where he was going. By faith he sojourned in the promised land as in a foreign country, dwelling in tents with Isaac and Jacob, heirs of the same promise; for he was looking forward to the city with foundations, whose designer and maker is God. By faith Sarah received power to conceive though she was past the age, for she thought that the One who had made the promise was worthy of trust. As a result of this faith, there came forth from one man, who was himself as good as dead, descendants as numerous as the stars in the sky and the sands of the seashore.
All of these died in faith. They did not obtain what had been promised but saw and saluted it from afar. By acknowledging themselves to be strangers and foreigners on the earth, they showed that they were seeking a homeland. If they had been thinking back to the place from which they had come, they would have had the opportunity of returning there. But they were searching for a better, a heavenly home. Wherefore God is not ashamed to be called their God, for he has prepared a city for them.
Gospel
Mark 10: 24-32a
The Lord said to his disciples: "My sons, how hard it is to enter the kingdom of God! It is easier for a camel to pass through a needle's eye than for a rich man to enter the kingdom of God."
The disciples were completely overwhelmed at this, and exclaimed to one another, "Then who can be saved?" Jesus fixed his gaze on them and said, "For man it is impossible but not for God. With God all things are possible."
Peter was moved to say to Jesus, " We have put aside everything to follow you!" Jesus answered, "I give you my word, there is no one who has given up home, brothers or sisters, mother or father, children or property, for me and for the gospel who will not receive in this present age a hundred times as many homes, brothers and sisters, mothers, children and property– and persecution besides– and in the age to come, everlasting life. Many who are first shall come last, and the last shall come first,"
The disciples were on the road going up to Jerusalem, with Jesus walking in the lead. Their mood was one of wonderment, while that of those who followed was fear.
Icon courtesy of Jack Figel, Eastern Christian Publications – ecpubs.com
Thursday, December 29 –