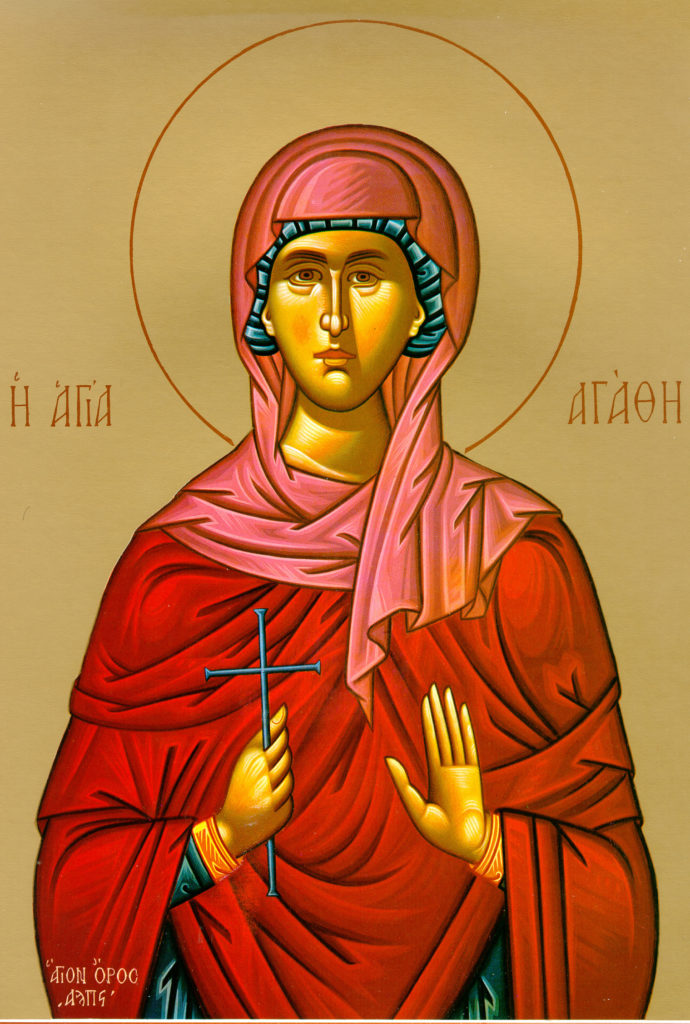 Agatha, the glorious virgin and martyr for Christ, was born in the Sicilian town of Palermo to noble and wealthy parents. When the emperor Decius began the persecution of Christians, St. Agatha was arrested and brought to trial before the judge Quintian. The judge, seeing Agatha beautiful in countenance, desired to have her for his wife. When he suggested this, Agatha answered that she was the bride of Christ and would not be unfaithful to her Betrothed. Quintian subjected her to cruel tortures. Agatha was mocked, whipped, bound to a tree and flogged until blood flowed. After that, the judge again tried to persuade her to deny Christ and avoid any further torture and suffering. St. Peter appeared to Agatha in prison and restored her to health and wholeness of body. Again Agatha was led out for torture, and again she was cast into prison, where she gave up her soul to God in the year 251 in the town of Catania, during the reign of Emperor Decius.
Troparion
Your lamb Agatha, O Jesus, cries out in a loud voice: I love you, my Bridegroom; I seek You with painful longing; I am crucified with You; in Your baptism, I am buried with You; I suffer for You that I may reign with You; and I die for You that I may live with You. Receive me as a spotless sacrifice immolated with love for You. By her prayers, O merciful One, save our souls.
Kontakion
May the Church be robed today in a mantle of precious purple made of the blood of the pure martyr Agatha. Let us all cry out to her: Rejoice, Agatha, O pride of Catania!
Epistle
2 Timothy 2: 11-19
Timothy, my son: you can depend on this: if we have died with Jesus Christ we shall also live with him; if we hold out till the end we shall also reign with him. But if we deny him he will deny us. If we aren't faithful he will still remain faithful, for he cannot deny himself.
Keep reminding people of these things and charge them before God to stop disputing about mere words. This does no good and can be the ruin of those who listen. Try hard to make yourself worthy of God's approval, a workman who has no cause to be ashamed, following a straight course in preaching the truth. Avoid worldly, idle talk, for those who indulge in it become more and more godless, and the influence of their talk will spread like the plague. This is the case with Hymenaeus and Philetus, who have gone far wide of the truth in saying that the resurrection has already taken place. They are upsetting some people's faith. But the foundation God has laid stands firm. It bears this inscription: "The Lord knows those who are his"; and, "Let everyone who professes the name of the Lord abandon evil."
Gospel
Luke 18: 2-8
The Lord told this parable: "Once there was a judge in a certain city who respected neither God nor man. A widow in that city kept coming to him saying, 'Give me my rights against my opponent.' For a time he refused, but finally he thought, 'I care little for God or man, but the widow is wearing me out. I am going to settle in her favor or she will end by doing me violence.'" The Lord said, "Listen to what the corrupt judge has to say. Will not God then do justice to his chosen who call out to him day and night? Will he delay long over them, do you suppose? I tell you, he will give them swift justice."
Icon courtesy of Jack Figel, Eastern Christian Publications – ecpubs.com
Friday, February 4 –