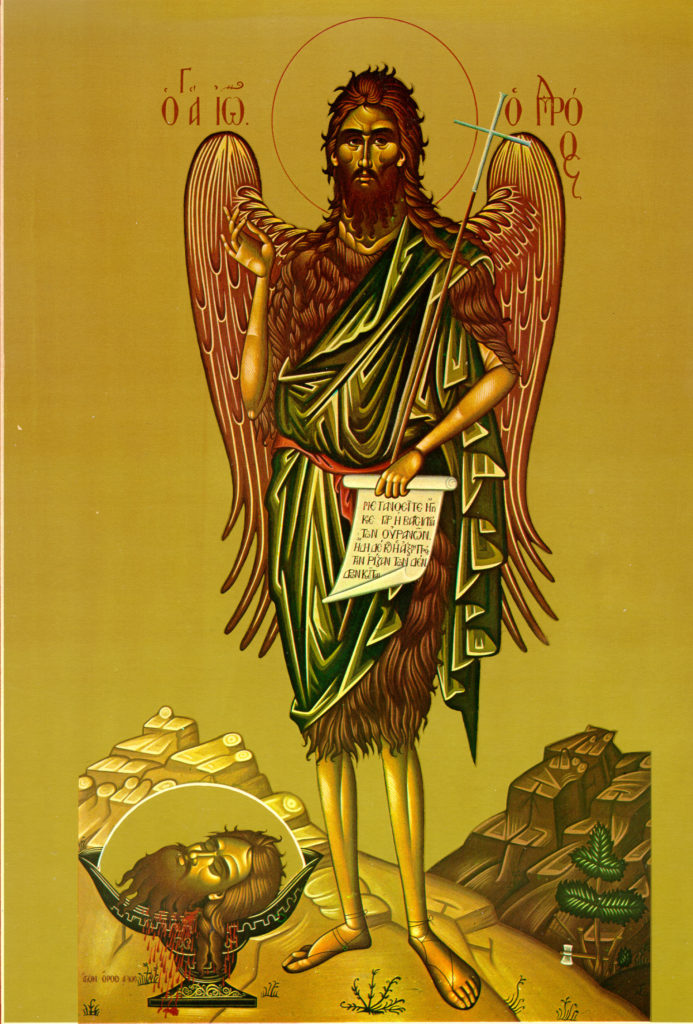 The great and glorious Baptist John was beheaded at the wish and instigation of the wicked Herodias, the wife of Herod. When John was beheaded, Herodias ordered that his head not be buried with his body, for she feared that this awesome prophet would somehow resurrect. Therefore, she took his head and buried it deep in the ground in a secluded and dishonorable place. Her maidservant was Joanna, the wife of Chuza, a courtier of Herod. The good and devout Johanna could not tolerate that the head of the man of God should remain in this dishonorable place. She secretly unearthed it, took it to Jerusalem and buried it on the Mount of Olives. After a considerable period of time, an eminent land owner came to faith in Christ, left his position and the vanity of the world and became a monk, taking the name Innocent. As a monk, he took up his abode of the Mount of Olives, in the exact place where the head of the Baptist was buried. Wanting to build a cell for himself, he dug deeply and discovered an earthen vessel containing a head, which was mysteriously revealed to him to be the head of the Baptist. He reverenced it and re-buried it in the same spot. Later, according to God's providence, this miracle-working head traveled from place to place, then sank into the darkness of forgetfulness and was again re-discovered. Finally, at the time of Patriarch Ignatius, during the reign of the pious Empress Theodora, it was translated to Constantinople.
Troparion
The head of the forerunner arose from the earth like a star, sending out rays of healing and immortality. In heaven, it gathers together the choirs of angels, while on earth, it assembles the human race in a single voice to sing the glory of Christ our God.
Kontakion
O prophet of God and forerunner of grace, within the earth we have discovered your head, a rose of great holiness from which healing always comes to us. As you did of old, now also preach repentance to the world.
Readings for the saint
Epistle
2 Corinthians 4: 6-15
Brothers and sisters: God, who said, "Let light shine out of darkness," has shone in our hearts, that we in turn might make known the glory of God shining on the face of Christ. This treasure we possess in earthen vessels to make it clear that its surpassing power comes from God and not from us. We are afflicted in every way possible, but we are not crushed; full of doubts, we never despair. We are persecuted but never abandoned; we are struck down but never destroyed. Continually, we carry about in our bodies the dying of Jesus, so that in our bodies the life of Jesus may also be revealed. While we live we are constantly being delivered to death for Jesus' sake, so that the life of Jesus may be revealed in our mortal flesh. Death is at work in us, but life in you. We have that spirit of faith of which the Scripture says, "Because I believed, I spoke out." We believe and so we speak, knowing that he who raised up the Lord Jesus will raise us up along with Jesus and place both of us and you in his presence. Indeed, everything is ordered to your benefit, so that the grace bestowed in abundance may bring greater glory to God because they who give thanks are many.
Gospel
Matthew 11: 2-15
At that time when John, in prison, heard about the works Christ was performing, he sent a message by his disciples to ask Jesus, "Are you 'He who is to come' or do we look for another?" In reply, Jesus said to them: "Go back and report to John what you hear and see: the blind recover their sight, cripples walk, lepers are cured, the deaf hear, dead men are raised to life, and the poor have good news preached to them. Blest is the man who finds no stumbling block in me."
As the messengers set off, Jesus began to speak to the crowds concerning John: "What did you go out to the wasteland to see – a reed swaying in the wind? Tell me, what did you go out to see– someone luxuriously dressed? Remember, those who dress luxuriously are to be found in royal palaces. Why then did you go out – to see a prophet? A prophet indeed, and something more! It is about this man that Scripture says, 'I send my messenger ahead of you to prepare your way before you.'
I solemnly assure you, history has not known a man born of a woman greater than John the Baptizer. Yet the least born into the kingdom of God is greater than he. From John the Baptizer's time until now the kingdom of God has suffered violence, and the violent take it by force. All the prophets as well as the law spoke prophetically about John. If you are prepared to accept it, he is Elijah, the one who was certain to come. Heed carefully what you hear!"
Readings for the day
Epistle
Hebrews 1: 1-12
In the past, God spoke in fragmentary and varied ways to our fathers through the prophets; in this, the final age, he has spoken to us through his Son, who he has made heir of all things and through whom he first created the universe. The Son is the reflection of the Father's glory, the exact representation of the Father's being, and he sustains all things by his powerful word. When he had cleansed us from our sins, he took his seat at the right hand of the Majesty in heaven, as far superior to the angels as the name he has inherited is superior to theirs.
To which of the angels did God ever say, "You are my son; today I have begotten you"? Or again, "I will be his father, and he shall be my son"? And again, when he leads his first-born into the world, he says, "Let all the angels of God worship him." Of the angels he says, "He makes his angels winds, and his ministers flaming fire"; but of the Son, "Your throne, O God, stands forever and ever; a righteous scepter is the scepter of your kingdom. You have loved justice and hated wickedness, therefore God, your God, has anointed you with the oil of gladness above your fellow kings." And, "Lord, of old you established the earth, and the heavens are the work of your hands. They will perish, but you remain; all of them will grow old like a garment. You will roll them up like a cloak, like a garment they will be changed; but you are the same, and your years will have no end."
Gospel
Mark 2:23- 3:5
At that time Jesus was walking through standing grain on the sabbath, and his disciples began to pull off the heads of grain as they went along. At this the Pharisees protested: "Look! Why do they do a thing not permitted on the sabbath?" Jesus said to them: "Have you never read what David did when he was in need and he and his men were hungry? How he entered God's house in the days of Abiathar the high priest and ate the holy bread which only the high priests were permitted to eat? He even gave it to his men." Then Jesus said to them: "The sabbath was made for man, not man for sabbath. That is why the Son of Man is lord even of the sabbath."
Jesus returned to the synagogue where there was a man whose hand was shriveled up. They kept an eye on Jesus to see whether he would heal the man on the sabbath, hoping to be able to bring an accusation against him. Jesus addressed the man with the shriveled hand: "Stand up here in front!" Then he said to them: "Is it permitted to do a good deed on the sabbath– or an evil one? To preserve life– or destroy it?" At this they remained silent. Jesus looked around at them with anger, for he was deeply grieved that they had closed their minds against him. Then he said to the man, "Stretch out your hand." The man did so and his hand was perfectly restored.
Icon courtesy of Jack Figel, Eastern Christian Publications – ecpubs.com
Friday, February 24 –