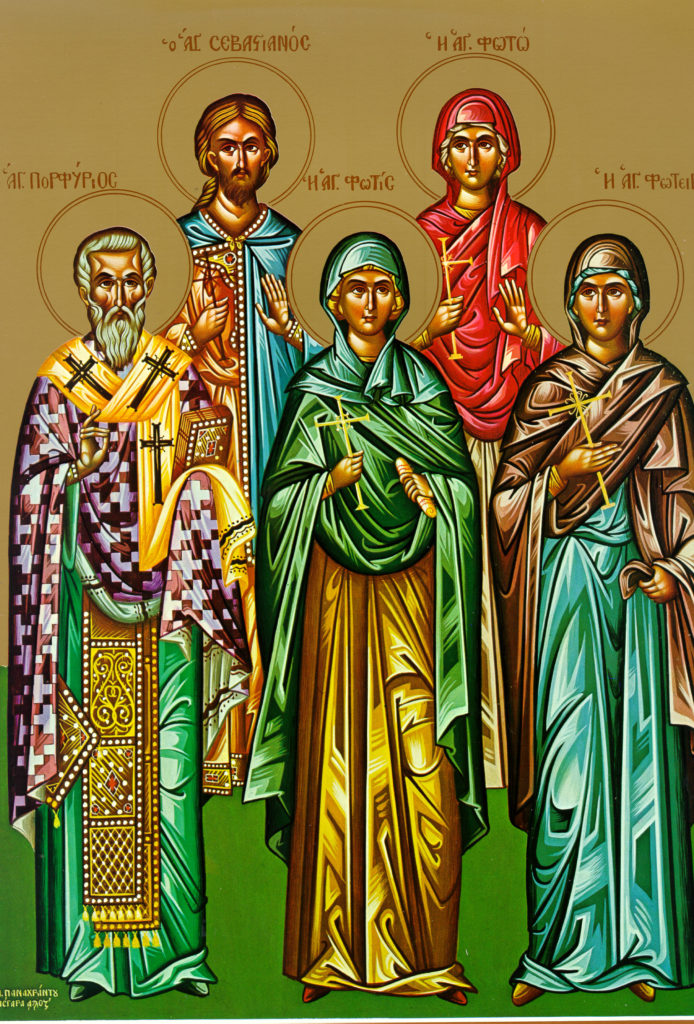 Our Holy Father Porphyrius, Archbishop of Gaza was born in the year 346. He grew up with wealthy parents, but was drawn to monastic life. He left home at the age of twenty five and set off for Egypt, where he lived in the desert under the guidance of St. Macarius the Great. He made a pilgrimage to Jerusalem to see all the holy places, and to venerate the Life-Giving Cross of the Lord. He moved into a cave in the Jordanian wilderness for prayer and ascetic deeds. St. Porphyrius was summoned from his cave by Metropolitan John to become the next bishop of Gaza. Gaza needed a bishop who could contend against the pagans, which were predominant there and were harassing the local Christians. The Lord inspired the Metropolitan to call for his priest Porphyrius to uphold Christianity in Gaza. Porphyrius did just that to the very end of his life, and he guarded his flock from the vexatious pagans. The holy archpastor guided his flock for twenty five years, and fell asleep in the Lord in the year 420.
Troparion
Who can recount all your works and sufferings of piety? You never stopped working day or night until you washed Gaza clean of impurity and replaced its evil ways with sound holiness. You are a constant guardian over your flock. Now beg Christ to save our souls, O Porphyrius.
Kontakion
You were splendid in the robes of the priesthood, adorned with your priestly virtue, O blessed saint. You dispense treasures of cures, O wise-in-God, praying unceasingly on our behalf, O Porphyrius.
Epistle
Hebrews 11: 24-26, 32-40, 12: 1-2a
Brothers and sisters: By faith Moses, when he had grown up, refused to be known as the son of Pharaoh's daughter; he wished to be ill-treated along with God's people rather than enjoy the fleeting rewards of sin. Moses considered the reproach borne by God's Anointed greater riches than the treasures of Egypt, for he was looking to the reward.
What more shall I recount?I have no time to tell of Gideon, Barak, Samson, Jephthah, of David and Samuel and the prophets, who by faith conquered kingdoms, did what was just, obtained the promises; they broke the jaws of lions; put out raging fires, escaped the devouring sword; though weak they were made powerful, became strong in battle, and turned back foreign invaders. Women received back their dead through resurrection. Others were tortured and would not receive deliverance, in order to obtain a better resurrection. Still others endured mockery, scourging, even chains and imprisonment. They were stoned; sawed in two, put to death at sword's point; they went about garbed in the skins of sheep or goats, needy, afflicted, tormented. The world was not worthy of them. They wandered about in deserts and on mountains, they dwelt in caves and in holes of the earth. Yet despite the fact that all of these were approved because of their faith, they did not obtain what had been promised. God had made a better plan, a plan which included us. Without us, they were not to be made perfect.
Therefore, since we for our part are surrounded by this cloud of witnesses, let us lay aside every encumbrance of sin which clings to us and persevere in running the race which lies ahead; let us keep our eyes fixed on Jesus, who inspires and perfects our faith.
Gospel
John 1: 43-51
At that time Jesus wanted to set out for Galilee, but first he came upon Philip. "Follow me," Jesus said to him. Now Philip was from Bethsaida, the same town as Andrew and Peter. Philip sought out Nathanael and told him, "We have found the one Moses spoke of in the law– the prophet too– Jesus, son of Joseph, from Nazareth." Nathanael's response to that was, "Can anything good come out of Nazareth?" and Philip replied, "Come, see for yourself." When Jesus saw Nathanael coming toward him, he remarked: "This man is a true Israelite. There is no guile in him." "How do you know me?" Nathanael asked Jesus. "Before Philip called you," Jesus answered, "I saw you under the fig tree." "Rabbi," said Nathanael, "you are the Son of God; you are the king of Israel." Jesus responded: "Do you believe just because I told you I saw you under the fig tree? You will see much greater things than that."
Jesus went on to tell them, "I solemnly assure you, you shall see the sky opened and the angels of God ascending and descending on the Son of Man."
Icon courtesy of Jack Figel, Eastern Christian Publications – ecpubs.com
Saturday, February 25 –