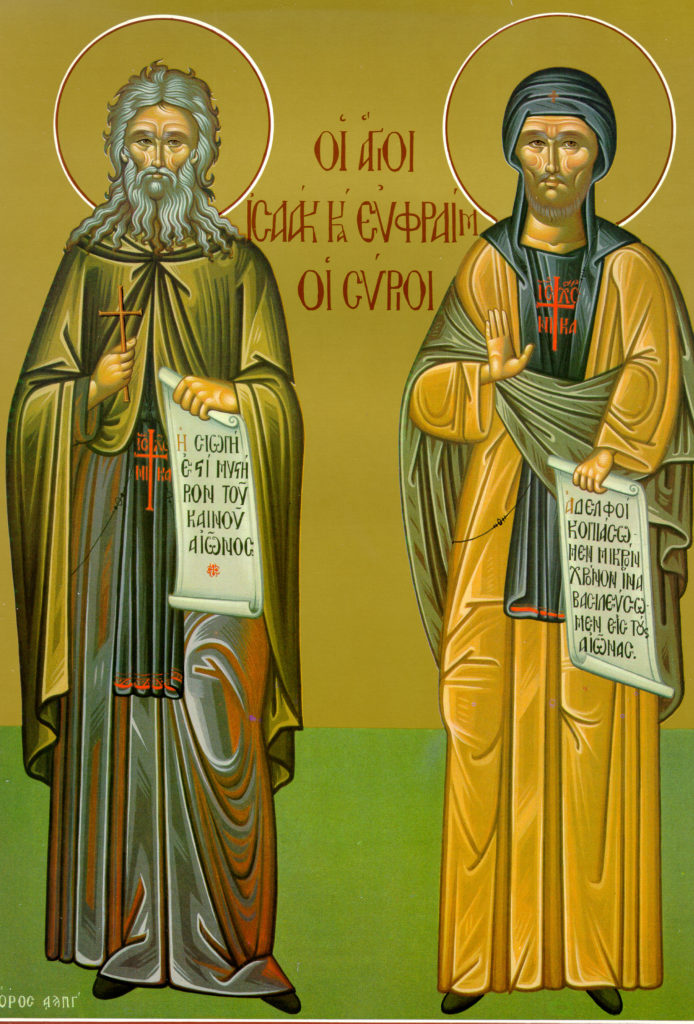 Our venerable father Ephrem the Syrian, bishop of Nineveh, who, first in his own hometown of Nisibis, exercised the office of preaching and of handing on holy teaching. Then, when the Persians invaded Nisibis, he fled with his disciples to Edessa in Syria, where he set down the fundamentals of a school of theology, fulfilling his ministry by his words and writings. So striking is the austerity of his life and clarity of his teachings that from the exquisite hymns he composed he has deserved to be called the harp of the Holy Spirit.
Troparion
Your abundant tears made the wilderness bloom, and your suffering made your labors fruitful a hundredfold; you became a shining torch over the world. O venerable father Ephrem, pray to Christ our God that He may save our souls.
Kontakion
Ever conscious of the hour of judgment, you shed tears of bitter lament, O Ephrem. Your activity embraced the life of silence which you loved so dearly. By your actions you have taught us. You have spurred the lazy to repentance.
Readings for Ephrem
Epistle
Galatians 5:22 – 6:2
Brothers & sisters: The fruit of the spirit is love, joy, peace, patient endurance, kindness, generosity, faith, mildness and chastity. Against such there is no law! Those who belong to Christ Jesus have crucified their flesh with its passions and desires. Since we live by the spirit, let us follow the spirit's lead. Let us never be boastful, or challenging, or jealous toward one another.
Brothers and sisters, if someone is detected in sin, you who live by the spirit should gently set him right, each of you trying to avoid falling into temptation himself. Help carry one another's burden; in this way you will fulfill the law of Christ.
Gospel
Matthew 11: 27-30
The Lord said to his disciples: "Everything has been given over to me by my Father. No one knows the Son except the Father, and no one knows the Father except the Son– and anyone whom the Son wishes to reveal Him."
"Come to me, all you who are weary and find life burdensome, and I will refresh you. Take my yoke upon your shoulders and learn from me, for I am gentle and humble of heart. Your souls will find rest, for my yoke is easy and my burden light."
Readings for the day
Epistle
2 Timothy 2: 11-19
Timothy, my son: you can depend on this: if we have died with Jesus Christ we shall also live with him; if we hold out till the end we shall also reign with him. But if we deny him he will deny us. If we aren't faithful he will still remain faithful, for he cannot deny himself.
Keep reminding people of these things and charge them before God to stop disputing about mere words. This does no good and can be the ruin of those who listen. Try hard to make yourself worthy of God's approval, a workman who has no cause to be ashamed, following a straight course in preaching the truth. Avoid worldly, idle talk, for those who indulge in it become more and more godless, and the influence of their talk will spread like the plague. This is the case with Hymenaeus and Philetus, who have gone far wide of the truth in saying that the resurrection has already taken place. They are upsetting some people's faith. But the foundation God has laid stands firm. It bears this inscription: "The Lord knows those who are his"; and, "Let everyone who professes the name of the Lord abandon evil."
Gospel
Luke 18: 2-8
The Lord told this parable: "Once there was a judge in a certain city who respected neither God nor man. A widow in that city kept coming to him saying, 'Give me my rights against my opponent.' For a time he refused, but finally he thought, 'I care little for God or man, but the widow is wearing me out. I am going to settle in her favor or she will end by doing me violence.'" The Lord said, "Listen to what the corrupt judge has to say. Will not God then do justice to his chosen who call out to him day and night? Will he delay long over them, do you suppose? I tell you, he will give them swift justice."
Icon courtesy of Jack Figel, Eastern Christian Publications – ecpubs.com
Friday, January 27 –