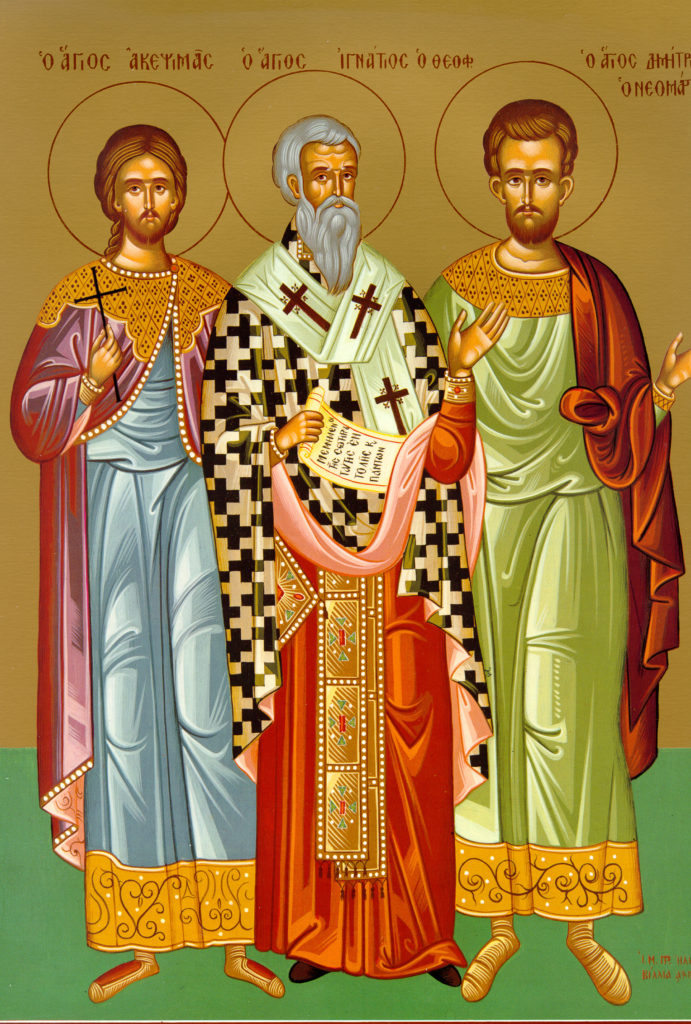 The translation of the Relics of the Holy Priest Martyr Ignatius the God-bearer, Bishop of Antioch: Ignatius was martyred in Rome at the beginning of the second century. His remains were later translated to Antioch, his birthplace and his episcopate. During the invasion of the Persians, the relics were once again taken from Antioch to Rome in the 6th century.
Troparion
Having offered yourself as a sanctified gift to God, you were thrown to the ravenous animals. You received the crown of victory from God for this. Save those who honor you as a pastor for Christ. A teacher and a companion of martyrs.
Kontakion
Rising in the east today and enlightening all the world by your teachings, you were graced with martyrdom, O heavenly Ignatius.
Readings for the saint
Epistle
Hebrews 4:14 – 5:6
Brothers and sisters: Since, then, we have a great high priest who has passed through the heavens, Jesus, the Son of God, let us hold fast to our profession of faith. For we do not have a high priest who is unable to sympathize with our weakness, but one who was tempted in every way that we are, yet never sinned. So let us confidently approach the throne of grace to receive mercy and favor and to find help in time of need.
Every high priest is taken from among men and made their representative before God, to offer gifts and sacrifices for sins. He is able to deal patiently with erring sinners, for he himself is beset by weakness and so must make sin offerings for himself as well as for the people. One does not take this honor on his own initiative, but only when called by God as Aaron was. Even Christ did not glorify himself with the office of high priest; he received it from the One who said to him, "You are my son; today I have begotten you"; just as he says in another place, "You are a priest forever, according to the order of Melchizedek."
In the days when he was in the flesh, he offered prayers and supplications with loud cries and tears to God, who was able to save him from death, and he was heard because of his reverence. Son though he was, he learned obedience from what he suffered; and when perfected, he became the source of eternal salvation for all who obey him, designated by God as high priest according to the order of Melchizedek.
Gospel
Mark 9: 33-41
At that time Jesus and his disciples returned to Capernaum and Jesus, once inside the house, began to ask them, "What were you discussing on the way home?" At this they fell silent, for on the way they had been arguing about who was most important. So he sat down and called the Twelve around him and said, "If anyone wishes to rank first, he must remain the last one of all and the servant of all." Then he took a little child, stood him in their midst, and putting his arms around the child, said to them, "Whoever welcomes a child such as this for my sake welcomes me. And whoever welcomes me welcomes, not me, but him who sent me."
John said to him, "Teacher, we saw a man using your name to expel demons and we tried to stop him because he was not of our company." Jesus said in reply: "Do not try to stop him. No man who performs a miracle using my name can at the same time speak ill of me. Anyone who is not against us is with us. Any man who gives you a drink of water because you belong to Christ will not, I assure you, go without his reward."
Readings for the day
Epistle
2nd Timothy 3: 10-15
Timothy, my son: you have followed closely my teaching and my conduct. You have observed my resolution, fidelity, patience, love, and endurance, through persecution and sufferings in Antioch, Iconium, and Lystra. You know what persecutions I have had to bear, and you know how the Lord saved me from them all. Anyone who wants to live a godly life in Christ Jesus can expect to be persecuted. But all the while evil men and charlatans will go from bad to worse, deceiving others, themselves deceived. You, for your part, must remain faithful to what you have learned and believed, because you know who your teachers were. Likewise, from your infancy you have known the sacred Scriptures, the source of the wisdom which through faith in Jesus Christ leads to salvation.
Gospel
Luke 18: 10-14
The Lord told this parable: "Two men went up to the temple to pray; one was a Pharisee, the other a publican. The Pharisee with head unbowed prayed in this fashion: 'I give you thanks, O God, that I am not like the rest of men – grasping, crooked, adulterous – or even like this publican. I fast twice a week. I pay tithes on all I possess.' The other man, however, kept his distance, not even daring to raise his eyes to heaven. All he did was beat his breast and say, 'O God, be merciful to me, a sinner.' Believe me, this man went home from the temple justified but the other did not. For everyone who exalts himself shall be humbled while he who humbled himself shall be exalted."
Icon courtesy of Jack Figel, Eastern Christian Publications – ecpubs.com
Saturday, January 28 –