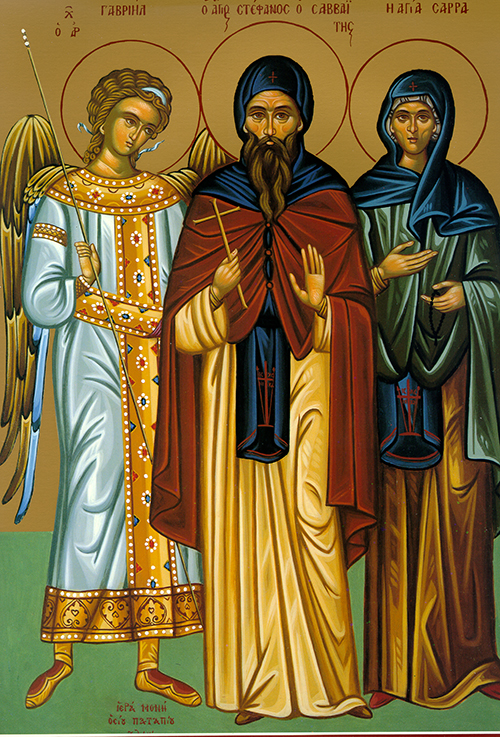 The synaxis of the Archangel Gabriel: the primary feast of the Archangel is March 26. On this day is commemorated all his appearances and marvels throughout the history of salvation. This feast was instituted on Mt. Athos in 982.
Our venerable father Stephen of the Monastery of St. Sabbas, who suffered death in 784 during the reign of the emperor Severus. He was the nephew of St. John Damascene, and lived the monastic life in the Sabaite monastery near Jerusalem.
Our holy father Julian, Bishop of Kenoman at Le Mans, Cenomanus in Latin, in Galia Lugdunesis, a Roman province that is now France. He is considered the first bishop of that city.
Troparion – Archangel
O people, with a candlelight assembly let us sing the praises of the leader of heaven's hosts. He is the servant of light sent from the Light divine to enlighten all who sing with love: O Gabriel, leader of the angels, rejoice with all the power of heaven.
Troparion – Venerable Father
O guide of the true faith, mirror of piety and commendable behavior, bright star of the universe, and adornment of pontiffs, you enlightened us all by your teachings. O wise Stephen, inspired by God and lyre of the Holy Spirit, intercede with Christ our God that He may save our souls.
Kontakion – Archangel
Having beheld the glory of God in heaven and having brought grace to earth from on high, save and protect those who sing to you: O prince of angels and wise Gabriel, minister of God's glory and heavenly defender of the world, always protect us and never abandon us.
Kontakion – Venerable Father
You sought the very depth of wisdom, O Stephen, and great was your joy when you found that precious pearl. You found understanding in your infirmities, most blessed Stephen.
Readings for the Archangel
Epistle
Hebrews 2: 2-10
Brothers and sisters: If the word spoken through angels stood unchanged, and all transgressions and disobedience received its due punishment, how shall we escape if we ignore a salvation as great as ours? Announced first by the Lord, it was confirmed to us by those who had heard him. God then gave witness to it by signs, miracles, varied acts of power, and distribution of the gifts of the Holy Spirit as he willed.
For he did not make the world to come–that world of which we speak– subject to angels. Somewhere this is testified to, in the passage that says: "What is man that you should be mindful of him, or the son of man that you should care for him? You made him for a little while a little lower than the angels: you crowned him with glory and honor, and put all things under his feet." In subjecting all things to him, God left nothing unsubjected. At present we do not see all things thus subject, but we do see Jesus crowned with glory and honor because he suffered death: Jesus, who was made for a little while lower than the angels, that through God's gracious will he might taste death for the sake of all men. Indeed, it was fitting that when bringing many sons to glory God, for whom and through whom all things exist, should make their leader in the work of salvation perfect through suffering.
Gospel
Luke 10: 16-22
The Lord said to his disciples: "He who hears you, hears me, He who rejects you, rejects me. And he who rejects me, rejects him who sent me."
The seventy-two disciples returned jubilation saying, "Master, even the demons are subject to us in your name." Jesus said in reply: "I watched Satan fall from the sky like lightning. See what I have done; I have given you power to tread on snakes and scorpions and all the forces of the enemy, and nothing shall ever injure you. Nevertheless, do not rejoice so much in the fact that the devils are subject to you as that your names are inscribed in heaven."
At that moment Jesus rejoiced in the Holy Spirit and said: "I offer you praise, O Father, Lord of heaven and earth, because what you have hidden from the learned and the clever you have revealed to your merest children. Yes, Father, you have graciously willed it so."
Readings for the day
Epistle
1 Corinthians 7: 24-35
Brothers and sisters, each of you should continue before God in the condition of life that was his when he was called. With respect to virgins, I have not received any commandments from the Lord, but I give my opinion as one who is trustworthy, thanks to the Lord's mercy. It is this: In the present time of stress it seems good to me for a person to continue as he is. Are you bound to a wife? Then do not seek your freedom. Are you free of a wife? If so, do not go in search of one. Should you marry, however, you will not be committing sin. Neither does a virgin commit a sin if she marries. But such people will have trials in this life, and these I should like to spare you.
I tell you, brothers and sisters, the time is short. From now on those with wives should live as though they had none; those who weep should live as though they were not weeping, and those who rejoice as though they were not rejoicing; buyers should conduct themselves as though they owned nothing, and those who make use of the world as though they were not using it, for the world as we know it is passing away.
I should like you to be free of all worries. The unmarried man is busy with the Lord's affairs, concerned with pleasing the Lord; but the married man is busy with this world's demands and occupied with pleasing his wife. This means he is divided. The virgin – indeed, any unmarried woman – is concerned with things of the Lord, in pursuit of holiness in body and spirit. The married woman, on the other hand, has the cares of this world to absorb her and is concerned with pleasing her husband. I am going into this with you for your own good. I have no desire to place restrictions on you, but I do want to promote what is good, what will help you to devote yourselves entirely to the Lord.
Gospel
Matthew 15: 12-21
At that time the disciples approached Jesus and said, "Do you realize the Pharisees were scandalized when they heard your pronouncement?" Jesus replied, "Every planting not put down by my heavenly Father will be uprooted. Let them go their way; they are blind leaders of the blind. If one blind man leads another, both will end in a pit."
Then Peter spoke up to say, "Explain the parable to us." Jesus asked, "Are you, too, still incapable of understanding? Do you not see that everything that enters the mouth passes into the stomach and is discharged into the latrine, but what comes out of the mouth originates in the mind? It is things like these that make a man impure. From the mind stem evil designs–murder, adulterous conduct, fornication, stealing, false witness, blasphemy. These are the things that make men impure. As for eating with unwashed hands – that makes no man impure."
Then Jesus left that place and withdrew to the district of Tyre and Sidon.
Icon courtesy of Jack Figel, Eastern Christian Publications – ecpubs.com
Wednesday, July 12 –