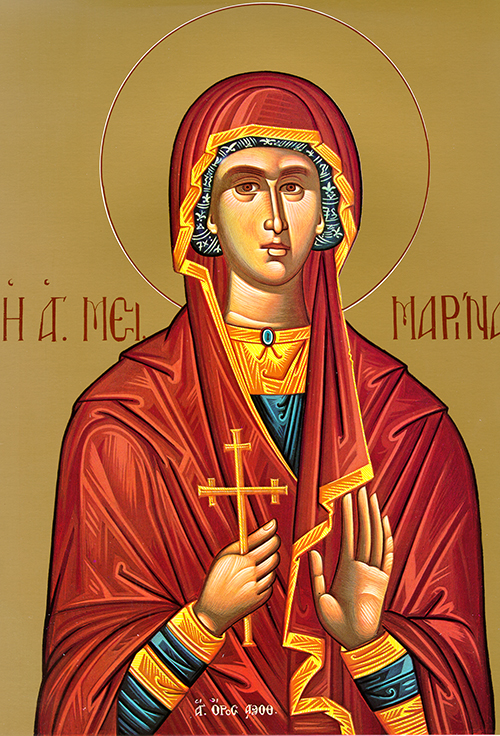 The holy great martyr Marina was born in Antioch of Pisidia in southern Asia Minor into the family of a pagan priest. In her infancy, St. Marina lost her mother, and her father gave her into the care of a nursemaid. The nursemaid raised Marina in the Orthodox Faith. Upon learning that his daughter had become Christian, the father angrily disowned her. During the time of the persecutions against Christians under the emperor Diocletian (284-305), when she was fifteen years old, St. Marina was arrested and locked in prison. With firm trust in the will of God and His help, the young prisoner prepared for her impending fate. She was not swayed by the governor who tried to convince her to renounce Christ and marry him, nor was she swayed by the various tortures she suffered. After a Holy Light healed all her injuries, St. Marina was finally executed by beheading along with 15,000 other Confessors for Christ.
Troparion
Your lamb Marina, O Jesus, cries out in a loud voice: I love You, my Bridegroom; I seek You with longing; I am crucified with You; in Your baptism, I am buried with You; I suffer for You that I may reign with You; I die for You that I may live with You. Receive me as a spotless sacrifice immolated with love for You. By her prayers, O merciful one, save our souls.
Kontakion
Anointed with the balm of virginity, O virgin Marina, you were crowned with unwilting laurels. You were stained scarlet with a martyr's blood, and now you are brilliant with miracles of healing. You have received the honors of a martyr's triumph.
Readings for the saint
Epistle
2 Corinthians 6: 1-10
Brothers and sisters: As your fellow workers we beg you not to receive the grace of God in vain. For he says, "In an acceptable time I have heard you; on a day of salvation I have helped you." Now is the acceptable time! Now is the day of salvation! We avoid giving anyone offense, so that our ministry may not be blamed. On the contrary, in all that we do we strive to present ourselves as ministers of God, acting with patient endurance amid trials, difficulties, distresses, beatings, imprisonments, and riots; as men familiar with hard work, sleepless nights, and fastings; conducting ourselves with innocence, knowledge, and patience, in the Holy Spirit, in sincere love as men with the message of truth and the power of God; wielding the weapons of righteousness with right hand and left, whether honored or dishonored, spoken of well or ill. We are called imposters, yet we are truthful; nobodies who in fact are well known; dead, yet here we are alive; punished, but not put to death; sorrowful, though we are always rejoicing; poor, yet we enrich many. We seem to have nothing, yet everything is ours!
Gospel
Luke 7: 36-50
At that time there was a certain Pharisee who invited Jesus to dine with him. Jesus went to the Pharisee's home and reclined to eat. A woman known in the town to be a sinner learned that he was dining in the Pharisee's home. She brought in a vase of perfumed oil and stood behind him at his feet, weeping so that her tears fell upon his feet. Then she wiped them with her hair, kissing them and perfuming them with the oil. When his host, the Pharisee, saw this, he said to himself, "If this man were a prophet he would know who and what sort of woman this is that touched him–that she is a sinner." In answer to his thoughts, Jesus said to him, "Simon, I have something to propose to you." "Teacher," he said, "speak."
Jesus said, "Two men owed money to a certain money-lender; one owed a total of five hundred coins, the other fifty. Since neither was able to repay, he wrote off both debts. Which of them was more grateful to him?" Simon answered, "He, I presume, to whom he remitted the larger sum." Jesus said to him, "You are right."
Turning then to the woman, Jesus said to Simon: "You see this woman? I came to your home and you provided me with no water for my feet. She has washed my feet with her tears and wiped them with her hair. You gave me no kiss, but she has not ceased kissing my feet since I entered. You did not anoint my feet with perfume. I tell you, that is why her many sins are forgiven–because of her great love. Little is forgiven the one whose love is small."
Jesus said to her then, "Your sins are forgiven"; at which his fellow guests began to ask among themselves, "Who is this that he even forgives sins?" Meanwhile Jesus said to the woman, "Your faith has been your salvation. Now go in peace."
Readings for the day
Epistle
1 Corinthians 9: 13-18
Brothers and sisters: Do you not realize that those who work in the temple are supported by the temple, and those who minister at the altar share the offerings of the altar? Likewise the Lord himself ordered that those who preach the gospel should live by the gospel.
As for me, I have not used any of these rights, nor do I write this now to see to it that anything should be done for me. I would rather die than let anyone rob me of my boast! Yet preaching the gospel is not the subject of a boast; I am under compulsion and have no choice. I am ruined if I do not preach it! If I do it willingly, I have my recompense; if unwillingly, I am nonetheless entrusted with a charge. And this recompense of mine? It is simply this, that when preaching I offer the gospel free of charge and do not make full use of the authority the gospel gives me.
Gospel
Matthew 16: 1-6
At that time the Pharisees and Sadducees came along, and as a test asked Jesus to show them some sign in the sky. He gave them this reply: "In the evening you say, 'Red sky at night, the day will be bright'; but in the morning, 'Sky red and gloomy, the day will be stormy.' If you know how to interpret the look of the sky, can you not read the signs of the times? An evil, faithless age is eager for a sign, but no sign will be given it except that of Jonah." With that he left them abruptly.
The disciples discovered when they arrived at the other side of the lake that they had forgotten to bring any bread along. Jesus said to them, "Be on lookout against the yeast of the Pharisees and Sadducees."
Icon courtesy of Jack Figel, Eastern Christian Publications – ecpubs.com
Sunday, July 16 –