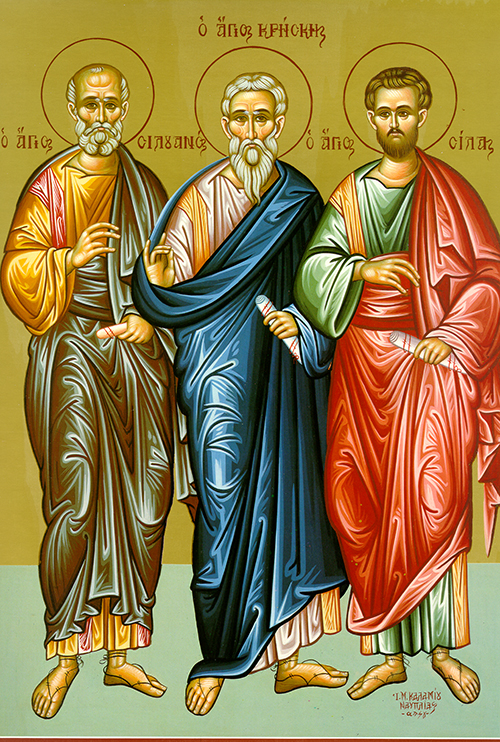 The holy apostle Silas was sent by the apostles to the Churches of the gentiles together with Saints Paul and Barnabas. He earnestly fulfilled the office of preaching, full of the grace of God. (Acts 15:22) The holy apostle Silvanus helped both Peter and Paul (I Peter 5:12; II Corinthians 1:19), and became the first bishop of Salonica. Crescens was a fellow-worker with St. Paul (II Tim. 4:10) and then bishop in Galatia and missionary in Gaul. Epaenetus is mentioned by Paul (Rom. 16:7) and became bishop of Carthage.
Troparion
Let us praise the apostles Silas, Silvanus, and their companions. They overcame the deceits of idolatry and taught the pagans for the faith. They pray unceasingly for those who keep their memory.
Kontakion
O Silas and Silvanus, you were two disciples of the Lord, two vines in the Lord's vineyard producing clusters of virtue like grapes. You poured out for us the wine of salvation that fills the hearts of the faithful with joy and makes them celebrate your honorable memory. Obtain for us the remission of sins and transgressions.
Epistle
1 Corinthians 3: 9-17
Brothers and sisters: [Apollos and I] are God's co-workers, while you are his cultivation, his building. Thanks to the favor God showed me I laid a foundation as a wise master-builder might do, and now someone else is building upon it. Everyone, however, must be careful how he builds. No one can lay a foundation other than the one that has been laid, namely Jesus Christ. If different ones build on this foundation with gold, silver, precious stones, wood, hay or straw, the work of each will be made clear. The Day will disclose it. That day will make its appearance with fire, and fire will test the quality of each man's work. If the building a man has raised on this foundation still stands, he will receive his recompense; if a man's building burns, he will suffer loss. He himself will be saved, but only as one fleeing from fire.
Are you not aware that you are the temple of God, and that the Spirit of God dwells in you? If anyone destroys God's temple, God will destroy him. For the temple of God is holy, and you are that temple.
Gospel
Matthew 14: 22-34
At that time while dismissing the crowds, Jesus insisted that his disciples get into the boat and precede him to the other side of the lake. When he had sent them away, he went up on the mountain by himself to pray, remaining there alone as evening drew on. Meanwhile the boat, already several hundred yards out from shore, was being tossed about in the waves raised by strong headwinds. At about three in the morning, Jesus came walking toward them on the lake. When the disciples saw him walking on the water, they were terrified. "It is a ghost!" they said, and in their fear they began to cry out. Jesus hastened to reassure them: "Get hold of yourselves! It is I. Do not be afraid!" Peter spoke up and said, "Lord, if it is really you, tell me to come to you across the water." "Come!" Jesus said. So Peter got out of the boat and began to walk on the water, moving toward Jesus. But when he perceived how strong the wind was, becoming frightened, he began to sink and cried out, "Lord, save me!" Jesus at once stretched out his hand and caught him. "How little faith you have!" he exclaimed. "Why did you falter?" Once they had climbed into the boat, the wind died down. Those who were in the boat showed him reverence, declaring, "Beyond doubt you are the Son of God." After making the crossing they reached the shore at Gennesaret.
Icon courtesy of Jack Figel, Eastern Christian Publications – ecpubs.com
Saturday, July 29 –