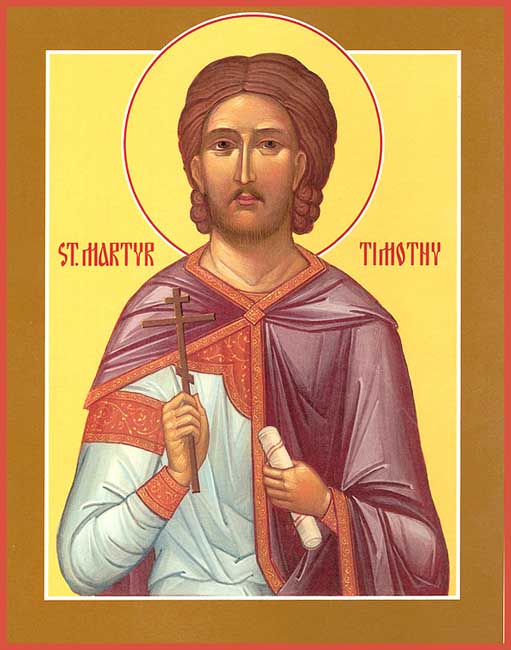 The hieromartyr Timothy, Bishop of Prusa (Bithynia), received from the Lord the gift of wonderworking because of his purity and sanctity of life. At Prusa he converted many pagans to the faith of Christ. The emperor Julian the Apostate (361-363), upon hearing about St. Timothy had him locked up in prison, but even there St. Timothy continued to preach the Gospel. Julian forbade him to teach about Jesus Christ, but the saint continued to spread the Christian Faith. Finally, the emperor gave orders to behead the saint. His holy relics were afterwards transferred to Constantinople.
Troparion
The world rejoices in singing your praises. How joyful is this assembly of the faithful for you. We celebrate your memory and sing: Save us from all misfortune, O Timothy, by your prayers.
Kontakion
Washed by the rivers of your own blood, O martyred priest, you offered the fruit of your heart to Christ from the earth. You received in return an unending abundance from God. Beg Him to save from misfortune those who venerate you.
Epistle
Romans 3: 19-26
Brothers and sisters: We know that everything the law says is addressed to those who are under its authority. This means that every mouth is silenced and the whole world stands convicted before God, since no one will be justified in God's sight through observance of the law; the law does nothing but point out what is sinful.
But now the justice of God has been manifested apart from the law, even though both law and prophets bear witness to it – that justice of God which works through faith in Jesus Christ for all who believe. All men have sinned and are deprived of the glory of God. All men are now undeservedly justified by the gift of God, through the redemption wrought in Christ Jesus. Through his blood, God made him the means of expiation for all who believe. He did so to manifest his own justice, for the sake of remitting sins committed in the past – to manifest his justice in the present, by the way of forbearance, so that he might be just and might justify those who believe in Jesus.
Gospel
Matthew 7: 1-8
The Lord said: "If you want to avoid judgment, stop passing judgment. Your verdict on others will be the verdict passed on you. The measure with which you measure will be used to measure you. Why look at the speck in your brother's eye when you miss the plank in your own? How can you say to your brother, 'Let me take that speck out of your eye,' while all the time the plank remains in your own? You hypocrite! Remove the plank from your own eye first; then you will see clearly to take the speck from your brother's eye.
"Do not give what is holy to dogs or toss your pearls before swine. They will trample them under foot, at best, and perhaps even tear you to shreds.
"Ask, and you will receive. Seek, and you will find. Knock, and it will be opened to you. For the one who asks, receives. The one who seeks, finds. The one who knocks, enters."
Icon courtesy of Jack Figel, Eastern Christian Publications – ecpubs.com
Friday, June 9 –