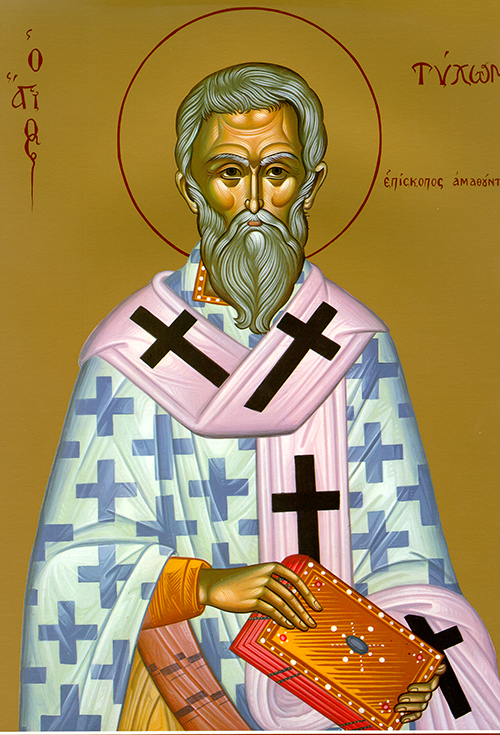 Our venerable father Tychon was bishop of Amathis on Cyprus. He labored zealously to eradicate the remnants of paganism on Cyprus; he destroyed a pagan temple and spread the Christian Faith. St. Tychon was generous, his doors were open to all, and he listened to and lovingly fulfilled the request of each person who came to him. Fearing neither threats nor tortures, he firmly and fearlessly confessed his faith before pagans. He died peacefully in the year 425.
Troparion
You first crucified yourself to the world by becoming poor among the living. Then like a true shepherd, you put your life at the disposal of your flock. Enriching your sheep with miracles, you became a bright light for the Church of Amathis. By shedding light on it, you saved it from the fog of deceit, O father Tychon. By your prayers enlighten us today as we praise you.
Kontakion
You preserved in fasting through your love for God, and heaven sent you the power to expose the lies of idols, to save the people and cast out devils, to heal illness by the power of the Comforter.
Epistle
Romans 9: 6-18
Brothers and sisters: It is not that God's word has failed. For not all Israelites are true Israelites nor are all Abraham's descendants his children, but as Scripture says, "Through Isaac shall your descendants be called." That means that it is not the children of the flesh who are not children of God; it is that children of the promise who are to be considered descendants. And this was the promise: "I will return at this time, and Sarah shall have a son." Not only that; for when Rebekah had conceived twin children by one man, our father Isaac–while they were yet unborn and had done neither good nor evil, in order that God's decree might stand fast "not by works but by the favor of him who calls" –God said to her, "The older shall serve the younger." It is just as Scripture says, "I have loved Jacob and hated Esau." What are we to say, then? That God is unjust? Not at all! He says to Moses, "I will show mercy to whomever I choose; I will have pity on whomever I wish." So it is not a question of man's willing or doing but of God's mercy. Scripture says to Pharaoh, "This is why I might be proclaimed throughout all the earth." In other words, God has mercy on whom he wishes, and whom he wishes he makes hardhearted.
Gospel
Matthew 10: 32-36 & 11:1
The Lord said to his disciples: "Whoever acknowledges me before men I will acknowledge before my Father in heaven. Whoever disowns me before men I will disown before my Father in heaven.
"Do not suppose that my mission on earth is to spread peace. My mission is to spread, not peace, but division. I have come to set a man at odds with his father, a daughter with her mother, a daughter-in-law with her mother-in-law: in short, to make a man's enemies those of his own household." When Jesus had finished instructing his twelve disciples, he left that locality to teach and preach in their towns.
Icon courtesy of Jack Figel, Eastern Christian Publications – ecpubs.com
Thursday, June 15 –