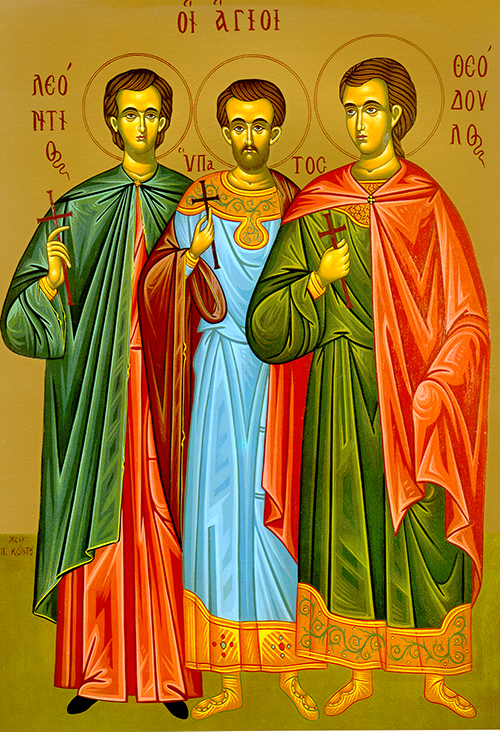 The holy martyr Leontius, a Greek by origin, served as a military chief in the imperial army of the Phoenician city of Tripoli during the reign of Vespasian (70-79). Leontius was distinguished for his bravery and good sense, and the people of Tripoli held him in deep respect because of his virtue. The emperor appointed the Roman senator Adrian as governor of the Phoenician district, with full powers to hunt out Christians, and in case of their refusal to offer sacrifice to the Roman gods, to give them over to torture and death. And on his way to Phoenicia, Adrian received a report that St. Leontius had turned many away from worshiping the pagan gods toward Christ. Learning what had happened, he ordered St. Leontius, Hypatius, and Theodulus to be brought to him. After threatening them with torture and death, he demanded that they renounce Christ and offer sacrifice to the Roman gods. Having suffered patiently harsh tortures in prison, the death of the holy martyrs occurred between the years 70 and 79.
Troparion
O Lord our God, your holy martyr Leontius has deserved the crown of immortality on account of his good works. Armed with your strength, he has vanquished his persecutors and crushed Satan's dreadful might. Through his supplications, O Christ our God, save our souls.
Kontakion
You shamed the evil treachery of the torturers, and you prevailed against the false worship of the Greeks. You presented the knowledge of God in piety to all people. For all of this we honor you with love, O wise Leontius.
Epistle
Romans 5: 1-10
Brothers and sisters: Now that we have been justified by faith, we are at peace with God through our Lord Jesus Christ. Through him we have gained access by faith to the grace in which we now stand, and we boast of our hope for the glory of God. But not only that – we even boast of our afflictions! We know that affliction makes for endurance, and endurance for tested virtues, and tested virtue for hope. And this hope will not leave us disappointed, because the love of God has been poured out in our hearts through the Holy Spirit who has been given to us. At the appointed time, when we were still powerless, Christ died for us godless men. It is rare that anyone should lay down his life for a just man, though it is barely possible that for a good man someone may have the courage to die. It is precisely in this that God proves his love for us: that while we were still sinners, Christ died for us. Now that we have been justified by his blood, it is all the more certain that we shall be saved by him from God's wrath. For if, when we were God's enemies, we were reconciled to him by the death of his Son, it is all the more certain that we who have been reconciled will be saved by his life.
Gospel
Matthew 6: 22-34
The Lord said: "The eye is the body's lamp. If your eyes are good, your body will be filled with light; if your eyes are bad, your body will be in darkness. And if your light is darkness, how deep will the darkness be! No man can serve two masters. He will either hate one and love the other or be attentive to one and despise the other. You cannot give yourself to God and money. I warn you then: do not worry about your livelihood, what you are to eat and drink or use for clothing. Is not life more than food? Is not the body more valuable than clothes?
"Look at the birds in the sky. They do not sow or reap, they gather nothing into barns; yet your heavenly Father feeds them. Are not you more important than they? Which of you by worrying can add a moment to his life-span? As for clothes, why be concerned? Learn a lesson from the way the wild flowers grow. They do not work; they do not spin. Yet I assure you, not even Solomon in all his splendor was arrayed like one of these. If God can clothe in such splendor the grass of the field, which blooms today and is thrown on the fire tomorrow, will he not provide much more for you, O weak in faith! Stop worrying, then, over questions like, 'What are we to eat, or what are we to drink, or what are we to wear?' The unbelievers are always running after these things. Your heavenly Father knows all that you need. Seek first his kingship over you, his way of holiness, and all these things will be given you besides. Enough, then, of worrying about tomorrow. Let tomorrow take care of itself. Today has troubles enough of its own."
Icon courtesy of Jack Figel, Eastern Christian Publications – ecpubs.com
Saturday, June 17 –