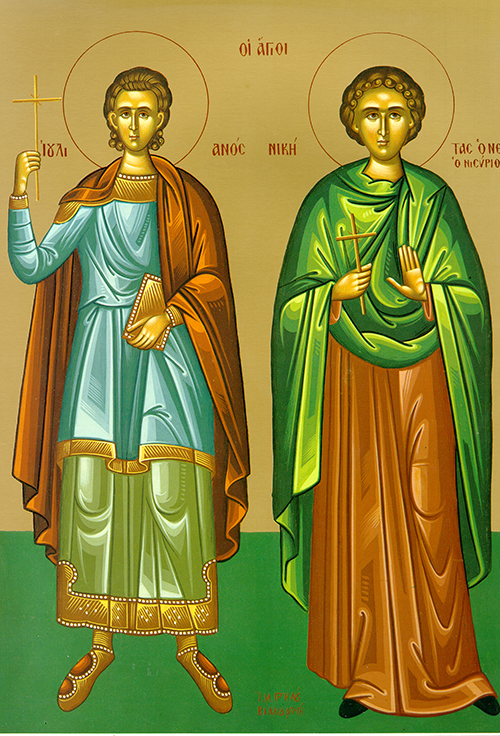 The holy martyr Julian was of noble and senatorial origin. He lived in Tarsus in Cilicia and suffered during the reign of Diocletian. Even though he was only eighteen years old when he was subjected to torture for the Faith, St. Julian was sufficiently educated and strengthened in Christian piety. The imperial deputy led him from town to town for an entire year, torturing him and all the while trying to persuade him to deny Christ. Julian's mother followed her son at a distance. When the deputy seized Julian's mother and sent her to counsel her son to deny Christ, she spoke to him for three days in prison, giving him the opposite advice, teaching him and encouraging him not to lose heart but to go to his death with thanksgiving and courage. The torturers then sewed Julian in a sack with sand, scorpions, and serpents and cast the sack into the sea. Julian's mother also died under torture. St. Julian's relics were thrown onto the shore by the waves, and the faithful translated them to Alexandria and buried them honorably in the year 290.
Troparion
O Lord our God, your martyr Julian has deserved the crown of immortality on account of his good fight. Armed with your strength, he has vanquished his persecutors and crushed Satan's dreadful might. Through his supplications, O Christ our God, save our souls.
Kontakion
Today let us praise Julian, an invincible warrior in holiness, the herald and soldier of truth. Let us cry out to him: Intercede with Christ our God for our salvation.
Epistle
Romans 11: 2b-12
Brothers and sisters: Do you know what Scripture says about Elijah, how he pleaded with God against Israel? "Lord, they have killed your prophets, they have torn down your altars; I alone am left and they are seeking my life." How does God answer him? "I have left for myself seven thousand men who have not bowed the knee to Baal." Just so, in the present time there is a remnant chosen by the grace of God. But if the choice is by grace, it is not because of their works – otherwise grace would not be grace. What then are we to say? Just this: Israel did not obtain what she was seeking, but those who were chosen did. The rest became blind, as Scripture says: "God gave them a spirit of stupor; blind eyes and deaf ears, and it is so to this day." David says: "Let their table become a snare and a trap, a stumbling stone and a retribution: let their eyes be darkened so that they may not see. Bow down their back forever."
I further ask, does their stumbling mean that they are forever fallen? Not at all! Rather, by their transgression salvation has come to the Gentiles to stir Israel to envy. But if their transgression and their diminishing have meant riches for the Gentile world, how much more their full number!
Gospel
Matthew 11: 20-26
At that time Jesus began to reproach the towns where most of his miracles had been worked, with their failure to reform: "It will go ill with you, Chorazin! And just as ill with you Bethsaida! If the miracles worked in you had taken place is Tyre and Sidon, they would have reformed in sackcloth and ashes long ago. I assure you, it will go easier for Tyre and Sidon than for you on the day of judgment. As for you, Capernaum, 'Are you to be exalted to the skies? You shall go down to the realm of death!' If the miracles worked in you had taken place in Sodom, it would be standing today. I assure you, it will go easier for Sodom than for you on the day of judgment."
On one occasion Jesus spoke thus: "Father, Lord of heaven and earth, to you I offer praise; for what you have hidden from the learned and clever you have revealed to the merest children. Father, it is true. You have graciously willed it so."
Icon courtesy of Jack Figel, Eastern Christian Publications – ecpubs.com
Tuesday, June 20 –