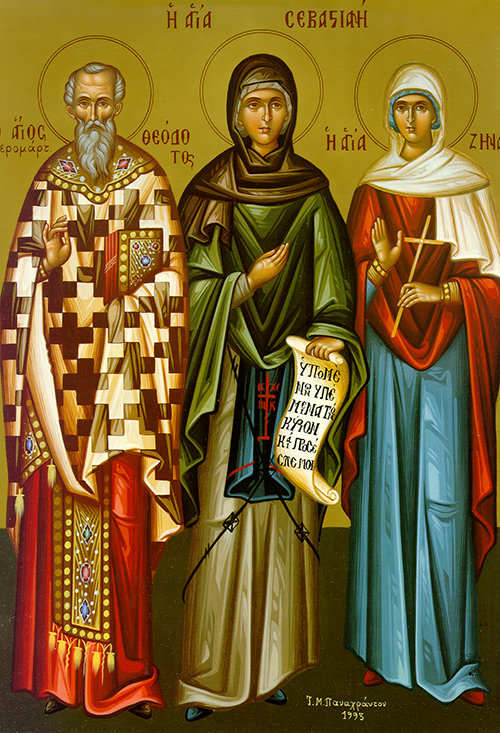 The holy martyr Theodotus lived in Ancyra of Galatia in the third century. He was distinguished by his kindliness and concern. At the height of the persecution under Diocletian (284-305) he provided Christians with everything they needed, and gave them shelter in his home. There they secretly celebrated church services. St. Theodotus visited the Christian captives in prison, paid their bail, and reverently buried the bodies of martyrs who had been thrown to the wild beasts. Once he buried the bodies of seven holy women martyrs, who were drowned at sea (May 18). They reported this act to the governor and he was arrested. After refusing to offer sacrifice to idols, and denouncing the folly of paganism, St. Theodotus confessed Christ as God, for which they subjected him to terrible tortures and beheaded him with a sword. They wanted to burn the holy martyr's body, but could not do so because of a storm which had arisen, so they gave his holy relics to a certain Christian for burial.
Troparion
O holy priest-martyr Theodotus, you lent yourself to the apostles' way of life and succeeded them on their throne. Inspired by God, you found the way to contemplation through the practice of virtue. Therefore, you became the perfect teacher of truth, fighting for the faith unto the shedding of your blood. Intercede with Christ our God that He may save our souls.
Kontakion
Enlightening creation with miracles and sufferings, you were truly a star of light, O blessed Theodotus. Celebrating your famous memory today, we praise Christ with a heart of joy.
Epistle
Romans 4: 13-25
Brothers and sisters: Certainly the promise made to Abraham and his descendants that they would inherit the world did not depend on the law. It was made in view of the justice that comes from faith. If only those who observe the law are heirs, then faith becomes an empty word and the promise loses its meaning. Indeed, the law serves only to bring down wrath, for where there is no law there is no transgression. Hence, all depends on faith, everything is grace. Thus the promise holds true for all Abraham's descendants, not only for those who have the law but for all who have his faith. He is father of us all, which is why Scripture says, "I have made you father of many nations." Yes, he is our father in the sight of God in who he believed, the God who restores the dead to life and calls into being those things which had not been. Hoping against hope, Abraham believed and so became the father of many nations just as it was once told him, "Numerous as this shall be your descendants be." Without growing weak in faith he thought of his own body, which was as good as dead (for he was nearly a hundred years old), and [he thought] of the dead womb of Sarah. Yet he never questioned or doubted God's promise; rather, he was strengthened in faith and gave glory to God, fully persuaded that God would do whatever he had promised. Thus his faith was credited to him as justice.
The words, "It was credited to him," were not written with him alone in view: they were intended for us too. For our faith will be credited to us also if we believe in him who raised Jesus our Lord from the dead, the Jesus who was handed over to death for our sins and raised up for our justification.
Gospel
Matthew 7: 21-23
The Lord said: "None of those who cry out, 'Lord, Lord,' will enter the kingdom of God but only the one who does the will of my Father in heaven. When that day comes, many will plead with me, 'Lord, Lord, have we not prophesied in your name? Have we not exorcised demons by its power? Did we not do many miracles in your name as well?' Then I will declare to them solemnly, 'I never knew you. Out of my sight, you evildoers!'"
Icon courtesy of Jack Figel, Eastern Christian Publications – ecpubs.com
Tuesday, June 6 –