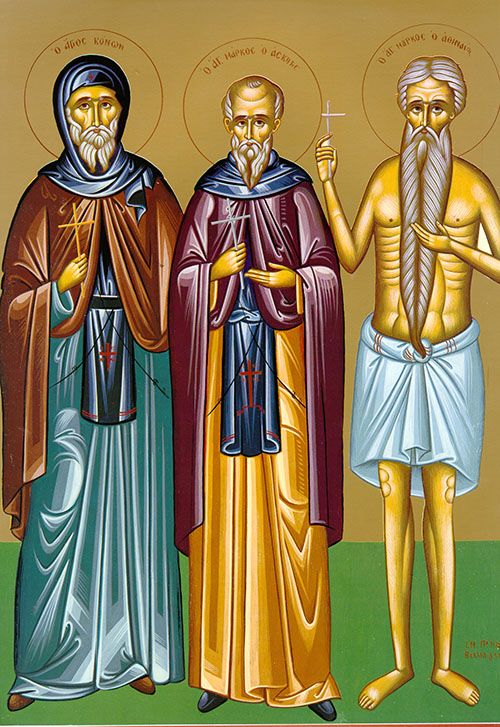 The holy martyr Conon was brought up in the Christian Faith and baptized in the name of the All-holy and Life-giving Trinity by the Archangel Michael himself. Until his death, the archangel of God invisibly watched over him. Conon was illumined and empowered by the grace of the Holy Spirit, so that his heart was driven not by anything worldly but only by the spiritual and heavenly. When his parents forced him into marriage, the first evening he took a candle and placed it under a vessel and asked his bride: "Which is better, light or darkness?" She replied: "Light." He began to talk to her about the Faith of Christ, and about the spiritual life as being far superior and more desirable than the physical. Afterward Conon converted his wife and her parents to the Christian Faith. Conon and his wife lived as brother and sister. Shortly thereafter, his wife and parents died, and he withdrew completely from this worldly life and devoted himself totally to prayer, fasting, and divine contemplation. He performed great miracles, through which he converted many to Christianity. He even compelled evil spirits to serve him. During a time of persecution, Conon was captured, tortured, and pierced throughout with knives. The sick anointed themselves with his blood, and they were healed. Afterward he lived for two more years in his town of Isauria. Conon lived and was martyred in the second century.
Troparion
With our hymn, let us praise Conon as a hard worker and a great martyr. He is a blessed sufferer who received authority over devils, so let us cry out to him: Beg Christ to save our souls.
Kontakion
Having lived an angelic life on earth in your purity, you were admitted to their company in heaven. You brought your parents to a knowledge of Christ and shed your blood to profess the one God in the Trinity. Pray unceasingly for all of us, O martyr Conon.
Epistle
Hebrews 1: 1-12
In the past, God spoke in fragmentary and varied ways to our fathers through the prophets; in this, the final age, he has spoken to us through his Son, who he has made heir of all things and through whom he first created the universe. The Son is the reflection of the Father's glory, the exact representation of the Father's being, and he sustains all things by his powerful word. When he had cleansed us from our sins, he took his seat at the right hand of the Majesty in heaven, as far superior to the angels as the name he has inherited is superior to theirs.
To which of the angels did God ever say, "You are my son; today I have begotten you"? Or again, "I will be his father, and he shall be my son"? And again, when he leads his first-born into the world, he says, "Let all the angels of God worship him." Of the angels he says, "He makes his angels winds, and his ministers flaming fire"; but of the Son, "Your throne, O God, stands forever and ever; a righteous scepter is the scepter of your kingdom. You have loved justice and hated wickedness, therefore God, your God, has anointed you with the oil of gladness above your fellow kings." And, "Lord, of old you established the earth, and the heavens are the work of your hands. They will perish, but you remain; all of them will grow old like a garment. You will roll them up like a cloak, like a garment they will be changed; but you are the same, and your years will have no end."
Gospel
Mark 2:23- 3:5
At that time Jesus was walking through standing grain on the sabbath, and his disciples began to pull off the heads of grain as they went along. At this the Pharisees protested: "Look! Why do they do a thing not permitted on the sabbath?" Jesus said to them: "Have you never read what David did when he was in need and he and his men were hungry? How he entered God's house in the days of Abiathar the high priest and ate the holy bread which only the high priests were permitted to eat? He even gave it to his men." Then Jesus said to them: "The sabbath was made for man, not man for sabbath. That is why the Son of Man is lord even of the sabbath."
Jesus returned to the synagogue where there was a man whose hand was shriveled up. They kept an eye on Jesus to see whether he would heal the man on the sabbath, hoping to be able to bring an accusation against him. Jesus addressed the man with the shriveled hand: "Stand up here in front!" Then he said to them: "Is it permitted to do a good deed on the sabbath– or an evil one? To preserve life– or destroy it?" At this they remained silent. Jesus looked around at them with anger, for he was deeply grieved that they had closed their minds against him. Then he said to the man, "Stretch out your hand." The man did so and his hand was perfectly restored.
Icon courtesy of Jack Figel, Eastern Christian Publications – ecpubs.com
Friday, March 4 –