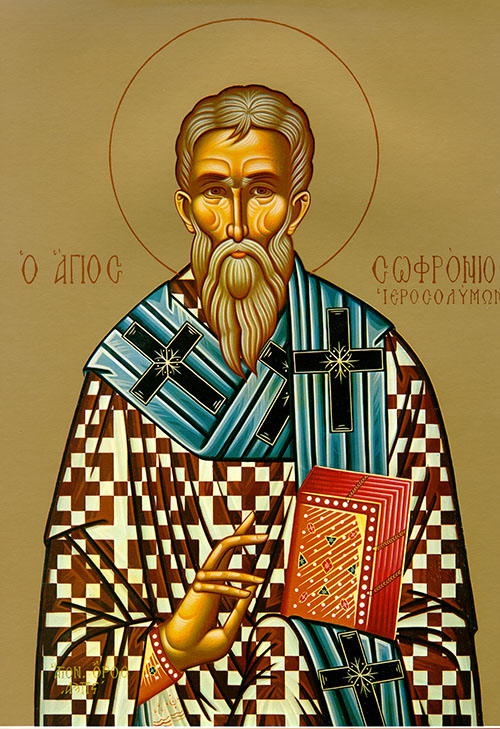 Our venerable father Sophronius was born in Damascus around 560. From his youth he was distinguished for his piety and his love for classical studies. He was especially proficient in philosophy, and so he was known as Sophronius the Wise. The future hierarch, however, sought the true philosophy of monasticism, and conversations with the desert-dwellers. He went to Jerusalem to the monastery of St. Theodosius. After the death of St. Modestus in 634, St. Sophronius was chosen Patriarch of Jerusalem. He toiled much for the welfare of the Jerusalem Church as its primate. Toward the end of his life, St. Sophronius and his flock lived through a two year siege of Jerusalem by the Moslems. Worn down by hunger, the Christians finally agreed to open the city gates, on the condition that the enemy spare the holy places. But this condition was not fulfilled, and St. Sophronius died in grief over the desecration of the Christian holy places. Written works by Patriarch Sophronius have come down to us in the area of dogmatics, and likewise his "Excursus on the Liturgy," the Life of Saint Mary of Egypt, and also about 950 troparia and stikheras from Pascha to the Ascension, including the prayer for the solemn blessing of the water on the Feast of the Theophany.
Troparion
O guide of the true faith, mirror of piety and commendable behavior, bright star of the universe, and adornment of pontiffs, you enlightened us all by your teachings. O wise Sophronius, inspired by God and lyre of the Holy Spirit, intercede with Christ our God that He may save our souls.
Kontakion
You advanced by heavenly fervor and spread the true dogma by your lips. You ruled your Church well and reformed the monks within it. You clearly preached words of instruction for us, and so we sing to you, O blessed patriarch: Rejoice, luminous glory of the faithful.
Epistle
Hebrews 10: 32-38
Brothers and sisters: Recall the days gone by when, after you had been enlightened, you endured a great contest of suffering. At times you were publicly exposed to insult and trial; at other times you associated yourselves with those who were being so dealt with. You even joined in the suffering of those who were in prison and joyfully assented to the confiscation of your goods, knowing that you had better and more permanent possessions. Do not, then, surrender your confidence; it will have great reward. You need patience to do God's will and receive what He has promised.
Gospel
Mark 2: 14-17
At that time as Jesus moved on he saw Levi the son of Alphaeus at his tax collector's post, and said to him, "Follow me." Levi got up and became his follower. While Jesus was reclining to eat in Levi's house, many tax collectors and those known as sinners joined him and his disciples at dinner. The number of those who followed him was large. When the scribes who belonged to the Pharisees party saw that Jesus was eating with tax collectors and offenders against the law, they complained to his disciples, "Why does he eat with such as these?" Overhearing the remark, Jesus said to them, "People who are healthy do not need a doctor; sick people do. I have come to call sinners, not the self-righteous."
Icon courtesy of Jack Figel, Eastern Christian Publications – ecpubs.com
Friday, March 10 –