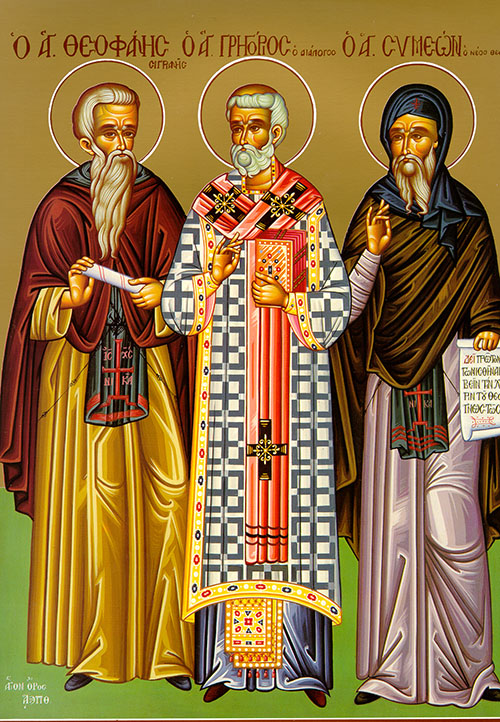 Our venerable father and confessor Theophane of the Sygrian Mountains in Bithynia in the monastery of Ager Magnus. He was called the Chronographer. Having been a very wealthy man, he became a poor monk. He was held in prison for two years by the emperor Leo the Armenian on account of his defense of the cult of holy icons. From there he was deported to Samothrace, where, consumed by his tribulations, he yielded up his spirit in 817.
Our holy father Gregory, pope of Rome: After entering the monastic life, he performed the duty of ambassador to Constantinople. Then on the third of September, he was chosen for the Roman See. He dealt well with earthly matters and, as a servant of the servants of God, he attended to holy things. He showed he was a true pastor in directing affairs, in fully assisting the needy, in fostering the monastic life, and everywhere strengthening or extending the faith. He also wrote excellently on many things concerning moral and pastoral matters.
Troparion – Theophane
Adorning your life with purity and disciplining your body, you slew the goats of the devil, O father Theophane. You were carried to eternal life in the Lord. As you stand before Him, now pray for all of us.
Troparion – Gregory
You received divine grace from heaven, O blessed Gregory, and strength from his divine power. You sought to follow the way of the Gospel, and your journey's end brought you Christ's reward. O blessed saint, beg Him to save us.
Kontakion – Theophane
You became very much like the shepherds of Christ. You led the flocks of monks into the heavenly sheepfold. There you taught your flock the law of Christ, O father; and now you sing in the heavenly abode, and you rejoice happy in their company.
Epistle
Hebrews 4:14 – 5:6
Brothers and sisters: Since, then, we have a great high priest who has passed through the heavens, Jesus, the Son of God, let us hold fast to our profession of faith. For we do not have a high priest who is unable to sympathize with our weakness, but one who was tempted every way that we are, yet never sinned. So let us confidently approach the throne of grace to receive mercy and favor and to find help in time of need.
Every high priest is taken from among men and made their representative before God, to offer gifts and sacrifices for sins. He is able to deal patiently with erring sinners, for he himself is beset by weakness and must make sin offerings for himself as well as for the people. One does not take this honor on his own initiative, but only when called by God as Aaron was. Even Christ did not glorify himself with the office of high priest; he received it from the One who said to him, "You are my son; today I have begotten you"; just as he says in another place, "You are a priest forever, according to the order of Melchizedek."
Gospel
Mark 8:34 – 9:1
At that time Jesus summoned the crowd with his disciples and said to them: "If a man wishes to come after me, he must deny his very self, take up his cross, and follow in my steps. Whoever would preserve his life will lose it, but whoever loses his life for my sake and the gospel's sake will preserve it. What prophet does a man show who gains the whole world and destroys himself in the process? What can a man offer in exchange for his life? If anyone in this faithless and corrupt age is ashamed of me and my doctrine, the Son of Man will be ashamed of him when he comes with the holy angels in his Father's glory." He also said to them: "I assure you, among those standing here there are some who will not taste death until they see the reign of God established in power."
Icon courtesy of Jack Figel, Eastern Christian Publications – ecpubs.com
Saturday, March 11 –