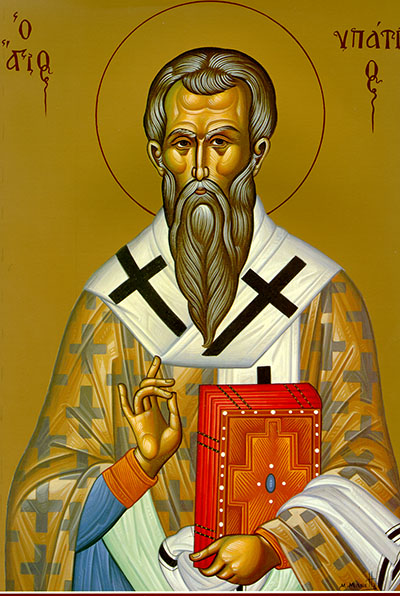 Our venerable father Hypatius was born in Cilicia and was the bishop of Gangra. He was present at the First Ecumenical Council (Nicea, 325) and was renowned by all for his pious life and miracle-working. The Emperor Constantius ordered that a likeness of Hypatius be made during the saint's lifetime. The emperor kept the likeness in his palace as a weapon against all adverse powers. Once, upon returning from Constantinople, Hypatius was attacked in a narrow gorge by Novatian heretics and was thrown from the road into the mud. At that moment a woman from that group struck him on the head with a stone, and thus the saint died. Immediately the woman went insane and took that same stone and struck herself with it. When they took her to the grave of St. Hypatius, he interceded before God on her behalf. She was healed by the greatly compassionate soul of Hypatius, and lived the remainder of her life in repentance and prayer. St. Hypatius died in the year 326.
Troparion
In you, O holy father Hypatius, the faithful image of God shone forth, for you carried your cross and followed Christ. You taught by your deeds how to spurn the body, for it passes away; and how to value the soul, for it is immortal. Therefore, your soul is forever in happiness with the angels.
Kontakion
You shone over the earth, O holy father Hypatius, and you enlighten those who come to you by miracles. Having poured out your blood, you became like Christ. You sing with the angels as you pray for us. Glory to God who strengthened you! Glory to Him who befriended you! Glory to Him who heals us through you!
Readings for the day
Genesis 49:33 – 50:26
When Jacob ended his charge to his sons, he drew up his feet into the bed, breathed his last, and was gathered to his people.
Then Joseph threw himself on his father's face and wept over him and kissed him. Joseph commanded the physicians in his service to embalm his father. So the physicians embalmed Israel; they spent forty days in doing this, for that is the time required for embalming. And the Egyptians wept for him seventy days.
When the days of weeping for him were past, Joseph addressed the household of Pharaoh, "If now I have found favor with you, please speak to Pharaoh as follows: My father made me swear an oath; he said, 'I am about to die. In the tomb that I hewed out for myself in the land of Canaan, there you shall bury me.' Now therefore let me go up, so that I may bury my father; then I will return." Pharaoh answered, "Go up, and bury your father, as he made you swear to do." So Joseph went up to bury his father. With him went up all the servants of Pharaoh, the elders of his household, and all the elders of the land of Egypt, as well as all the household of Joseph, his brothers, and his father's household. Only their children, their flocks, and their herds were left in the land of Goshen. Both chariots and charioteers went up with him. It was a very great company. When they came to the threshing floor of Atad, which is beyond the Jordan, they held there a very great and sorrowful lamentation; and he observed a time of mourning for his father seven days. When the Canaanite inhabitants of the land saw the mourning on the threshing floor of Atad, they said, "This is a grievous mourning on the part of the Egyptians." Therefore the place was named Abel-mizraim; it is beyond the Jordan. Thus his sons did for him as he had instructed them. They carried him to the land of Canaan and buried him in the cave of the field at Machpelah, the field near Mamre, which Abraham bought as a burial site from Ephron the Hittite. After he had buried his father, Joseph returned to Egypt with his brothers and all who had gone up with him to bury his father.
Realizing that their father was dead, Joseph's brothers said, "What if Joseph still bears a grudge against us and pays us back in full for all the wrong that we did to him?" So they approached Joseph, saying, "Your father gave this instruction before he died, 'Say to Joseph: I beg you, forgive the crime of your brothers and the wrong they did in harming you.' Now therefore please forgive the crime of the servants of the God of your father." Joseph wept when they spoke to him. Then his brothers also wept, fell down before him, and said, "We are here as your slaves." But Joseph said to them, "Do not be afraid! Am I in the place of God? Even though you intended to do harm to me, God intended it for good, in order to preserve a numerous people, as he is doing today. So have no fear; I myself will provide for you and your little ones." In this way he reassured them, speaking kindly to them.
So Joseph remained in Egypt, he and his father's household; and Joseph lived one hundred ten years. Joseph saw Ephraim's children of the third generation; the children of Machir son of Manasseh were also born on Joseph's knees.
Then Joseph said to his brothers, "I am about to die; but God will surely come to you, and bring you up out of this land to the land that he swore to Abraham, to Isaac, and to Jacob." So Joseph made the Israelites swear, saying, "When God comes to you, you shall carry up my bones from here." And Joseph died, being one hundred ten years old; he was embalmed and placed in a coffin in Egypt.
Proverbs 31: 8-31
Speak out for those who cannot speak, for the rights of all the destitute.
Speak out, judge righteously, defend the rights of the poor and needy.
A capable wife who can find? She is far more precious than jewels.
The heart of her husband trusts in her, and he will have no lack of gain.
She does him good, and not harm, all the days of her life.
She seeks wool and flax, and works with willing hands.
She is like the ships of the merchant, she brings her food from far away.
She rises while it is still night and provides food for her household and tasks for her servant-girls.
She considers a field and buys it; with the fruit of her hands she plants a vineyard.
She girds herself with strength, and makes her arms strong.
She perceives that her merchandise is profitable. Her lamp does not go out at night.
She puts her hands to the distaff, and her hands hold the spindle.
She opens her hand to the poor, and reaches out her hands to the needy.
She is not afraid for her household when it snows, for all her household are clothed in crimson.
She makes herself coverings; her clothing is fine linen and purple.
Her husband is known in the city gates, taking his seat among the elders of the land.
She makes linen garments and sells them; she supplies the merchant with sashes.
Strength and dignity are her clothing, and she laughs at the time to come.
She opens her mouth with wisdom, and the teaching of kindness is on her tongue.
She looks well to the ways of her household, and does not eat the bread of idleness.
Her children rise up and call her happy; her husband too, and he praises her:
"Many women have done excellently, but you surpass them all."
Charm is deceitful, and beauty is vain, but a woman who fears the Lord is to be praised.
Give her a share in the fruit of her hands, and let her works praise her in the city gates.
Icon courtesy of Jack Figel, Eastern Christian Publications – ecpubs.com
Thursday, March 30 –