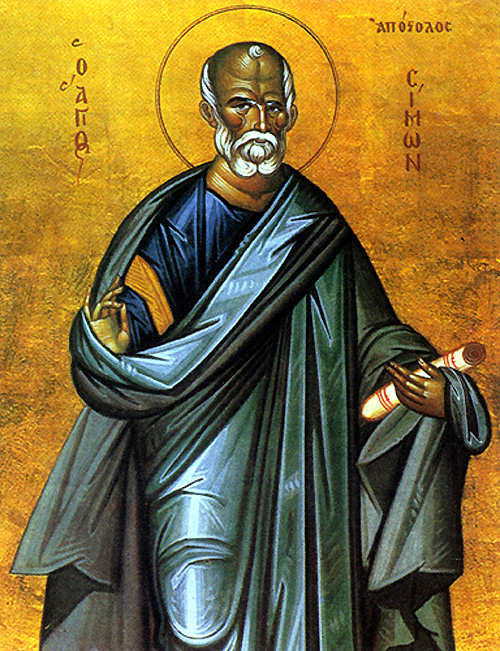 The holy apostle Simon was from Cana in Galilee, and was known to the Lord and His Mother. Tradition says that he was the bridegroom at the wedding where the Savior performed His first miracle. After witnessing the miracle of the water turned into wine, he became a zealous follower of Christ. For this reason, he is known as St. Simon the Zealot. St. Simon was one of the Twelve Apostles, and received the Holy Spirit with the others on Pentecost. He traveled to many places from Britain to the Black Sea, proclaiming the Gospel of Christ. After converting many pagans to the Lord, St. Simon suffered martyrdom by crucifixion.
Troparion
O holy apostle Simon, intercede with the all-merciful God that he may grant us forgiveness of our sins.
Kontakion
With holy hymns we bless Simon as a preacher of God, who rooted wisdom deeply in the hearts of the pious. Now he stands before the throne of Glory and rejoices in the company of angels. He prays unceasingly for all of us.
Readings for the saint
Epistle
1st Corinthians 4: 9-16
Brothers and sisters: As I see it, God has put us apostles at the end of the line, like men doomed to die in the arena. We have become like a spectacle to the universe, to angels and men alike. We are fools on Christ's account. Ah, but in Christ you are wise! We are the weak ones, you the strong! They honor you, while they sneer at us! Up to this very hour we go hungry and thirsty, poorly clad, roughly treated, wandering about homeless. We work hard at manual labor. When we are insulted we respond with a blessing. Persecution comes our way; we bear it patiently. We are slandered, and we try conciliation. We have become the world's refuse, the scum of all; that is the present state of affairs.
I am writing you this way not to shame you but to admonish you as my beloved children. Granted you have ten thousand guardians in Christ, you have only one father. It was I who begot you in Christ Jesus through my preachings of the gospel. I beg you, be imitators of me.
Gospel
Matthew 13: 54-58
At that time, Jesus went to his native place and spent his time teaching them in their synagogues. They were filled with amazement, and said to one another, "Where did this man get such wisdom and miraculous powers? Isn't this the carpenter's son? Isn't Mary known to be his mother and James, Joseph, Simon, and Judas his brothers? Aren't his sisters our neighbors? Where did he get all this?" They found him altogether too much for them. Jesus said to them, "No prophet is without honor except in his native place, indeed in his own house." And he did not work many miracles there because of their lack of faith.
Readings for the day
Epistle
Acts 13: 13-24
In those days, from Paphos, Paul and his companions put out to sea and sailed to Perga in Pamphylia. There John left them and returned to Jerusalem. They continued to travel on from Perga to Antioch in Pisidia. On the sabbath day they entered the synagogue and sat down. After the reading of the law and of the prophets, the leading men of the synagogue sent this message to them: "Brothers, if you have any exhortation to address to the people, please speak up."
So Paul arose, motioned to them for silence, and began: "Fellow Israelites and you others who reverence our God, listen to what I have to say! The God of the people Israel once chose our fathers. He made this people great during their sojourn in the land of Egypt, and with an outstretched arm he led them out of it. For forty years he put up with them in the desert: then he destroyed seven nations in the land of Canaan to give them that country as their heritage at the end of some four hundred and fifty years. Later on he set up judges to rule them until the time of the prophet Samuel. When they asked for a king, God gave them Saul son of Kish, of the tribe of Benjamin, who ruled for forty years. Then God removed him and raised up David as their king; on this behalf God testified, 'I have found David son of Jesse to be a man after my own heart who will fulfill my every wish.'
"According to his promise, God has brought forth from this man's descendants Jesus, a savior for Israel. John heralded the coming of Jesus by proclaiming a baptism of repentance to all the people of Israel."
Gospel
John 6: 5:14
At that time Jesus looked up and caught sight of a vast crowd coming toward him. He said to Philip, "Where shall we buy bread for all these people to eat?" He knew well what he intended to do but he asked this to test Philip's response. Philip replied, "Not even with two hundred days' wages could we buy loaves enough to give each of them a mouthful!"
One of Jesus/ disciples, Andrew, Simon Peter's brother, remarked to Jesus, "There is a lad here who has five barley loaves and a couple of dried fish, but what good is that for so many?" Jesus said, "Get the people to recline." Even though the men numbered about five thousand, there was plenty of grass for them to find a place on the ground. Jesus then took the loaves of bread, gave thanks, and passed them around to those reclining there; he did the same with the dried fish, as much as they wanted. When they had had enough, he told his disciples, "Gather up the crusts that are left over so that nothing will go to waste." At this, they gathered twelve baskets full of pieces left over by those who had been fed with the five barley loaves. When the people saw the sign he had performed they began to say, "This undoubtedly the Prophet who is to come into the world."
Icon courtesy of Jack Figel, Eastern Christian Publications – ecpubs.com
Tuesday, May 9 –