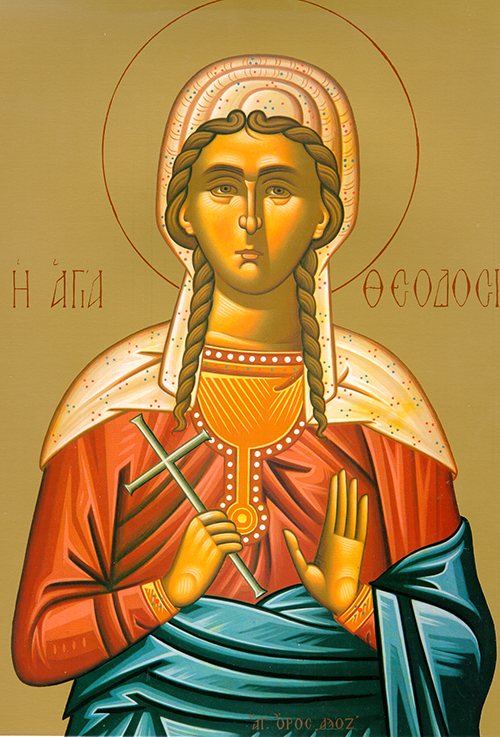 The holy virgin martyr Theodosia of Tyre lived during the third and fourth centuries during a time of great Christian persecutions. At seventeen years of age, St. Theodosia visited some condemned Christian prisoners on Pascha to ask them to remember her when they appeared before the Lord. Soldiers grabbed her as she bowed before the prisoners and dragged her before the governor. The saint refused the governor's request that she make a sacrifice to the idols. She was tortured, but suffered in silence. When the governor asked her again to make a sacrifice to the idols, she mocked him saying: "Foolish man, why do you persist? Can you not see that I have received everything I prayed for, and that I am honored to share the fate of these Martyrs for Christ?" For this taunt, the severity of her punishments increased, and each time she was spared by the Lord until she was finally beheaded around the year 308.
Troparion
You were a friend of Christ and a dwelling of the Spirit, and you embraced the blessing of martyrdom joyfully. You shamed the enemy who wars against the human race. You slew Copronymus by your patient endurance. You entered the hall of heaven by the sword of faith. Seek mercy and peace for those who venerate you.
Kontakion
By your labors you obtained a life of rest and peace. By shedding your blood you vanquished the enemy of Christ's Church. With the heavenly hosts you now rejoice in heaven, O Theodosia, and shelter those who honor your memory.
Epistle
Ephesians 5: 8b-19
Brothers and sisters: Live as children of light. Light produces every kind of goodness and justice and truth. Be correct in your judgment of what pleases the Lord. Take no part in vain deeds done in darkness; rather, condemn them. It is shameful even to mention the things these people do in secret; but when such deeds are condemned they are seen in the light of day, and all that then appears is light. That is why we read: "Awake, O sleeper, arise from the dead, and Christ will give you light."
Keep careful watch over your conduct. Do not act like fools, but like thoughtful men. Make the most of the present opportunity, for these are evil days. Do not continue in ignorance, but try to discern the will of the Lord. Avoid getting drunk on wine; that leads to debauchery. Be filled with the Spirit, addressing one another in psalms and hymns and inspired songs. Sing praise to the Lord with all your hearts.
Gospel
Matthew 18: 10-20
The Lord said to his disciples: "See that you never despise one of these little ones. I assure you, their angels in heaven constantly behold my heavenly Father's face. What is your thought on this: A man owns a hundred sheep and one of them wanders away; will he not leave the ninety-nine out on the hills and go in search of the stray? If he succeeds in finding it, believe me he is happier about this one than about the ninety-nine that did not wander away. Just so, it is no part of your heavenly Father's plan that a single one of these little ones shall ever come to grief.
"If your brother should commit some wrong against you, go and point out his fault, but keep it between the two of you. If he listens to you, you have won your brother over. If he does not listen, summon another, so that every case may stand on the word of two or three witnesses. If he ignores them, refer it to the church. If he ignores even the church, then treat him as you would a Gentile or a tax collector. I assure you, whatever you declare bound on earth shall be held bound in heaven, and whatever you declare loosed on earth shall be held loose in heaven.
"Again I tell you, if two of you join your voices on earth to pray for anything whatever, it shall be granted you by my Father in heaven. Where two or three are gathered in my name, there am I in their midst."
Icon courtesy of Jack Figel, Eastern Christian Publications – ecpubs.com
Sunday, May 28 –