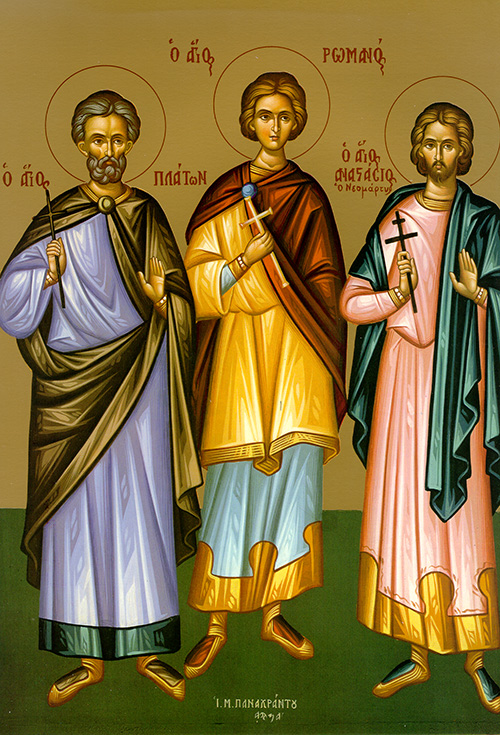 Born in the town of Ancyra in Galatia, the holy martyr Plato showed early and great perfection in virtue. While still a youth he left home and went through the cities preaching the Word of God to pagans. He amazed his audience with the persuasiveness and beauty of his speech and his profound knowledge of Greek learning. Because he did not hide his faith, he was called before the governor for trial. After having been cruelly tortured, he was beheaded and died in 266.
The holy martyr Romanus was born in Palestine, and served as a deacon in Caesarea. At the time of the persecution against Christians, he was living in Antioch. Through his preaching, he encouraged the faithful to stand firm in their confession of Christ when the Eparch Asclypiades wanted to raze the church to its foundations. St. Romanus told the people that they must fight to prevent the destruction of the house of God, assuring them that even if they died in their efforts they would sing a hymn of victory in heaven. Boldly accusing the governor of idolatry, he was tortured and killed in 303.
Troparion
Your martyrs, O Lord our God, in their struggles received incorruptible crowns from You. With Your strength, they brought down the tyrants and broke the cowardly valor of demons. Through their prayers, O Christ our God, save their souls.
Kontakion
Your holy memory delights the universe and brings all the faithful together in your holy temple. Since we are now gathered together in our joy, we praise your great deeds with hymns, O Plato and Romanus, as we cry out to you with faith: O holy ones, deliver our nation and your city from its enemies.
Epistle
Galatians 1: 3-10
Brothers and sisters: We wish you the favor and peace of God our Father and of the Lord Jesus Christ, who gave himself for our sins, to rescue us from the present evil age, as our God and Father willed – to him be glory for endless ages. Amen.
I am amazed that you are so soon deserting him who called you in accord with his gracious design in Christ, and are going over to another gospel. But there is no other. Some who wish to alter the gospel of Christ must have confused you. For even if we, or an angel from heaven, should preach to you a gospel not in accord with the one we delivered to you, let a curse be upon him! I repeat what I have just said: if anyone preaches a gospel to you other than the one you have received, let a curse be upon him!
Whom would you say I am trying to please at this point – men or God? Is this how I seek to ingratiate myself with men? If I were trying to win man's approval, I would surely not be serving Christ!
Gospel
Luke 9: 57-62
At that time Jesus was journeying along, someone said to him, "I will be your follower wherever you go." Jesus said to him, "The foxes have lairs, the birds of the sky have nests, but the Son of Man has nowhere to lay his head." To another Jesus said, "Come after me." The man replied, "Let me bury my father first." Jesus said to him, "Let the dead bury their dead; come away and proclaim the kingdom of God." Yet another said to him, "I will be your follower, Lord, but first let me take leave of my people at home." Jesus answered him, "Whoever puts his hand to the plow but keeps looking back is unfit for the reign of God."
Icon courtesy of Jack Figel, Eastern Christian Publications – ecpubs.com
Friday, November 17 –