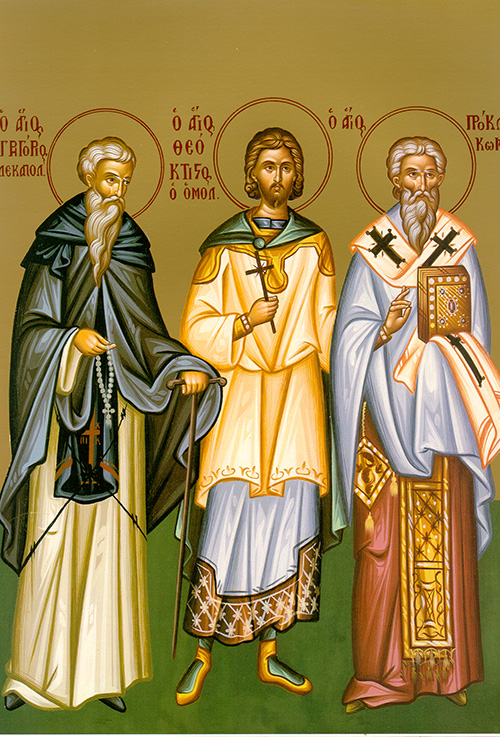 Our venerable father Gregory the Decapolite first professed the monastic life and then the life of an anchorite. Then he made a journey and settled for a long time in Thessalonica. Finally he returned his soul to God in Constantinople where he fought vigorously in defense of the holy Images during the 9th century.
Our holy father Proclus, archbishop of Constantinople, who vigorously proclaimed blessed Mary to be the Theotokos ("she who gave birth to God"). He returned the body of St. John Chrysostom from exile in a triumphal translation. His episcopate was so adorned with the blessings that the Ecumenical Council of Chalcedon he was thought worthy to be called the Great. (446)
Troparion – saints
O God of our Fathers who always deal with us according to Your compassion, take not Your mercy away from us, but through their prayers, guide our life in peace.
Troparion – Prefeast
Today Anna prepares for us a joy that dispels all sadness for she has blossomed and borne the only Ever-Virgin. Today she fulfills her vows with gladness and leads into the Temple of the Lord the one who is the true temple of God the Word and His pure Mother.
Kontakion – Gregory
The Church recognizes you as a brilliant sun which enlightens the world with virtues and with miracles of healing. You pleased Christ, therefore, we celebrate your precious memory and honor your struggles, O Gregory, our father wise and all-blessed.
Kontakion – Proclus
Today the most honorable of cities truly celebrates your honorable repose, O father of fathers Proclus the wise!
Kontakion – Prefeast
Filled with joy today by the auspicious feast of the Theotokos, the whole world cries out: This is the Heavenly Ark.
Epistle
Ephesians 2: 14-22
Brothers and sisters: It is [Christ] who is our peace, and who made the two of us one by breaking down the barrier of hostility that kept us apart. In his own flesh he abolished the law with its commands and precepts; to create in himself one new man from us who had been two and to make peace, reconciling both of us to God in one body through his cross, which put that enmity to death. He came and "announced the good news of peace to you who were far off, and to those who were near"; through him we both have access in one Spirit to the Father.
This means that you are strangers and aliens no longer. No, you are fellow citizens of the saints and members of the household of God. You form a building which rises on the foundation of the apostles and prophets, with Christ Jesus himself as the capstone. Through him the whole structure is fitted together and takes shape as a holy temple in the Lord; in him you are being built into this temple, to become a dwelling place for God in the Spirit.
Gospel
Luke 12: 16-21
The Lord told this parable: "There was a rich man who had a good harvest. 'What shall I do?' he asked himself. 'I have no place to store my harvest. I know!' he said. 'I will pull down my grain bins and build larger ones. All my grains and my goods will go in there. Then I will say to myself: You have blessings in reserve for years to come. Relax! Eat heartily, drink well. Enjoy yourself.' But God said to him, 'You fool! This very night your life shall be required of you. To whom will all this piled-up wealth of yours go?' That is the way it works with the man who grows rich for himself instead of growing rich in the sight of God. [Let him who hears this, heed it!]"
Icon courtesy of Jack Figel, Eastern Christian Publications – ecpubs.com
Saturday, November 19 –