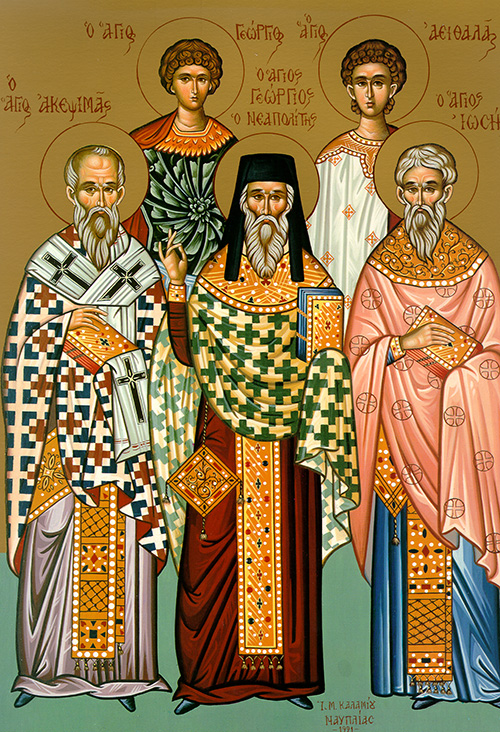 The holy martyrs Acepsimas the bishop, Joseph the priest, and Aeithalas the deacon: Acepsimas was eighty years old when the Persian king Sapor began the persecution of Christians in which Acepsimas was seized. He was interrogated, thrown into prison with Joseph and Aeithalas, and were killed when they refused to worship pagan idols in the 4th century.
The dedication of the Church of the holy great martyr George in Lydda, where his relics are kept: This is the anniversary of the translation of the relics of the Great Martyr from Nicomedia to Lydda in Palestine. In the time of the emperor Constantine the Great, a beautiful church was built to house the relics. It remains a place of great pilgrimage.
Troparion – Martyrs
Your martyrs, O Lord our God, in their struggles received incorruptible crowns from You. With Your strength, they brought down the tyrants and broke the cowardly valor of demons. Through their prayers, O Christ our God, save our souls.
Troparion – George
O victorious Great martyr George, projector of the poor, liberator of prisoners, physician of the sick, and champion of kings, pray to Christ our God for the salvation of our souls.
Kontakion – Martyrs
O wise one, you offered the Holy Mysteries sinlessly, and you became an acceptable sacrifice, O God-blessed one. Since you gloriously drank from the cup of Christ, holy Acepsimas, together with your companions who suffered with you, pray unceasingly for all of us.
Kontakion – George
We the faithful hurry to the shelter of your certain and swift protection, and we make this petition to you, O passion-bearer of Christ: Deliver from every assault of the enemy and from dangers and evil those who sing to you. So that we may cry out to you: Rejoice, O martyr George!
Epistle
1 Thessalonians 2: 14-20
Brothers and sisters, you have been made like the churches of God in Judea which are in Christ Jesus. You suffered the same treatment from your fellow countrymen as they did from the Jews who killed the Lord Jesus and the prophets, and persecuted us. Displeasing to God and hostile to all mankind, they try to keep us from preaching salvation to the Gentiles. All this time they have been "filling up their quota of sins," but the wrath has descended upon them at last.
Brethren, when we were orphaned by separation from you for a time – in sight, not in mind – we were seized with the greatest longing to see you. So we tried to come to you – I, Paul, tried more than once – but Satan blocked the way. Who, after all, if not you, will be our hope or joy, or the crown we exult in, before our Lord Jesus Christ at his coming? You are our boast and our delight.
Gospel
Luke 12: 2-12
The Lord said to his disciples: "There is nothing concealed that will not be revealed, nothing hidden that will not be made known. Everything you have said in the dark will be heard in the daylight; what you have whispered in locked rooms will be proclaimed from the rooftops. I say to you who are my friends: Do not be afraid of those who kill the body and can do no more. I will show you whom you ought to fear. Fear him who has power to cast into Gehenna after he has killed. Yes, I tell you, fear him. Are not five sparrows sold for a few pennies? Yet not one of them is neglected by God. In very truth, even the hairs of your head are counted! Fear nothing, then. You are worth more than a flock of sparrows.
"I tell you, whoever acknowledges me before men–the Son of Man will acknowledge him before the angels of God. But the man who has disowned me in the presence of men will be disowned in the presence of the angels of God. Anyone who speaks against the Son of Man will be forgiven, but whoever blasphemes the Holy Spirit will never be forgiven. When they bring you before synagogues, rulers and authorities, do not worry about how to defend yourselves or what to say. The Holy Spirit will teach you at that moment all that should be said."
Icon courtesy of Jack Figel, Eastern Christian Publications – ecpubs.com
Thursday, November 2 –