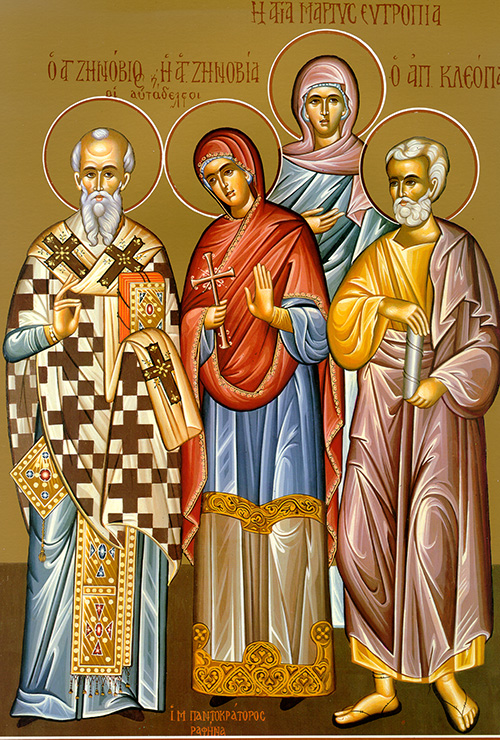 The holy martyr Zenobius was a priest who, in the severity of the persecution under the emperor Diocletian, urged others to martyrdom and himself was crowned with martyrdom. The holy martyr Zenobia, his sister, voluntarily joined Zenobius in his martyrdom in 285.
Troparion
Your martyrs, O Lord our God, in their struggles received incorruptible crowns from You. With Your strength, they brought down the tyrants and broke the cowardly valor of demons. Through their prayers, O Christ our God, save our souls.
Kontakion
Let us honor with inspired hymns the two martyrs for truth and preachers of true devotion, Zenobius and wise Zenobia, brother and sister who lived and suffered together, and together received the incorruptible crown of martyrdom.
Epistle
1 Thessalonians 1: 1-5
Paul, Silvanus, and Timothy, to the church of the Thessalonians who belong to God the Father and the Lord Jesus Christ. Grace and peace be yours.
We keep thanking God for all of you and we remember you in our prayers, for we constantly are mindful before our God and Father of the way you are proving your faith, and laboring in love, and showing constancy of hope in our Lord Jesus Christ. We know, too, brothers beloved of God, how you were chosen. Our preaching of the gospel proved not a mere matter of words for you but one of power; it was carried on in the Holy Spirit and out of complete conviction. You know as well as we do what we proved to be like when, while still among you, we acted on your behalf.
Gospel
Luke 11: 29-33
At that time while the crowds pressed around him, Jesus began to speak to them in these words: "This is an evil age. It seeks a sign. But no sign will be given it except the sign of Jonah. Just as Jonah was a sign for the Ninevites, so will the Son of Man be a sign for the present age. The queen of the South will rise at the judgment along with the men of this generation, and she will condemn them. She came from the farthest corner of the world to listen to the wisdom of Solomon, but you have a great Solomon here. At the judgment, the citizens of Nineveh will rise along with the present generation, and they will condemn it. For at the preaching of Jonah they reformed, but you have a greater than Jonah here. One who lights a lamp does not put it in the cellar or under a bushel basket, but rather on a lampstand, so that they who come in may see the light."
Icon courtesy of Jack Figel, Eastern Christian Publications – ecpubs.com
Sunday, October 29 –