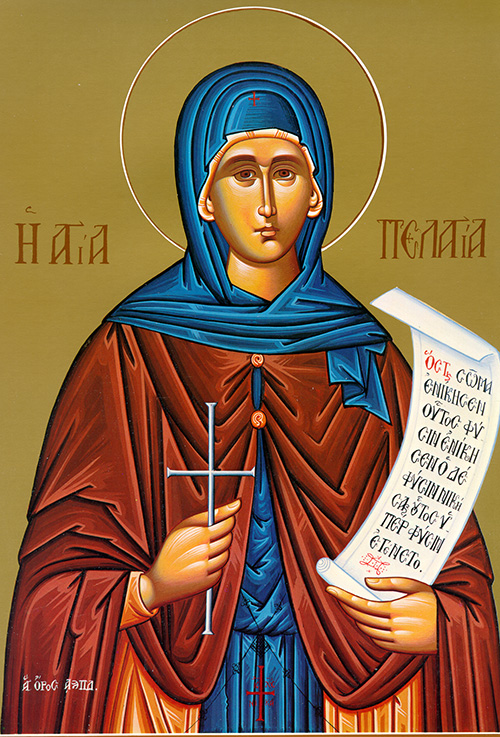 St. Pelagia the Penitent was converted to Christianity by St. Nonnus, Bishop of Edessa. Before her baptism, Pelagia was head of a dance troupe in Palestinian Antioch, living a life of frivolity and prostitution. One day Pelagia, elegantly dressed, was making her way past a church where St. Nonnus was teaching in the church about the dread Last Judgment and its consequences, so Pelagia came. The teaching made a tremendous impression on her. With the fear of God and weeping tears of repentance, she asked the saint for baptism. Seeing her sincere and full repentance, Bishop Nonnus baptized her. After this St. Pelagia journeyed to Jerusalem to the Mount of Olives. She lived there in a cell, disguised as the monk Pelagous, living the ascetic seclusion, and attaining great spiritual gifts. When she died in 457, she was buried in her cell.
Troparion
In you, O mother, the divine image was strictly preserved; taking up your cross, you followed Christ. You taught us by example how to spurn the flesh, for it passes away, and how to care for the soul, which is immortal. Therefore, O venerable Pelagia, your soul rejoices with the angels.
Kontakion
Having exhausted your body with fasting, with vigilant prayers you entreated the Creator concerning your deeds, that you might receive complete remission. You manifestly acquired this, O mother, having shown is the path of repentance.
Epistle
2 Corinthians 11:31 – 12:9
Brothers and sisters: The God and Father of the Lord Jesus knows – blessed be he forever – that I do not lie. In Damascus the ethnarch of King Aretas was keeping a close watch on the city in order to arrest me, but I was lowered in a basket through a window in the wall and escaped his hands.
I must go on boasting, however useless it may be, and speak of the visions and revelations of the Lord. I know a man in Christ who, fourteen years ago, whether he was in or outside his body I cannot say, only God can say – a man who was snatched up to the third heaven. I know that this man – whether in or outside his body I do not know, God knows – was snatched up to Paradise to hear words which cannot be uttered, words which no man may speak. About this man I will boast; but I will do no boasting about myself unless it be about my weaknesses. And even if I were to boast it would not be folly in me because I would only be telling the truth.
But I refrain, lest anyone think more of me than what he sees in me or hears from my lips. As to the extraordinary revelations, in order that I might not become conceited I was given a thorn in the flesh, an angel of Satan to beat me and keep me from getting proud. Three times I begged the Lord that this might leave me. He said to me, "My grace is enough for you, for in weakness power reaches perfection." And so I willingly boast of my weakness instead, that the power of Christ may rest upon me.
Gospel
Luke 7: 11-16
At that time Jesus went to a town called Naim, and his disciples and a large crowd accompanied him. As he approached the gate of the town a dead man was being carried out, the only son of a widowed mother. A considerable crowd of townsfolk were with her. The Lord was moved with pity upon seeing her and said to her, "Do not cry." Then he stepped forward and touched the litter; at this, the bearers halted. Jesus said, "Young man, I bid you get up." The dead man sat up and began to speak. Then Jesus gave him back to his mother. Fear seized them all and they began to praise God. "A great prophet has risen among us," they said; and, "God has visited his people."
Icon courtesy of Jack Figel, Eastern Christian Publications – ecpubs.com
Saturday, October 7 –