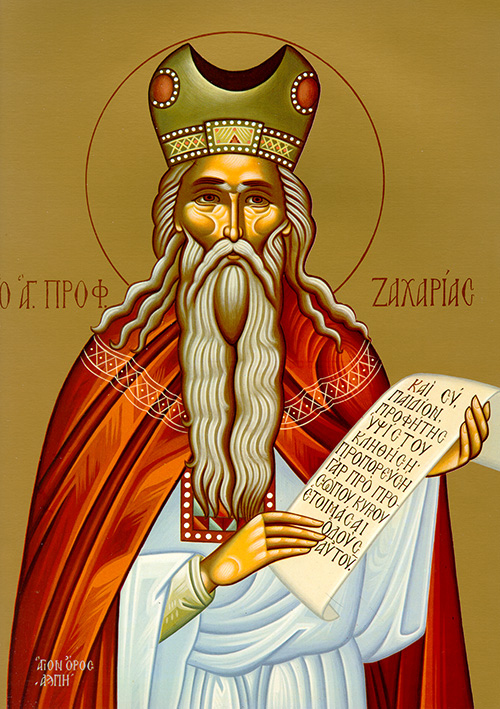 The holy prophet Zachary and his wife, the holy venerable Elizabeth, were the parents of the Forerunner John the Baptist. When she took her cousin Mary into her home, Elizabeth –full of the holy spirit– hailed the mother of the Lord as blessed among women. Zachary, a priest full of the prophetic spirit, praised God the redeemer and preached the near advent of Christ, the Dayspring from on high.
Troparion
Arrayed as a priest, O wise Zechariah, you offered a worthy holocaust according to the law of God. You became a shining light and a witness to the mysteries, clearly bearing within you the signs of grace, O most wise one. You were slain by the sword in God's temple. O prophet of God, together with the Forerunner, intercede with God that He may save our souls.
Kontakion
Today the prophet Zechariah, the priest of the Most High and the father of the Forerunner, has prepared a banquet for the faithful and mixed the drink of holiness. Therefore we praise him as a mystical witness of God's grace.
Epistle
Galatians 2:21 – 3:7
Brothers and sisters: I will not treat God's gracious gift as pointless. If justice is available through the law, then Christ died for no purpose! You senseless Galatians! Who has cast a spell over you – you before whose eyes Jesus Christ was displayed to view upon his cross? I want to learn only one thing from you; how did you receive the Spirit? Was it through observance of the law or through faith in what you heard? How could you be so stupid? After beginning in the spirit, are you now to end in the flesh? Have you had such remarkable experiences all to no purpose – if indeed they were to no purpose? Is it because you observe the law or because you have faith in what you heard that God lavishes the Spirit on you and works wonders in your midst? Consider the case of Abraham: he "believed God, and it was credited to him as justice." This means that those who believe are sons of Abraham.
Gospel
Mark 6: 1-7
At that time Jesus returned to his own part of the country followed by his disciples. When the sabbath came he began to teach in the synagogue in a way that kept his large audience amazed. They said: "Where did he get all this? What kind of wisdom is he endowed with? How is it that such miraculous deeds are accomplished by his hands? Is this not the carpenter, the son of Mary, a brother of James and Joses and Judas and Simon? Are not his sisters our neighbors here?" They found him too much for them. Jesus replied to all this: "No prophet is without honor except in his native place, among his own kindred, and in his own house." He could work no miracle there, apart from curing a few who were sick by laying hands on them, so much did their lack of faith distress him. He made the rounds of the neighboring villages instead, and spent his time teaching. Jesus summoned the Twelve and began to send them out two by two, giving them authority over unclean spirits.
Icon courtesy of Jack Figel, Eastern Christian Publications – ecpubs.com
Monday, September 4 –