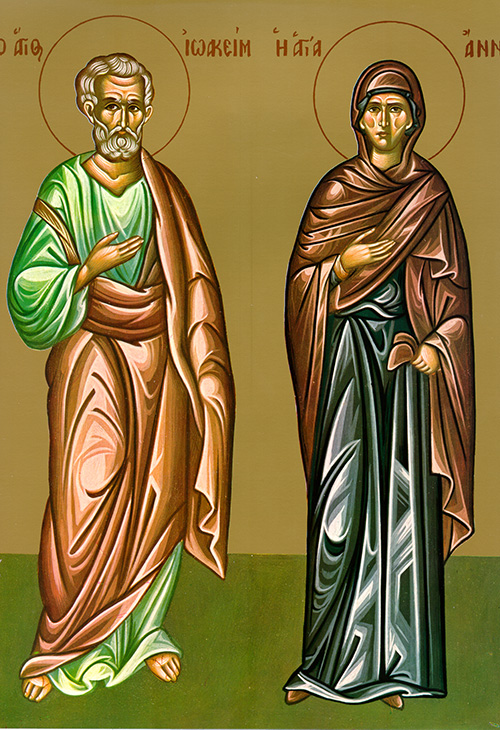 The Synaxis of the holy and just grandparents of God, Joachim and Anna, parents of Mary the immaculate Virgin mother of God, the names of whom were preserved by the ancient traditions of Christians from the Jews. The couple lived at Nazareth in Galilee. They were childless into their old age and all their life they grieved over this. They had to endure derision and scorn, since at that time childlessness was considered a disgrace. They never grumbled, but fervently prayed to God, humbly trusting in Him. The prayer of the saintly couple was heard. An angel told them that a daughter would be born to them, Who would be blessed above all other women. He also told them that She would remain a virgin, would be dedicated to the Lord and live in the Temple, and would give birth to the Savior. Obeying the instructions of the heavenly messenger, Joachim and Anna met at the Golden Gate in Jerusalem. Then, as God promised, a daughter was born to them and they named her Mary. Joachim died a few years later at the age of 80, after his daughter went to live in the Temple. Anna died at the age of 70, two years after her husband.
The holy martyr Severian was a nobleman from Sebaste. He comforted the Forty Martyrs of Sebaste (May 9) in their imprisonment. After their death in the year 320, he was also arrested, and hanged from a tree with stones hanging from his neck and from his feet.
Troparion – Grandparents
The just couple who lived in a state of grace, Joachim and Anna, gave birth to this holy child for us. Therefore, the holy Church solemnly honors this feast in glory and celebrates your precious memory today. She glorifies God who has lifted up our horn of salvation in the house of David.
Troparion – Martyr
Your martyr Severian, O Lord our God, in his struggle received an incorruptible crown from You. With Your strength, he brought down the tyrants and broke the cowardly valor of demons. Through his prayers, O Christ our God, save our souls.
Kontakion – Grandparents
The chains of sterility are broken and Anna rejoices. She nurses the most pure Lady and invites us to sing with her to the Virgin Mother who is born for all people.
Kontakion – Martyr
With a soul armed with courage, O God-wise one, you yourself were given over to various sufferings because you were enflamed with love of the Master, O truly wealthy one. Therefore, you accused the unjust torturer, O Severian, and you were given an incorruptible triumphal crown by God.
Epistle
1 Corinthians 2: 6-9
Brothers and sisters: There is, to be sure, a certain wisdom which we express among the spiritually mature. It is not a wisdom of this age, however, nor of the rulers of this age, who are men headed for destruction. No, what we utter is God's wisdom: a mysterious, a hidden wisdom. God planned it before all ages for our glory. None of the rulers of this age knew the mystery; if they had known it, they would never have crucified the Lord of glory. Of this wisdom it is written: "Eye has not seen, ear has not heard, nor has it so much as dawned on man what God has prepared for those who love him."
Gospel
Matthew 10: 37-42, 11:1
The Lord said: "Whoever loves father or mother, son or daughter, more than me is not worthy of me. He who will not take up his cross and come after me is not worthy of me. He who seeks only himself brings himself to ruin, whereas he who brings himself to nought for me discovers who he is.
"He who welcomes you welcomes me, and he who welcomes me welcomes him who sent me. He who welcomes a prophet because he bears the name of prophet receives a prophet's reward; he who welcomes a holy man because he is known to be holy receives a holy man's reward. And I promise you that whoever gives a cup of cold water to one of these lowly ones because he is a disciple will not want for his reward."
When Jesus had finished instructing his twelve disciples, he left that locality to teach and preach in their towns.
Icon courtesy of Jack Figel, Eastern Christian Publications – ecpubs.com
Friday, September 8 –