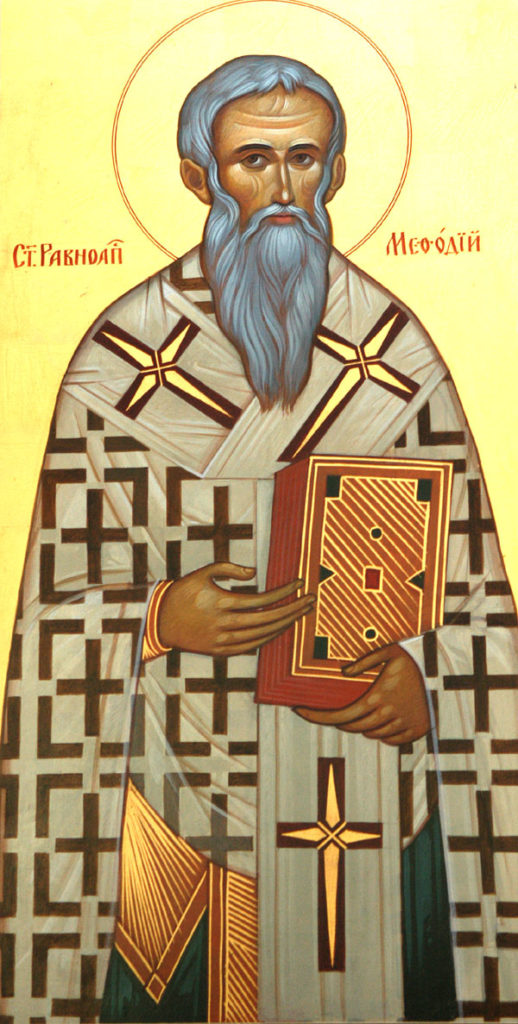 After the death of St. Cyril in Rome, Methodius returned to Moravia and labored there among the Slavs, preaching the Gospel and establishing the Christian faith there.
Troparion
Send your mercy from heaven, O Christ, to those who keep the feast of your pastor's death. Through the intercession of your holy disciple who is truly our father in the faith, open the gates of your kingdom and break the chains of our many sins.
Kontakion
Let us sing of the heavenly and faithful Methodius. Let us praise with love this great pastor of the Slavs. Truly he was a good servant of the Trinity. He banished the wiles of heresy. Rejoice, because he prays for all of us.
Readings for the saint
Epistle
Hebrews 8: 3-6
Brothers and sisters: Now every high priest is appointed to offer gifts and sacrifices: thus the necessity for this one also to have something to offer. If then he were on earth, he would not be a priest, since there are those who offer gifts according to the law. They worship in a copy and shadow of the heavenly sanctuary, as Moses warned when he was about to erect the tabernacle. For he says, "See that you make everything according to the pattern shown you on the mountain." Now he has obtained so much more excellent a ministry as he is mediator of a better covenant, enacted on better promises.
Gospel
John 10: 9-16
The Lord said: "I am the gate. Whoever enters through me will be safe. He will go in and out, and find pasture. The thief comes only to steal and slaughter and destroy. I came that they might have life and have it to the full. I am the good shepherd; the good shepherd lays down his life for the sheep. The hired hand– who is no shepherd nor owner of the sheep– catches sight of the wolf coming and runs away, leaving the sheep to be snatched and scattered by the wolf. That is because he works for pay; he has no concern for the sheep. I am the good shepherd. I know my sheep and my sheep know me in the same way that the Father knows me and I know the Father; for these sheep I will give my life. I have other sheep that do not belong to this fold. I must lead them, too, and they shall hear my voice. There shall be one flock then, one shepherd."
Readings for the day
Genesis 43:25-45:16
They made the present ready for Joseph's coming at noon, for they had heard that they would dine there.
When Joseph came home, they brought him the present that they had carried into the house, and bowed to the ground before him. He inquired about their welfare, and said, "Is your father well, the old man of whom you spoke? Is he still alive?" They said, "Your servant our father is well; he is still alive." And they bowed their heads and did obeisance. Then he looked up and saw his brother Benjamin, his mother's son, and said, "Is this your youngest brother, of whom you spoke to me? God be gracious to you, my son!" With that, Joseph hurried out, because he was overcome with affection for his brother, and he was about to weep. So he went into a private room and wept there. Then he washed his face and came out; and controlling himself he said, "Serve the meal." They served him by himself, and them by themselves, and the Egyptians who ate with him by themselves, because the Egyptians could not eat with the Hebrews, for that is an abomination to the Egyptians. When they were seated before him, the firstborn according to his birthright and the youngest according to his youth, the men looked at one another in amazement. Portions were taken to them from Joseph's table, but Benjamin's portion was five times as much as any of theirs. So they drank and were merry with him.
Then he commanded the steward of his house, "Fill the men's sacks with food, as much as they can carry, and put each man's money in the top of his sack. Put my cup, the silver cup, in the top of the sack of the youngest, with his money for the grain." And he did as Joseph told him. As soon as the morning was light, the men were sent away with their donkeys. When they had gone only a short distance from the city, Joseph said to his steward, "Go, follow after the men; and when you overtake them, say to them, 'Why have you returned evil for good? Why have you stolen my silver cup? Is it not from this that my lord drinks? Does he not indeed use it for divination? You have done wrong in doing this.'"
When he overtook them, he repeated these words to them. They said to him, "Why does my lord speak such words as these? Far be it from your servants that they should do such a thing! Look, the money that we found at the top of our sacks, we brought back to you from the land of Canaan; why then would we steal silver or gold from your lord's house? Should it be found with any one of your servants, let him die; moreover the rest of us will become my lord's slaves." He said, "Even so; in accordance with your words, let it be: he with whom it is found shall become my slave, but the rest of you shall go free." Then each one quickly lowered his sack to the ground, and each opened his sack. He searched, beginning with the eldest and ending with the youngest; and the cup was found in Benjamin's sack. At this they tore their clothes. Then each one loaded his donkey, and they returned to the city.
Judah and his brothers came to Joseph's house while he was still there; and they fell to the ground before him. Joseph said to them, "What deed is this that you have done? Do you not know that one such as I can practice divination?" And Judah said, "What can we say to my lord? What can we speak? How can we clear ourselves? God has found out the guilt of your servants; here we are then, my lord's slaves, both we and also the one in whose possession the cup has been found." But he said, "Far be it from me that I should do so! Only the one in whose possession the cup was found shall be my slave; but as for you, go up in peace to your father."
Then Judah stepped up to him and said, "O my lord, let your servant please speak a word in my lord's ears, and do not be angry with your servant; for you are like Pharaoh himself. My lord asked his servants, saying, 'Have you a father or a brother?' And we said to my lord, 'We have a father, an old man, and a young brother, the child of his old age. His brother is dead; he alone is left of his mother's children, and his father loves him.' Then you said to your servants, 'Bring him down to me, so that I may set my eyes on him.' We said to my lord, 'The boy cannot leave his father, for if he should leave his father, his father would die.' Then you said to your servants, 'Unless your youngest brother comes down with you, you shall see my face no more.' When we went back to your servant my father we told him the words of my lord. And when our father said, 'Go again, buy us a little food,' we said, 'We cannot go down. Only if our youngest brother goes with us, will we go down; for we cannot see the man's face unless our youngest brother is with us.' Then your servant my father said to us, 'You know that my wife bore me two sons; one left me, and I said, Surely he has been torn to pieces; and I have never seen him since. If you take this one also from me, and harm comes to him, you will bring down my gray hairs in sorrow to Sheol.' Now therefore, when I come to your servant my father and the boy is not with us, then, as his life is bound up in the boy's life, when he sees that the boy is not with us, he will die; and your servants will bring down the gray hairs of your servant our father with sorrow to Sheol. For your servant became surety for the boy to my father, saying, 'If I do not bring him back to you, then I will bear the blame in the sight of my father all my life.' Now therefore, please let your servant remain as a slave to my lord in place of the boy; and let the boy go back with his brothers. For how can I go back to my father if the boy is not with me? I fear to see the suffering that would come upon my father."
Then Joseph could no longer control himself before all those who stood by him, and he cried out, "Send everyone away from me." So no one stayed with him when Joseph made himself known to his brothers. And he wept so loudly that the Egyptians heard it, and the household of Pharaoh heard it. Joseph said to his brothers, "I am Joseph. Is my father still alive?" But his brothers could not answer him, so dismayed were they at his presence.
Then Joseph said to his brothers, "Come closer to me." And they came closer. He said, "I am your brother, Joseph, whom you sold into Egypt. And now do not be distressed, or angry with yourselves, because you sold me here; for God sent me before you to preserve life. For the famine has been in the land these two years; and there are five more years in which there will be neither plowing nor harvest. God sent me before you to preserve for you a remnant on earth, and to keep alive for you many survivors. So it was not you who sent me here, but God; he has made me a father to Pharaoh, and lord of all his house and ruler over all the land of Egypt. Hurry and go up to my father and say to him, 'Thus says your son Joseph, God has made me lord of all Egypt; come down to me, do not delay. You shall settle in the land of Goshen, and you shall be near me, you and your children and your children's children, as well as your flocks, your herds, and all that you have. I will provide for you there—since there are five more years of famine to come—so that you and your household, and all that you have, will not come to poverty.' And now your eyes and the eyes of my brother Benjamin see that it is my own mouth that speaks to you. You must tell my father how greatly I am honored in Egypt, and all that you have seen. Hurry and bring my father down here." Then he fell upon his brother Benjamin's neck and wept, while Benjamin wept upon his neck. And he kissed all his brothers and wept upon them; and after that his brothers talked with him.
When the report was heard in Pharaoh's house, "Joseph's brothers have come," Pharaoh and his servants were pleased.
Proverbs 21:23- 22:4
To watch over mouth and tongue is to keep out of trouble.
The proud, haughty person, named "Scoffer," acts with arrogant pride.
The craving of the lazy person is fatal, for lazy hands refuse to labor.
All day long the wicked covet, but the righteous give and do not hold back.
The sacrifice of the wicked is an abomination; how much more when brought with evil intent.
A false witness will perish, but a good listener will testify successfully.
The wicked put on a bold face, but the upright give thought to their ways.
No wisdom, no understanding, no counsel, can avail against the Lord.
The horse is made ready for the day of battle, but the victory belongs to the Lord.
A good name is to be chosen rather than great riches, and favor is better than silver or gold.
The rich and the poor have this in common: the Lord is the maker of them all.
The clever see danger and hide; but the simple go on, and suffer for it.
The reward for humility and fear of the Lord is riches and honor and life.
Tuesday, April 5 –