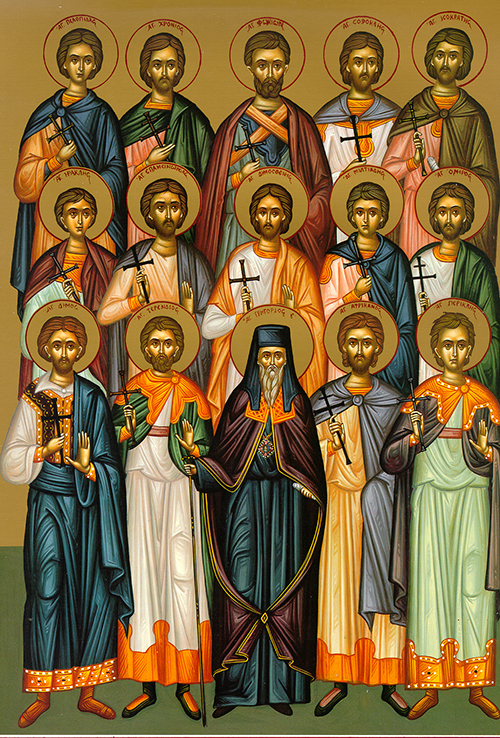 The holy martyrs Terence and his companions suffered under the emperor Decius (249-251). The emperor issued an edict commanding all subjects to offer sacrifices to the pagan idols. When Fortunianus, the governor of Africa, received this edict, he gathered the people in the city square, set out cruel instruments of torture and declared that everyone without exception had to offer the sacrifice to the idols. Many, afraid of torture, complied. However, St. Terence and forty other Christians bravely affirmed their faith in the Savior and ridiculed the idols. Fortunianus was amazed at their boldness and he asked how they, as rational people, could confess as God, One Whom the Jews crucified as a malefactor. St. Terence answered that their belief was in the Savior Who voluntarily endured death on the Cross and rose on the third day. Fortunianus saw that Terence inspired the others by his example, and so he ordered him to be isolated in prison with his three closest companions: Africanus, Maximus, and Pompeius. Fortunianus was determined to force the rest of the martyrs, including Zeno, Alexander, and Theodore, to renounce Christ.
Troparion
O Lord our God, your holy martyrs have deserved the crown of immortality on account of their good fight. Armed with your strength, they have vanquished their persecutors and crushed Satan's dreadful might. Through their supplications, O Christ our God, save our souls.
Kontakion
The memory of the martyrdom of Terence has come again today, and it fills all of us with joy. Let us assemble together to receive cures from him and from those who suffered with him, for they received the grace of the Holy Spirit to heal the afflictions of our souls.
Epistle
Phillippians 4: 4-9
Brothers and sisters: Rejoice in the Lord always! I say it again. Rejoice! Everyone should see how unselfish you are. The Lord is near. Dismiss all anxiety from your minds. Present your needs to God in every form of prayer and in petitions full of gratitude. Then God's own peace, which is beyond all understanding, will stand guard over your hearts and minds, in Christ Jesus.
Finally, my brothers and sisters, your thoughts should be wholly directed to all that is true, all that deserves respect, all that is honest, pure, admirable, decent, virtuous, or worthy of praise. Live according to what you have learned and accepted, what you have heard me say and seen me do. Then will the God of peace be with you.
Gospel
John 12: 1-18
Six days before Passover Jesus came to Bethany, the village of Lazarus whom he had raised from the dead. There they gave him a banquet, at which Martha served. Lazarus was one of those at table with Jesus. Mary brought a pound of costly perfume made from genuine aromatic nard. With which she anointed the feet of Jesus. Then she dried his feet with her hair and the house was filled with the ointment's fragrance. Judas Iscariot, one of his disciples (the one about to hand him over), protested: "Why was not this perfume sold? It could have brought three hundred silver pieces, and the money have been given to the poor." (He did not say this out of concern for the poor, but because he was a thief. He held the purse, and used to help himself to what was deposited there.) To this Jesus replied: "Leave her alone. Let her keep it against the day they prepare me for burial. The poor you always have with you, but me you will not always have."
The great crowd of Jews discovered Jesus was there and came out, not only because of Jesus but also to see Lazarus, whom Jesus had raised from the dead. The fact was, the chief priests planned to kill Lazarus too, because too many Jews were going over to Jesus and believing in him on account of Lazarus.
The next day the great crowd that had come for the feast heard that Jesus was to enter Jerusalem, so they got palm branches and came out to meet him. They kept shouting: "Hosanna! Blessed is he who comes in the name of the Lord! Blessed is the King of Israel!" Jesus found a donkey and mounted it, in accordance with Scripture: "Fear not, O daughter of Zion! Your king approaches you on a donkey's colt." (At first, the disciples did not understand all this, but after Jesus was glorified they recalled that the people had done to him precisely what had been written about him.)
The crowd that was present when Jesus called Lazarus out of the tomb and raised him from the dead kept testifying to it. The crowd came out to meet him because they heard he had performed this sign.
Icon courtesy of Jack Figel, Eastern Christian Publications – ecpubs.com
Saturday, April 9 –