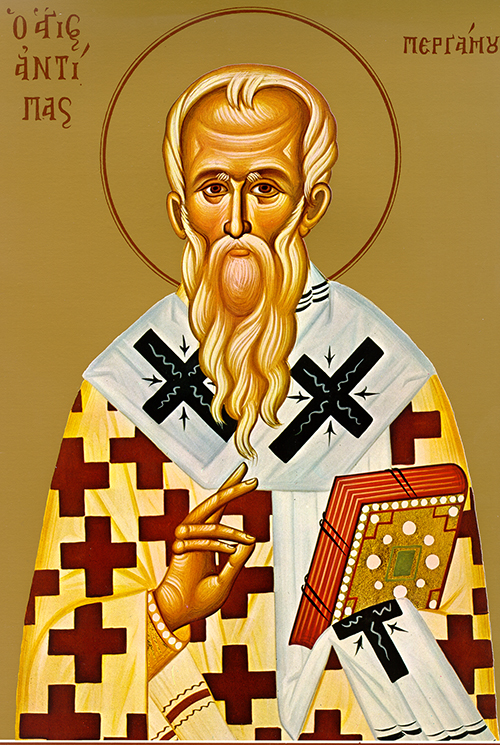 The Hieromartyr Antipas, a disciple of the holy Apostle John the Theologian, was bishop of the Church of Pergamum during the reign of the emperor Nero (54-68). During these times, everyone who would not offer sacrifice to the idols lived under threat of either exile or execution by order of the emperor. By his personal example, firm faith, and constant preaching about Christ, St. Antipas began to turn the people of Pergamum from offering sacrifices to idols. The enraged pagan priests dragged Antipas to the temple of Artemis and threw him into a red-hot copper bull, where they usually put the sacrifices to the idols. In the red-hot furnace the martyr prayed loudly to God, imploring Him to receive his soul and to strengthen the faith of the Christians. He went to the Lord peacefully, as if he were going to sleep.
Troparion
You destroyed the lies of the idols, O Antipas, and you smashed the hold of the devil. You bravely professed Christ before the evil ones. Now you have taken your place among angels and offer up prayers to the Master, giving thanks on our behalf and dispensing cures. For this reason we venerate you, O martyred priest Antipas. Beg Christ our God to save our souls.
Kontakion
You sat on the throne of the apostles and you also adorned pastors. Having been raised up in martyrdom, O blessed saint, you shine like the sun in the sky. You chase away the deep night of godlessness, O Antipas, with the radiance of your beams. For this we praise you as a heavenly martyred priest and a source of health for us.
Epistle
Acts 2: 14-21
In those days Peter stood up with the Eleven, raised his voice, and addressed them: "You who are Jews, indeed all of you staying in Jerusalem! Listen to what I have to say. You must realize that these men are not drunk, as you seem to think. It is only nine in the morning! No, it is what Joel the prophet spoke of: 'It shall come to pass in the last days, says God, that I will pour out a portion of my spirit on all mankind: Your sons and daughters shall prophesy, your young men shall see visions and your old men shall dream dreams. Yes, even on my servants and handmaids I will pour out a portion of my spirit in those days, and they shall prophesy. I will work wonders in the heavens above and signs on the earth below: blood, fire, and a cloud of smoke. The sun shall be turned to darkness and the moon to blood before the coming of that great and glorious day of the Lord. Then shall everyone be saved who calls on the name of the Lord.'"
Gospel
Luke 24: 13-35
That same day two of the disciples were making their way to a village named Emmaus seven miles distant from Jerusalem, discussing as they went all that had happened. In the course of their lively exchange, Jesus approached and began to walk along with them. However, they were restrained from recognizing him. He said to them, "What are you discussing as you go your way?" They halted, in distress, and one of them, Cleopas by name, asked him, "Are you the only resident of Jerusalem who does not know the things that went on there these past days?" Jesus said to them, "What things?" They said: "All those that had to do with Jesus of Nazareth, a prophet powerful in word and deed in the eyes of God and all the people; how our chief priests and leaders delivered him up to be condemned to death, and crucified him. We were hoping that he was the one who would set Israel free. Besides all this, today, the third day since these things happened, some women of our group have just brought us some astonishing news. They were at the tomb before dawn and failed to find his body, but returned with the tail that they had seen a vision of angels who declared he was alive. Some other number went to the tomb and found it to be just as the women said, but him they did not see."
Then Jesus said to them, "What little sense you have! How slow you are to believe all that the prophets have announced! Did not the Messiah have to undergo all this so as to enter into his glory?" Beginning, then, with Moses and all the prophets, Jesus interpreted for them every passage of Scripture which referred to him. By now they were near the village to which they were going, and Jesus acted as if he were going farther. But they pressed him: "Stay with us. It is nearly evening – the day is practically over." So Jesus went in to stay with them.
When Jesus had seated himself with them to eat, he took bread, pronounced the blessing, then broke the bread and began to distribute it to them. With that their eyes were opened and they recognized him; whereupon he vanished from their site. They said to one another, "Were not our hearts burning inside us as he talked to us on the road and explained the Scriptures to us?" They got up immediately and returned to Jerusalem, where they found the Eleven and the rest of the company assembled. They were greeted with, "The Lord has been raised! It is true! He has appeared to Simon." Then they recounted what had happened on the road and how they had come to know Jesus in the breaking of the bread.
Icon courtesy of Jack Figel, Eastern Christian Publications – ecpubs.com
Monday, April 10 –