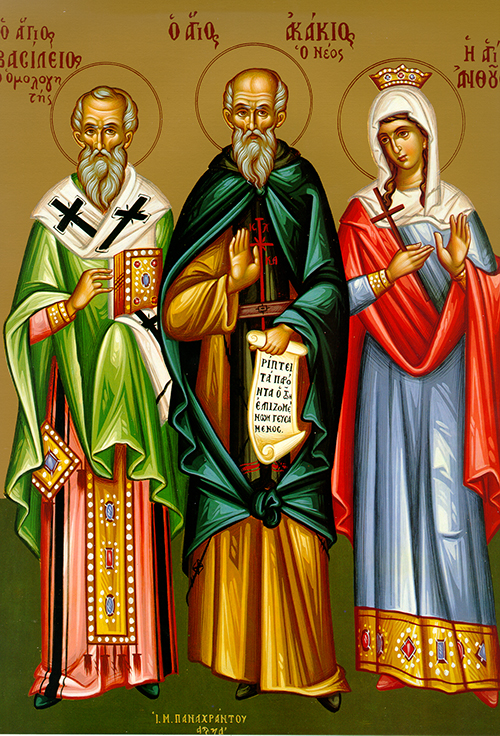 Our venerable father Basil the Confessor, Bishop of Parium, lived during the eighth century. He was elected as bishop by the inhabitants of Parium, who venerated the saint as a true pastor of the flock of Christ. When the Iconoclast heresy broke out, St. Basil resolutely came out on the side of icon veneration and refused to sign the orders for their abolition of the Council of 754 which was convened under the emperor Constantine V Copronymos (741-775). The saint avoided any contact with the heretics and did not permit them into his diocese. For his zeal, he suffered much persecution, hunger, and deprivation. St. Basil remained faithful to the Orthodox Church until his death.
Troparion
O guide of the true faith, mirror of piety and commendable behavior, bright star of the universe, and adornment of pontiffs, you enlightened us all by your teachings. O wise Basil, inspired by God and lyre of the Holy Spirit, intercede with Christ our God that He may save our souls.
Kontakion
Having been illumined by the light from on high, you enlighten all who honor your trials with love. O father and martyred priest Basil, O blessed saint, pray unceasingly for all of us to Christ our God.
Epistle
Acts 2: 22-36
In those days, Peter addressed the people: "Men of Israel, listen to me! Jesus the Nazorean was a man who God sent to you with miracles, wonders, and signs as his credentials. These God worked through him in your midst, as you well know. He was delivered up by the sat purpose and plan of God; you even made use of pagans to crucify and kill him. God freed him from death's bitter pangs, however, and raised him up again, for it was impossible that death should keep its hold on him. David says of him: 'I have set the Lord ever before me, with him at my right hand I shall not be disturbed. My heart has been glad and my tongue has rejoiced, my body will live on in hope, for you will not abandon my soul to the nether world, nor will you suffer your faith for one to undergo corruption. You have shown me the paths of life; you will fill me with joy in your presence.'
"Brothers, I can speak confidently to you about our father David. He died and was buried, and his grave is in our midst to this day. He was a prophet and knew that God had sworn to him that one of his descendants would sit upon his throne. He said that he was not abandoned to the nether world, nor did his body undergo corruption, thus proclaiming beforehand the resurrection of the Messiah. This is the Jesus God has raised up, and we are his witnesses. Exalted at God's right hand, he first received the promised Holy Spirit from the Father, then poured this Spirit out on us. This is what you now see and hear. David did not go up to heaven, yet David says, 'The Lord said to my Lord, Sit at my right hand until I make your enemies your footstool.' Therefore let the whole house of Israel know beyond any doubt that God has made both Lord and Messiah this Jesus whom you crucified.
Gospel
John 1: 35-51
At that time Jesus was present with two of his disciples. As he watched Jesus walk by he said, "Look! There is the Lamb of God!" The two disciples heard what he said, and followed Jesus. When Jesus turned around and noticed them following, he asked them, "What are you looking for?" They said to him, "Rabbi (which means Teacher), where do you stay?" "Come and see," he answered. So they went to see where he was lodged, and stayed with him that day. (It was about four in the afternoon.).
One of the two who had followed Jesus after hearing John was Simon Peter's brother Andrew. The first thing he did was seek out his brother Simon and tell him, "we have found the Messiah!" (This term means the Anointed.) Andrew brought Simon to Jesus, who looked at Simon and said, "You are Simon, son of John; your name shall be Cephas (which is rendered Peter)."
The next de Jesus wanted to set out for Galilee, but first he came upon Philip. "Follow me," Jesus said to him. Now Philip was from Bethsaida, the same town as Andrew and Peter. Phillip sought out Nathanael and told him, "We have found the one Moses spoke of in the law — the prophets too — Jesus, son of Joseph, from Nazareth." Nathanael's response to that was, "Can anything good come from Nazareth?" And Philip replied, "Come, see for yourself." When Jesus saw Nathanael coming toward him, he remarked: "This man is a true Israelite. There is no guile in him." "How do you know me?" Nathanael asked him. "Before Philip called you," Jesus answered, "I saw you under the fig tree." "Rabbi," said Nathanael, "you are the son of God; you are the king of Israel." Jesus responded: "Do you believe just because I told you I saw you under the fig tree? You will see much greater things than that."
Jesus went on to tell them, "I solemnly assure you, you shall see the sky opened and the angels of God ascending and descending on the son of man."
Icon courtesy of Jack Figel, Eastern Christian Publications – ecpubs.com
Tuesday, April 11 –