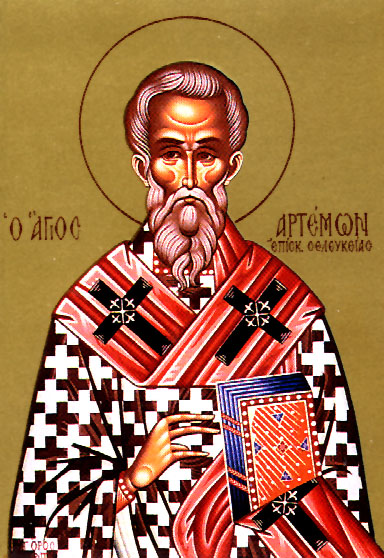 The Hieromartyr Artemon was born of Christian parents in Laodicea, Syria in the first half of the third century. From his youth, he dedicated himself to the service of the Church. The saint served the Church as a Reader for sixteen years. For his zeal in Church services, Artemon was ordained a deacon by Bishop Sisinius. St. Artemon also fulfilled this service with fervor and diligence for twenty-eight years, then he was to the priesthood. In this position, St. Artemon served the Church of God for thirty-three years, preaching Christianity among pagans. When the emperor Diocletian (284-305) began his fierce persecution against Christians, St. Artemon was already old. The emperor issued an edict ordering Christians to offer sacrifice to idols. The hieromartyr Artemon, instructed by the voice of God, preached the Gospel in Asia Minor. Then an angel appeared to him and transported him to the place which has been revealed to him, where he converted many to Christ. Pagans seized the saint and beheaded him.
Troparion
O holy priest-martyr Artemon, you lent yourself to the apostles' way of life and succeeded them in their throne. Inspired by God, you found your way to contemplation through the practice of virtue. Therefore, you became a perfect teacher of truth, fighting for the faith unto the shedding of your blood. Intercede with Christ our God that He may save our souls.
Kontakion
You set out firmly with priestly devotion and completed the course in martyrdom. You passed into heaven, O wise Artemon and received laurels which will never fade. Now we come to celebrate your holy memory, crying out: As you stand before Christ, remember us, O martyr.
Epistle
Acts 2: 38-43
In those days, Peter addressed the people: "You must reform and be baptized, each one of you, in the name of Jesus Christ, that your sins may be forgiven; then you will receive the gift of the Holy Spirit. It was to you and your children that the promise was made, and to all those still far off whom the Lord our God calls."
In support of his testimony he used many other arguments, and kept urging, "Save yourselves from this generation which has gone astray." Those who accepted his message were baptized; some three thousand were added that day.
They devoted themselves to the apostles' instruction and the communal life, to the breaking of bread and the prayers. A reverent fear overtook them all, for many wonders and signs were performed by the apostles.
Gospel
John 3: 1-15
At that time a certain Pharisee named Nicodemus, a member of the Jewish Sanhedrin, came to him at night. "Rabbi," he said, "we know you are a teacher come from God, for no man can perform signs and wonders such as you perform unless God is with him." Jesus gave this answer: "I solemnly assure you, no one can see the reign of God unless he is begotten from above."
"How can a man be born again once he is old?" retorted Nicodemus. "Can he return to his mother's womb and be born over again?" Jesus replied: "I solemnly assure you, no one can enter into God's kingdom without being begotten of water and spirit. Flesh begets flesh. Spirit begets spirit. Do not be surprised that I tell you that you must all be begotten from above. The wind blows where it will. You hear the sound it makes but you do not know where it comes from, or where it goes. So it is with everyone begotten of the Spirit."
"How can such a thing happen?" asked Nicodemus. Jesus responded: "You hold the office of teacher of Israel and still you do not understand these matters? I solemnly assure you, we are talking about what we know, we are testifying to what we have seen, but you do not accept our testimony. If you do not believe when I tell you about earthly things, how are you to believe when I tell you about those of heaven? No one has gone up to heaven except the One who came down from there– the Son of Man who is in heaven. Just as Moses lifted up the serpent in the desert, so must the Son of Man be lifted up, that all who believe may have eternal life in him."
Icon courtesy of Jack Figel, Eastern Christian Publications – ecpubs.com
Wednesday, April 12 –