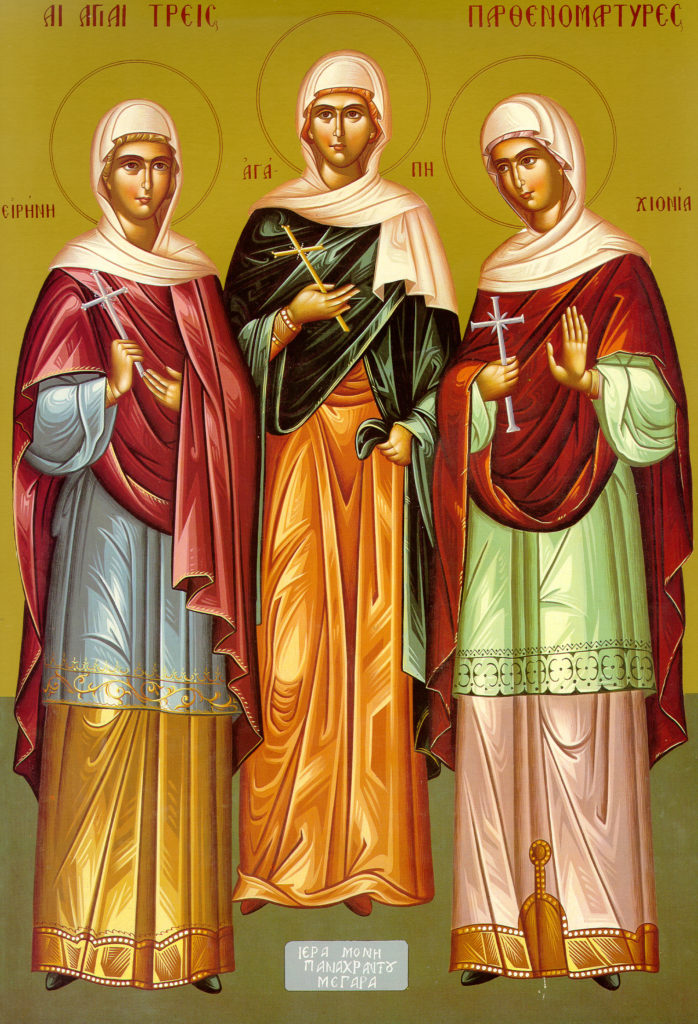 The holy martyrs Agape, Irene, and Chiona were sisters who lived at the end of the third century to the beginning of the fourth century, near the Italian city of Aquilea. They were orphaned at an early age. St. Chiona ("snow" in Greek) preserved the purity of her baptism according to the words of the Prophet-King David, "You will wash me, and I will be whiter than snow" (Ps 50/51: 7). St. Irene ("peace" in Greek) preserved the peace of Christ within herself and manifested it to others, according to the Savior's word, "My peace I give you" (John 14:27). St. Agape ("love" in Greek) loved God with all her heart, and her neighbor as herself (Mt. 22: 37-39).
Troparion
As lambs you were led through martyrdom to Christ, the Shepherd and Lamb. You ran the race and kept the faith. Therefore, with joyful hearts we celebrate your holy memory, O most worthy martyrs, and we glorify Christ.
Kontakion
Having pledged yourselves to the Lord so gracefully, you made an offering of your blood at your martyrdom. O holy martyrs, you have been admitted to heaven's banquet hall and to the splendid brilliance of the Light himself. As we celebrate your memory, we bless the Savior and we cry out to you: Pray to the Lord for all of us.
Epistle
Romans 6: 3b-11
Brothers and sisters: We who were baptized into Christ Jesus were baptized into his death. Through baptism into his death we were buried with him, so that, just as Christ was raised from the dead by the glory of the Father, we too might live a new life. If we have been united with him through likeness to his death, so shall we be through a like resurrection. This we know: our old self was crucified with him so that the sinful body might be destroyed and we might be slaves to sin no longer. A man who is dead has been freed from sin. If we have died with Christ, we believe that we are also to live with him. We know that Christ, once raised from the dead, will never die again; death has no more power over him. His death was death to sin, once for all; his life is life for God. In the same way, you must consider yourselves dead to sin but alive for God in Christ Jesus.
Gospel
Matthew 28: 1-20
After the sabbath, as the first day of the week was dawning, Mary Magdalene came with the other Mary to inspect the tomb. Suddenly there was a mighty earthquake, as the angel of the Lord descended from heaven. He came to the stone, rolled it back, and sat on it. In appearance he resembled a flash of lightning while his garments were as dazzling as snow. The guards grew paralyzed with fear of him and fell down like dead men. Then the angel spoke, addressing the women: "Do not be frightened. I know you are looking for Jesus the crucified, but he is not here. He has been raised, exactly as promised. Come and see the place where he was entombed. Then go quickly and tell his disciples: 'He has been raised from the dead and now goes ahead of you to Galilee, where you will see him.' That is the message I have for you."
They hurried away from the tomb half-overjoyed, half-fearful, and ran to carry the good news to his disciples. Suddenly, without warning, Jesus stood before them and said, "Peace!" The women came up and embraced his feet and did him homage. At this Jesus said to them, "Do not be afraid! Go and carry the news to my brothers that they are to go to Galilee, where they will see me."
As the women were returning, some of the guard went into the city to report to the chief priests all that had happened. They, in turn, convened with the elders and worked out their strategy, giving the soldiers a large bribe with the instructions: "You are to say, 'His disciples came during the night and stole him while we were asleep.' If any word of it gets to the procurator, we will straighten it out with him and keep you out of trouble." The soldiers pocketed the money and did as they had been instructed. This is the story that circulated among the Jews to this very day,
The eleven disciples made their way to Galilee, to the mountain to which Jesus had summoned them. At the sight of him, those who had entertained doubts fell down in homage. Jesus came forward and addressed them in these words: "Full authority has been given to me both in heaven and on earth; go, therefore, and make disciples of all the nations. Baptize them in the name 'of the Father and of the Son, and the Holy Spirit.' Teach them to carry out everything I have commanded you. And know that I am with you always, until the end of the world!"
Icon courtesy of Jack Figel, Eastern Christian Publications – ecpubs.com
Friday, April 15 –