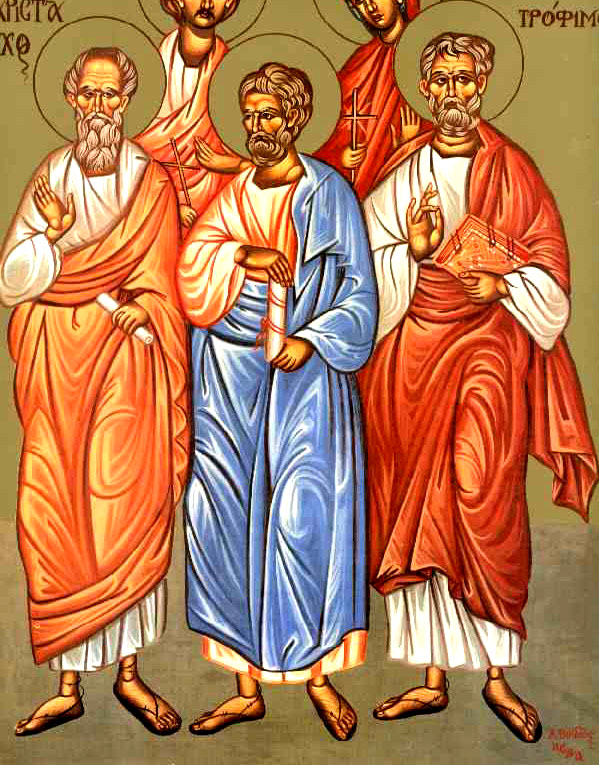 The holy apostles Aristarchus, Pudens, and Trophimus were members of the Seventy. Aristarchus was bishop of Apamea in Syria, and mentioned by Paul several times in his epistles (Acts 19:29l Col. 4:10; Philemon v.24). Paul calls him "my fellow-prisoner" and "my fellow-laborer." Pudens was an important Roman citizen. Paul mentions him once (II Tim 4:21). Trophimus was an Asian (Acts 20:4) who accompanied Paul on his journeys. In one place, Paul laments, "Trophimus have I left at Miletum, sick." (II Tim. 4:21) They died during the persecutions of the emperor Nero.
Troparion
O holy apostles, intercede with the all-merciful God that He may grant us forgiveness for our sins.
Kontakion
This precious feast is truly apostolic, for it enlightens us and dispels the fog of sin for those who sing: The Light has been shown to us. Deliverance is at hand.
Readings for the day
Isaiah 52:13- 54:1
See, my servant shall prosper; he shall be exalted and lifted up, and shall be very high.
Just as there were many who were astonished at him—so marred was his appearance, beyond human semblance, and his form beyond that of mortals—
so he shall startle many nations; kings shall shut their mouths because of him; for that which had not been told them they shall see, and that which they had not heard they shall contemplate.
Who has believed what we have heard? And to whom has the arm of the Lord been revealed?
For he grew up before him like a young plant, and like a root out of dry ground; he had no form or majesty that we should look at him, nothing in his appearance that we should desire him.
He was despised and rejected by others; a man of suffering and acquainted with infirmity;
and as one from whom others hide their faces he was despised, and we held him of no account.
Surely he has borne our infirmities and carried our diseases; yet we accounted him stricken, struck down by God, and afflicted.
But he was wounded for our transgressions, crushed for our iniquities; upon him was the punishment that made us whole, and by his bruises we are healed.
All we like sheep have gone astray; we have all turned to our own way, and the Lord has laid on him the iniquity of us all.
He was oppressed, and he was afflicted, yet he did not open his mouth; like a lamb that is led to the slaughter, and like a sheep that before its shearers is silent, so he did not open his mouth.
By a perversion of justice he was taken away.
Who could have imagined his future?
For he was cut off from the land of the living, stricken for the transgression of my people.
They made his grave with the wicked and his tomb with the rich, although he had done no violence, and there was no deceit in his mouth.
Yet it was the will of the Lord to crush him with pain.
When you make his life an offering for sin, he shall see his offspring, and shall prolong his days; through him the will of the Lord shall prosper.
Out of his anguish he shall see light; he shall find satisfaction through his knowledge.
The righteous one, my servant, shall make many righteous, and he shall bear their iniquities.
Therefore I will allot him a portion with the great, and he shall divide the spoil with the strong; because he poured out himself to death, and was numbered with the transgressors; yet he bore the sin of many, and made intercession for the transgressors.
Sing, O barren one who did not bear; burst into song and shout, you who have not been in labor!
For the children of the desolate woman will be more than the children of her that is married, says the Lord.
1st Corinthians 1:18- 2:2
Brothers and sisters: The message of the cross is complete absurdity to those who are headed to ruin, but to us who are experiencing salvation it is the power of God. Scripture says, "I will destroy the wisdom of the wise, and thwart the cleverness of the clever." Where is the master of worldly argument? Has not God turned the wisdom of this world into folly? Since in God's wisdom the world did not come to know him through "wisdom," it pleased God to save those who believe through the absurdity of the preaching of the gospel. Yes, Jews demand "signs" and Greeks look for "wisdom," but we preach Christ crucified–a stumbling block to Jews, and an absurdity to Gentiles; but to those who are called, Jews and Greeks alike, Christ the power of God and the wisdom of God. For God's folly is wiser than men, and his weakness more powerful than men.
Brothers and sisters, you are among those called. Consider your situation. Not many of you are wise, as men account wisdom; not many are influential; and surely not many are well-born. God chose those whom the world considers absurd to shame the wise; he singled out the weak of this world to shame the strong. He chose the world's lowborn and despised, those who count for nothing, to reduce to nothing those who were something; so that mankind can do no boasting before God. God it is who has given you life in Christ Jesus. He has made him our wisdom and also our justice, our sanctification, and our redemption. This is just as you find it written, "Let him who would boast, boast in the Lord." As for myself, brothers and sisters, when I came to you I did not come proclaiming God's testimony with any particular eloquence or "wisdom." No, I determined that while I was with you I would speak of nothing but Jesus Christ and him crucified.
Matthew 27: 1-38; Luke 23: 39-44; Matthew 27: 27: 39-54; John 19: 31-37; Matthew 27: 55-61
At daybreak All the chief priests and the elders of the people took formal action against Jesus to put him to death. They bound him and let him away to be handed over to the procurator Pilate.
Then Judas, who had handed Jesus over, saying that Jesus had been condemned, began to regret his action deeply. He took 30 pieces of silver back to the chief priests and elders and said, "I did wrong to deliver up an innocent man!" They retorted, "What is that to us? It is your affair!" So Judas flung the money into the temple and left. He went off and hanged himself. The chief priests picked up the silver, observing, "It is not right to deposit this in the temple treasury since it is blood money." After consultation, they used it to buy the Potter's field as a cemetery for foreigners. That is why that field, even today, is called Blood Field. On that occasion, what was said through Jeremiah the prophet was fulfilled: "They took the 30 pieces of silver, the value of a man with a price on his head, a price set by the Israelites, and they paid it out for the potter's field just as the Lord had commanded me."
Jesus was arraigned before the procurator, who questioned him: "Are you the king of the Jews?" Jesus responded, "As you say." Yet when he was accused by the chief priests and elders, he had made no reply. Then Pilate said to him, "Surely you hear how many charges they bring against you?" He did not answer Pilate on a single count, much to the procurator's surprise.
Now on the occasion of a festival the procurator was accustomed to release one prisoner, whom the crowd would designate. They had at the time a notorious prisoner named Barabbas. Since they were already assembled, Pilate said to them, "Which one do you wish me to release for you, Barabbas or Jesus the so-called Messiah?" Pilate knew, of course, that it was out of jealousy that they had handed Jesus over.
While Pilate was still presiding on the bench, his wife sent him a message: "Do not interfere in the case of that holy man. I had a dream about him today which has greatly upset me."
Meanwhile, the chief priests and elders convinced the crowds that they should ask for Barabbas and have Jesus put to death. So when the procurator asked them, "Which one do you wish me to release for you?" They said, "Barabbas." Pilate said to them, "Then what am I to do with Jesus, the so-called Messiah?" "Crucify him!" they all cried. He said, "Why, what crime has he committed?" But they only shouted the louder, "Crucify him!" Pilate finally realized that he was making no impression that a riot was breaking out instead. He called for water and washed his hands in front of the crowd, declaring as he did so, "I am innocent of the blood of this just man. The responsibility is yours." The whole people said and replied, "Let his blood be on us and on our children." At that, Pilate released Barabbas to them. Jesus, however, he first had scourged; then he handed him over to be crucified.
The procurator's soldiers took Jesus inside the praetorium and collected the whole cohort around him. They stripped off his clothes and wrapped him in a scarlet military cloak. Weaving a crown out of thorns they fixed it on his head, and stuck a reed in his right hand. Then they began to mock him by dropping to their knees before him, saying, "All hail, king of the Jews!" They also spat at him. Afterward they took hold of the reed and kept striking him on the head. Finally, when they had finished making a fool of him, they stripped him of the cloak, dressed him in his own clothes, and let him off to crucifixion.
On their way out they met a Cyrenian named Simon. This man they pressed into service to carry the cross. Upon arriving at a site called Golgotha (a name which means Skull Place), the soldiers gave Jesus a drink of wine flavored with gall, which Jesus tasted but refused to drink.
When they had crucified him, they divided his clothes among them by casting lots; then they sat down there and kept watch over him. Above his head they had put the charge against him in writing: "THIS IS JESUS, KING OF THE JEWS." Two insurgence were crucified along with him, one at his right and one at his left.
*One of the criminals hanging in crucifixion blasphemed Jesus: "Aren't you the Messiah? Then save yourself and us." But the other one rebuked the first: "Have you no fear of God, seeing you are under the same sentence? We deserve it, after all. We are only paying the price for what we've done, but this man has done nothing wrong." Then he said, "Jesus, remember me when you enter upon your reign." And Jesus replied, "I assure you: this day you will be with me in paradise."
*People going by kept on insulting Jesus, tossing their heads and saying: "So you are the one who was going to destroy the temple and rebuild it in three days! Save yourself, why don't you? Come down off at cross if you are God's Son!" The chief priest, the scribes, and the elders also joined in the jeering: "He saved others but cannot save himself! So he is the king of Israel! Let's see him come down from that cross and then we will believe in him. He relied on God; let's God rescue him now if he wants to. After all, he claimed, 'I am God's Son.'" The insurgents who had been crucified with him kept taunting him in the same way.
From noon onward, there was darkness over the whole land until mid afternoon. Then toward mid afternoon Jesus cried out in a loud tone, "Eli, Eli, lema sabachthani?", that is, "My God, my God, why have you forsaken me?" This made some of the bystanders who heard it remark, "He is evoking Elijah!" Immediately one of them ran off and got a sponge. He soaked it in cheap wine, and sticking it on a reed, tried to make Jesus drink. Meanwhile the rest said, "Leave him alone. Let's see whether Elijah comes to his rescue." Once again Jesus cried out in a loud voice, and then gave up his spirit.
Suddenly the curtain of the sanctuary was torn in two from top to bottom. The earth quaked, boulders split, tombs opened. Many bodies of saints who had fallen asleep were raised. After Jesus' resurrection they came forth from their tombs and entered the holy city and appeared to many. The centurion and his men who were keeping watch over Jesus were terror-stricken at seeing the earthquake and all that was happening, and said, "Clearly this was the Son of God!"
*Since it was the Preparation Day the Jews did not want to have the bodies left on the cross during the sabbath, for that sabbath was a solemn feast day. They asked Pilate that the legs be broken and the bodies be taken away. Accordingly, the soldiers came and broke the legs of the men crucified with Jesus, first of the one, then of the other. When they came to Jesus and saw that he was already dead, they did not break his legs. One of the soldiers thrust a lance into his side, and immediately blood and water flowed out. This testimony has been given by an eyewitness, and his testimony is true. He tells what he knows is true, so that you may believe these events took place for the fulfillment of Scripture: "Break none of his bones." There is still another Scripture passage which says: "They shall look on him whom they have pierced."
*Many women were present looking on from a distance. They had followed Jesus from Galilee to attend to his needs. Among them were Mary Magdalene, and Mary the mother of James and Joseph, and the mother of Zebedee's sons.
When evening fell, a wealthy man from Arimathea arrived, Joseph by name. He was another of Jesus' disciples, and had gone to request the body of Jesus. Thereupon Pilate issued an order for its release. Taking the body, Joseph wrapped it in fresh linen and placed it in his own new tomb which had been hewn from a formation of rock. Then he rolled a huge stone across the entrance of the tomb and went away. But Mary Magdalene and the other Mary remained sitting there, facing the tomb.
Icon courtesy of Jack Figel, Eastern Christian Publications – ecpubs.com
Thursday, April 14 –