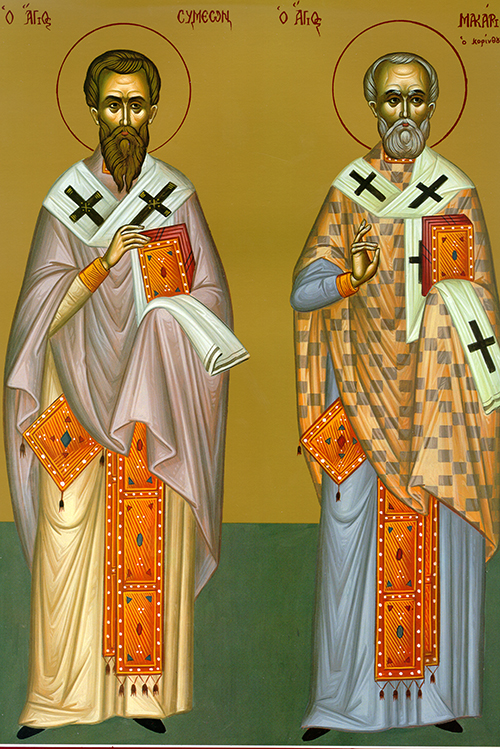 Our venerable father Simeon of Saba in Persia, bishop of Seleucis and Ctesiphon, who, by the order of Sapor II, king of the Persians, was arrested and loaded with chains when he refused to adore the sun. Instead, he bore testimony to our Lord Jesus Christ with a bold and most steadfast voice. First he was tormented in a prison workhouse for a while with a hundred other companions from among bishops, priests, and other orders of clergy. Then, on the Friday of the Passion of our Lord, all of them were slain by the sword before the eyes of Simeon, who ardently encouraged each one. Finally he was beheaded.
The venerable Acacius, bishop of Melitene in Armenia. At the Council of Ephesus, he defended the orthodox faith against Nestorius and was then unjustly deposed from his See.
Troparion
O God of our ancestors, You always deal with us according to your everlasting compassion, take not your mercy away from us; but through the prayers of our ancestors, guide our lives along the ways of peace.
Kontakion
Your memory has become clearer than sunlight, O holy Simeon and blessed Acacius. As good pastors you enlighten the faithful. We now keep your memory and cry out: Beg the only true Lover of Humankind to save us.
Epistle
Acts 3: 19-26
In those days, Peter addressed the people: "Reform your lives! Turn to God, that your sins may be wiped away! Thus may a season of refreshment be granted to you by the Lord when he sends you Jesus, already designated as your Messiah. Jesus must remain in heaven until the time of universal restoration which God spoke of long ago through his holy prophets." For Moses said: 'The Lord God will raise up for you a prophet like me from among your own kinsmen: you shall listen to him in everything he says to you. Anyone who does not listen to that prophet shall be ruthlessly cut off from the people.'
"Moreover, all the prophets who have spoken, from Samuel onward, have announced the events of these days. You are the children of those prophets, you are the heirs of the covenant God made with your fathers when he said to Abraham, 'In your offspring, all the families of the earth shall be blessed.' When God raised up his servant, he sent him to you first to bless you by turning you from your evil ways."
Gospel
John 2: 1-11
At that time there was a wedding feast at Cana in Galilee, and the mother of Jesus was there. Jesus and his disciples had likewise been invited to celebration. At a certain point the wine ran out, and Jesus' mother told him, "There is no more wine." Jesus replied, "Woman, how does this concern of yours involve me? My hour has not yet come." His mother instructed those waiting on table, "Do whatever he tells you." As prescribed for Jewish ceremonial washings, there were at hand six stone water jars, each one holding fifteen to twenty-five gallons. "Fill those jars with water," Jesus ordered, at which they filled them to the brim. "Now," he said, "draw some out and take it to the waiter in charge."They did as he instructed them. The waiter in charge tasted the water made wine, without knowing where it had come from; only the waiters knew, since they had drawn the water. Then the waiter in charge called the groom over and remarked to him: "People usually serve the choice wine first; then when the guests have been drinking awhile, a lesser vintage. What you have done is keep the choice wine until now." Jesus performed this first of his signs at Cana in Galilee. Thus did he reveal his glory, and his disciples believed in him.
Icon courtesy of Jack Figel, Eastern Christian Publications – ecpubs.com
Sunday, April 16 –