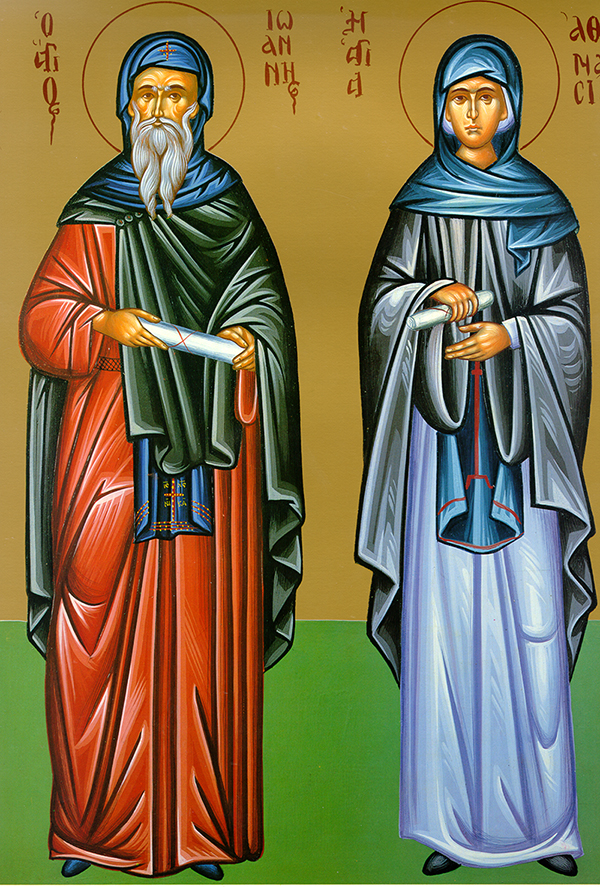 Our venerable father John was born at the end of the eighth century. At a young age he became a disciple of St. Gregory of Decapolis and accepted the monastic tonsure from him at the monastery in Thessalonica. Under the guidance of this experienced teacher, St. John attained great spiritual perfection. When the emperor Leo the Armenian (813-820) renewed the persecution against Orthodox Christians who venerated the holy icons, St. Gregory of Decapolis, St. Joseph the Hymnographer, and St. John went from Thessalonica to Constantinople to raise opposition to the Iconoclast heresy. In spite of the persecution, Saints Gregory and John fearlessly defended Orthodoxy for several years, and preached the veneration of icons. After many hardships, St. Gregory died (around 820), and soon after his faithful disciple John also departed for the Lord. St. Joseph the Hymnopgrapher transferred the relics of Saints Gregory and John and placed them in the church of St. Nicholas the Wonderworker.
Troparion
In you, O holy father John, the faithful image of God shone forth, for you carried your cross and followed Christ. You taught by your deeds how to spurn the body, for it passes away; and how to value the soul, for it is immortal. Therefore, your soul is forever in happiness with the angels.
Kontakion
Adorning your life with chastity, O father, you disciplined your body. You overcame the attacks of the for, O blessed saint, and you presented yourself before God to enjoy the life of unending bliss as you so richly deserve, O John. Pray to the Lord for our salvation.
Epistle
Acts 4: 1-10
In those days, while Peter and John were still addressing the crowd, the priests, the captain of the temple guard, and the Sadducees came up to them, angry because they were teaching the people and proclaiming the resurrection of the dead in the person of Jesus. It was evening by now, so they arrested them and put them in jail for the night. Despite this, many of those who had heard the speech believed; the number of men came to about five thousand.
When the leaders, the elders, and the scribes assembled the next day in Jerusalem, Annas the high priest, Caisphas, John, Alexander, and all who were of the high-priestly class were there. They brought Peter and John before them and began the interrogation in this fashion: "By what power or in whose name have men of your stripe done this?"
Then Peter, filled with the Holy Spirit, spoke up: "Leaders of the people! Elders! If we must answer today for a good deed done to cripple and explain how he was restored to health, then you and all the people of Israel must realize that it was done in the name of Jesus Christ the Nazorean whom you crucified and whom God raised from the dead. In the power of that name this man stands before you perfectly sound."
Gospel
John 3: 16-21
The Lord said, "God so loved the world that he gave his only Son, that whoever believes in him may not die but may have eternal life. God did not send the Son into the world to condemn the world, but that the world might be saved through him. Whoever believes in him avoids condemnation, but whoever does not believe is already condemned for not believing in the name of God's only Son. The judgment of condemnation is this: the light came into the world, but men loved darkness rather than light because their deeds were wicked. Everyone who practices evil hates the light; he does not come near it for fear his deeds will be exposed, But he who acts in truth comes into the light, to make clear that his deeds are done in God."
Icon courtesy of Jack Figel, Eastern Christian Publications – ecpubs.com
Monday, April 17 –