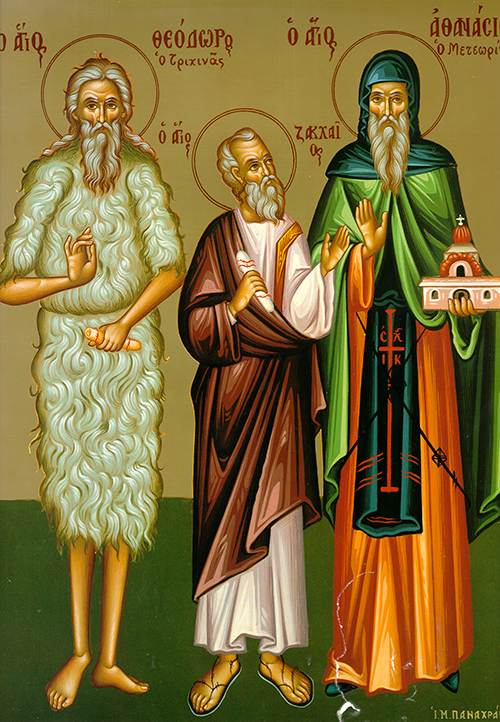 Our venerable father Theodore Trichinas was born in Constantinople to wealthy and pious parents. From childhood, St. Theodore was inclined toward monasticism, so he left his home, family, and former life in order to enter a monastery in Thrace. There he began his arduous ascetic struggles. He dressed in a hair-shirt, from which he derived the name "Trichinas" ("Hair-shirt Wearer"). He even slept on a stone in order to avoid bodily comfort, and to prevent himself from sleeping too much. His life was adorned with miracles, and he had the power to heal the sick. He reposed at the end of the fourth century or the beginning of the fifth century. A healing myrrh flows from his relics. The name of St. Theodore Trichinas is one of the most revered in the history of Orthodox monasticism. St. Joseph the Hymnographer composed a Canon to the saint.
Troparion
Your abundant tears made the wilderness bloom, and your sufferings made your labors fruitful a hundredfold; you became a shining torch over the world. O venerable father Theodore, pray to Christ our God that He may save our souls.
Kontakion
You became famous for your life, O wise father Theodore. For, dressed in the rough garment of a hair shirt, you won treasures in heaven, which surpass those of any king. Now you have traded your laborer's garb for heaven's robes. Pray unceasingly for all of us, O venerable father.
Epistle
Acts 4: 23-31
In those days, after being released (from court), Peter and John went back to their own people and told them what the priests and elders had said. All raised their voices in prayer to God on hearing the story: "Sovereign Lord, who made heaven and earth and sea and all that is in them, you have said by the Holy Spirit through the lips of our father David your servant: 'Why did Gentiles rage, the peoples conspire in folly? The kings of the earth were aligned, and the princes gathered together against the Lord and against his anointed.' Indeed, they gathered in this very city against your holy Servant, Jesus, whom you anointed– Herod and Pontius Pilate in league with the Gentiles and the peoples of Israel. They have brought about the very things which in your powerful providence you planned long ago. But now, O Lord, look at the threats they are leveling against us. Grant to your servants, even as they speak your words, complete assurance by stretching forth your hands in cures and signs and wonders to be worked in the name of Jesus, your holy Servant."
The place where they gathered shook as they prayed. They were filled with the Holy Spirit and continued to speak God's word with confidence.
Gospel
John 5: 24-30
The Lord said, "I solemnly assure you, the man who hears my word and has faith in him who sent me possesses eternal life. He does not come under condemnation, but has passed from death to life. I solemnly assure you, an hour is coming, has indeed come, when the dead shall hear the voice of the Son of God, and those who have heeded it shall live. Indeed, just as the Father possesses life in himself, so has he granted to the Son to have life in himself. The Father has given over to him power to pass judgment because he is Son of Man; no need for you to be surprised at this, for an hour is coming in which all those in their tombs shall hear his voice and come forth. Those who have done right shall rise to live; the evildoers shall rise to be damned. I cannot do anything myself. I judge as I hear and my judgment is honest because I am not seeking my own will but the will of him who sent me."
Icon courtesy of Jack Figel, Eastern Christian Publications – ecpubs.com
Wednesday, April 19 –