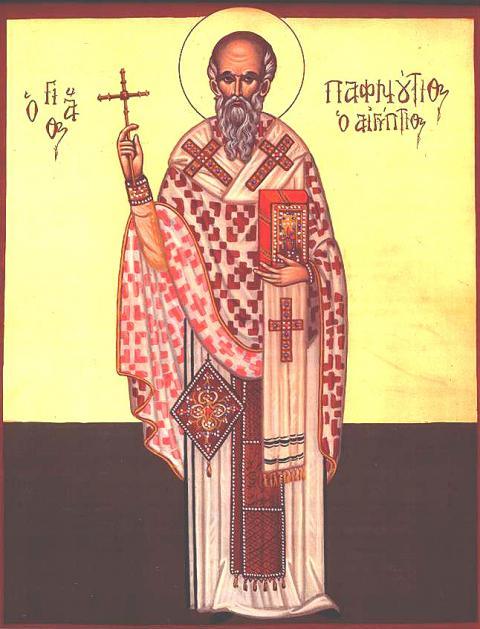 Our venerable father John of the Ancient Caves is so called because he lived in the Lavra of St. Chariton during the eighth century. This was called the "Old," or ancient cave, since it was one of the oldest of the Palestinian monasteries. The Lavra was situated not far from Bethlehem, near the Dead Sea. In his early years, St. John went to venerate the holy places of Jerusalem, and settled at the Lavra, where he labored in fasting, vigil, and prayer. He was ordained to the holy priesthood, and glorified by his ascetic life.
Troparion
In you, O holy father John, the faithful image of God shone forth, for you carried your cross and followed Christ. You taught by your deeds how to spurn the body, for it passes away; and how to value the soul, for it is immortal. Therefore, your soul is forever in happiness with the angels.
Kontakion
You gave up food, wealth, and fame, and you lived as a wander in the deserts. You withered your body by your abstinence, and with courage you passed your life in silence. For this we sing to you, O venerable model of virtue: Beg Christ our God to forgive the sins of those who lovingly cherish your memory.
Epistle
Acts 4: 13-22
In those days, observing the self-assurance of Peter and John, and realizing that the speakers were uneducated men of no standing, the leaders, the elders, and the scribes were amazed. Then they recognized these men as having been with Jesus. When they saw the man who has been cured standing there with Peter and John, they could think of nothing to say, so they ordered them out of the court while they held a consultation. "What shall we do with these men? Everyone who lives in Jerusalem knows what a remarkable show of power took place through them. We cannot deny it. To stop this from spreading further among the people we must give them a stern warning never to mention that man's name to anyone again." So they called them back and made it clear that under no circumstances were they to speak the name of Jesus or teach about him. Peter and John answered, "Judge for yourselves whether it is right in God's sight for us to obey you rather than God. Surely we cannot help speaking of what we have heard and seen." At that point they were dismissed with further warnings. The court could find no way to punish them because of the people, all of whom were praising God for what had happened. The fact was, the man thus miraculously cured was more than forty years of age.
Gospel
John 5: 17-24
The Lord said, "My Father is at work until now, and I am at work as well." The reason why the Jews were even more determined to kill him was that he not only was breaking the sabbath but, worse still, was speaking of God as his own Father, thereby making himself God's equal.
This was Jesus' answer: "I solemnly assure you, the Son cannot do anything by himself – he can do only what he sees the Father doing. For whatever the Father does, the Son does likewise. For the Father loves the Son and everything the Father does he shows him. Yes, to your great wonderment, he will show him even greater works than these. Indeed, just as the Father raises the dead and grants life, so the Son grants life to those whom he wishes. The Father himself judges no one, but has assigned all judgment to the Son, so that all men may honor the Son just as they honor the Father. He who refuses to honor the Son refuses to honor the Father who sent him. I solemnly assure you, the man who hears my word and has faith in him who sent me possesses eternal life. He does not come under condemnation, but has passed from death to life."
Icon courtesy of Jack Figel, Eastern Christian Publications – ecpubs.com
Tuesday, April 18 –