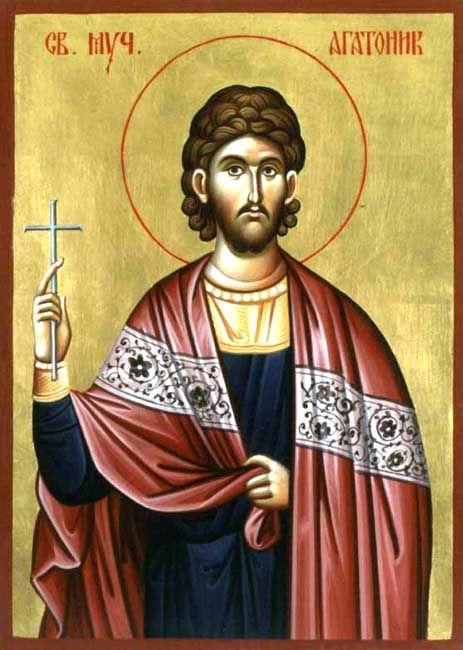 St. Agathonicus was a citizen of Nicomedia and a Christian by faith. With great zeal he converted the Hellenes from idolatry and instructed them in the true Faith. At emperor Maximian's orders, the regional governor cruelly persecuted Christians. The deputy captured St. Zoticus in a place called Carpe. He crucified Zoticus' disciples and brought Zoticus himself to Nicomedia where he also captured and bound Agathonicus, Princeps, Theoprepius, Acindynus, Severianus, Zeno and many others. Securely bound, they were all taken to Byzantium. As they traveled, Saints Zoticus, Theoprepius, and Acindynus died of their many wounds and exhaustion. Severianus was slain near Chalcedon. Agathonicus and the others were taken to Silybria in Thrace. There, after being tortured in the emperor's presence, they were beheaded, and entered into eternal life and the joy of their Lord.
Troparion
O Lord our God, your holy martyrs have deserved the crown of immortality on account of their good fight. Armed with your strength, they have vanquished their persecutors and crushed Satan's dreadful might. Through their supplications, O Christ our God, save our souls.
Kontakion
O holy martyr, you have gained a good name for yourself; you put an end to the worship of the evil ones without fearing the suffering that you would bear. Therefore, you have inherited the eternal gifts, O Agathonicus, and together with your companions, you were worthy to obtain the crowns of heaven.
Epistle
2 Corinthians 5: 10-15
Brothers and sisters: The lives of all of us are to be revealed before the tribunal of Christ so that each one may receive his recompense, good or bad, according to his life in the body.
Standing in awe of the Lord we try to persuade men, but what we are is known to God. I hope that it is also known to you in your consciences. We shall not begin to recommend ourselves to you again, but we are giving you an opportunity to boast about us so that you may have something to say to those who take pride in external appearances, and not in what lies in the heart. Indeed, if we are ever caught up out of ourselves, God is the reason; and when we are brought back to our senses, it is for your sakes. The love of Christ impels us who have reached the conviction that since one died for all, all died. He died for all so that those who love might live no longer for themselves, but for him who for their sakes died and was raised up.
Gospel
Mark 1: 9-15
At that time Jesus came from Nazareth in Galilee and was baptized in the Jordan by John. Immediately on coming up out of the water he saw the sky rent in two and the Spirit descending in him like a dove. Then a voice came from the heavens: "You are my beloved Son. On you my favor rests."
At that point the Spirit sent him out toward the desert. He stayed in the wasteland forty days, put to the test there by Satan. He was with the wild beasts, and angels waited on him.
After John's arrest, Jesus appeared in Galilee proclaiming the good news of God: "This is the time of fulfillment. The reign of God is at hand! Reform your lives and believe in the gospel."
Icon courtesy of Jack Figel, Eastern Christian Publications – ecpubs.com
Sunday, August 21 –