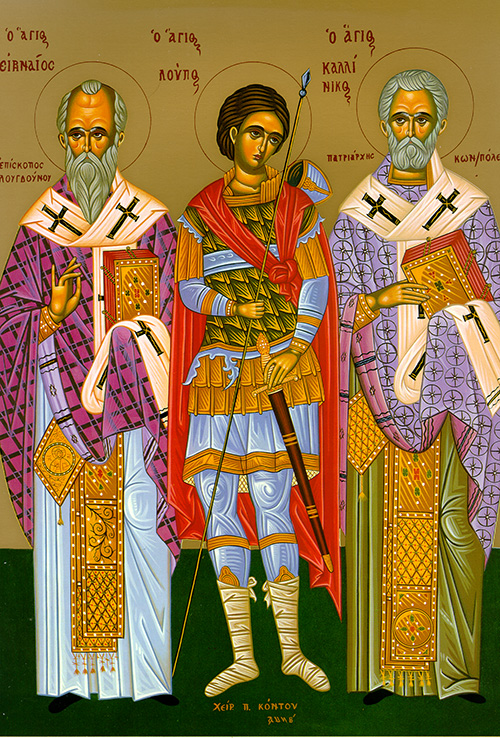 The martyr Lupus was a servant of St. Demetrius of Salonica. When his master was beheaded by the emperor Maximian, Lupus dipped the hem of his garment and his ring into his master's blood. Through these relics he worked many miracles, even though he was not yet baptized. Having miraculously received the Holy Mysteries, he was beheaded in the year 306.
The holy martyr Irenaeus, bishop of Lyons, was sent by St. Polycarp from Asia Minor to preach in Gaul. He became the first bishop of Lyons and brought many pagans to the faith. In his numerous writings, Irenaeus both expounded the othrodox faith and defended it against heretics. He suffered for Christ in the year 202 during the reign of the emperor Severus.
Troparion
Your martyr Lupus, O Lord our God, in his struggle received an incorruptible crown from You. With Your strength, he brought down the tyrants and broke the cowardly valor of demons. Through his prayers, O Christ our God, save our souls.
Kontakion
You have become a brilliant star to guide the earth, heralding the dawn of Christ. You have wiped out guile and you give us light, O long-suffering Lupus. Pray unceasingly for all of us.
Epistle
2 Corinthians 5: 15-21
Brothers and sisters: Christ died for all so that those who live might live no longer for themselves, but for him who for their sakes died and was raised up. Because of this we no longer look on anyone in terms of mere human judgment. If at one time we so regarded Christ, we no longer know him by this standard. This means that if anyone is in Christ, he is a new creation. The old order has passed away; now all is new! All this has been done by God, who has reconciled us to himself through Christ and has given us the ministry of reconciliation. I mean that God, in Christ, was reconciling the world to himself, not counting men's transgressions against them, and that he has entrusted the message of reconciliation to us. This makes us ambassadors for Christ, God as it were appealing through us. We implore you, in Christ's name: be reconciled to God! For our sakes God made him who did not know sin, to be sin, so that in him we might become the very holiness of God.
Gospel
Mark 1: 16-22
At that time as Jesus made his way along the Sea of Galilee, he observed Simon and his brother Andrew casting their nets into the sea; they were fishermen. Jesus said to them, "Come after me; I will make you fishers of men." They immediately abandoned their nets and became his followers. Proceeding a little farther along, he caught sight of James and John, the sons of Zebedee. They too were in their boat putting their nets in order. Jesus summoned them on the spot. They abandoned their father, Zebedee, who was in the boat with the hired men, and went off in Jesus' company. Shortly afterward they came to Capernaum, and on the sabbath Jesus entered the synagogue and began to teach. The people were spellbound by his teaching because he taught with authority, and not like the scribes.
Icon courtesy of Jack Figel, Eastern Christian Publications – ecpubs.com
Monday, August 22 –