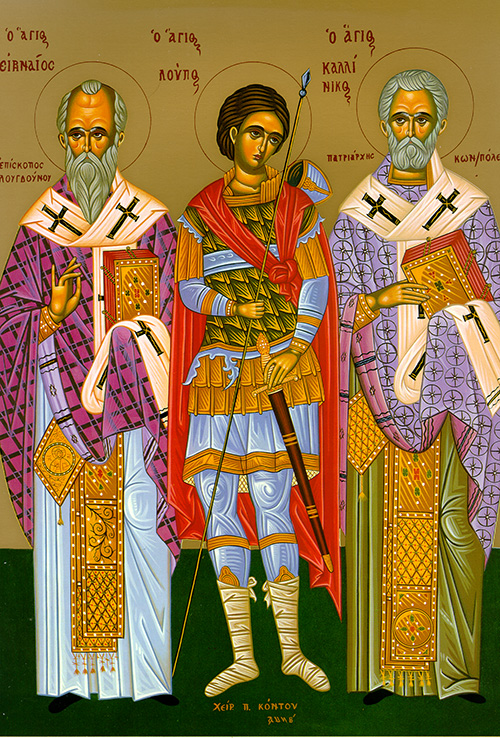 The martyr Lupus was a servant of St. Demetrius of Salonica. When his master was beheaded by the emperor Maximian, Lupus dipped the hem of his garment and his ring into his master's blood. Through these relics he worked many miracles, even though he was not yet baptized. Having miraculously received the Holy Mysteries, he was beheaded in the year 306.
The holy martyr Irenaeus, bishop of Lyons, was sent by St. Polycarp from Asia Minor to preach in Gaul. He became the first bishop of Lyons and brought many pagans to the faith. In his numerous writings, Irenaeus both expounded the othrodox faith and defended it against heretics. He suffered for Christ in the year 202 during the reign of the emperor Severus.
Troparion
Your martyr Lupus, O Lord our God, in his struggle received an incorruptible crown from You. With Your strength, he brought down the tyrants and broke the cowardly valor of demons. Through his prayers, O Christ our God, save our souls.
Kontakion
You have become a brilliant star to guide the earth, heralding the dawn of Christ. You have wiped out guile and you give us light, O long-suffering Lupus. Pray unceasingly for all of us.
Epistle
2 Corinthians 9:12 – 10:7
Brothers and sisters: the administering of this [charity collection] not only supplies the needs of the members of the church but also overflows in much gratitude to God. Because of your praiseworthy service they are glorifying God for your obedient faith in the gospel of Christ, and for your generosity in sharing with them and with all. They pray for you longingly because of the surpassing grace God has given you. Thanks be to God for his indescribable gift!
I, Paul, exhort you be the meekness and kindness of Christ, I who (you say) when present in your midst am lowly, but when absent am bold toward you. I beg you that when I am there, I may not have to act boldly, with that assurance I might dare to use courageously against certain ones who accuse us of weak human behavior. We do indeed live in the body but we do not wage war with human resources. The weapons of our warfare are not merely human. They possess God's power for the destruction of the strongholds. We demolish sophistries and every proud pretension that raises itself against the knowledge of God; we likewise bring every thought into captivity to make it obedient to Christ. We are ready to punish disobedience in anyone else once your own disobedience is perfect. You view things superficially. If anyone is convinced that he belongs to Christ, let him reflect on this: he may belong to Christ but just as much as we do.
Gospel
Mark 3: 20-27
At that time Jesus returned to the house with the Twelve and again the crowd assembled making it impossible for them to get any food whatever. When his family heard of this they came to take charge of him, saying, "He is out of his mind"; while the scribes who arrived from Jerusalem asserted, "He is possessed by Beelzebul,: and "He expels demons with the help of the prince of demons." Summoning the scribes, Jesus then began to speak to them by the way of examples: "How can Satan expel Satan? If a kingdom is torn by civil strife, that kingdom cannot last. If a household is divided according to loyalties, that household will not survive. Similarly, if Satan has suffered mutiny in his ranks and is torn by dissension, he cannot endure; he is finished. No one can enter a strong man's house and despoil his property unless he has first put him under restraint. Only then can he plunder the house."
Icon courtesy of Jack Figel, Eastern Christian Publications – ecpubs.com
Tuesday, August 22 –