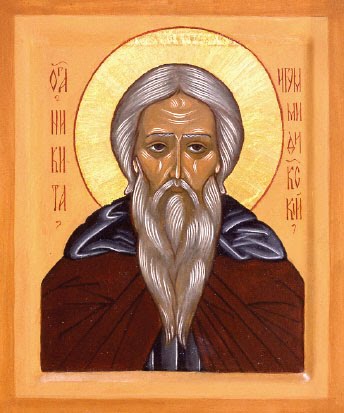 The hieromartyr Eutyches, a disciple of the holy Apostles John the Theologian and Paul, was from the Palestinian city of Sebastea. Although St. Eutyches is not one of the 70 Apostles, he is called an Apostle because of his labors with the older Apostles, by whom he was made bishop. After hearing about Christ the Savior, St. Eutyches first became a disciple of the Apostle John the Theologian. Later, he met the Apostle Paul, and preached together with him on the early journeys. St. Eutyches underwent many sufferings: they starved him with hunger, beat him with iron rods, they threw him into the fire, and then sent him to be devoured by wild beasts. Once, a lion was let loose upon the saint, but it astonished everyone when the animal started to praise the Creator with a human voice. The hieromartyr Eutyches completed his labors in his native city, where he was beheaded with a sword at the beginning of the second century.
Troparion
You shared in the apostles' way of life and succeeded to their throne, divinely inspired bishop. You found access to contemplation in the active life. Therefore, you rightly taught the word of truth and struggled for the faith to the shedding of your blood. O Priest Martyr Eutyches, pray to Christ our God to save our souls.
Kontakion
You sat on the chair of the apostles, and you were the honor of pastors. You decorated all your labors with martyr's blood, and you shine with the brilliance of the sun. You disperse the night of godlessness and enlighten all people. Therefore, we honor you as a true priest.
Epistle
2 Corinthians 10: 7-18
Brothers and sisters: You view things superficially. If anyone is convinced that he belongs to Christ, let him reflect on this: he may belong to Christ but just as much do we. If I find I must make a few further claims about the power the Lord has given us for your upbuilding and not for your destruction, this will not embarrass me in the least. At the same time, I do not wish to intimidate you with my letters. His letters, they say, are severe and forceful, but when he is here in person he is unimpressive and his word makes no great impact. Well, let such people give this some thought, that what we are by word, in the letters during our absence, that we mean to be in action when we are present.
We are not so bold, of course, as to classify or compare ourselves with certain people who recommend themselves. Since people like that are their own appraisers, comparing themselves with one another, they only demonstrate their ignorance. When we make claims we will not go over the mark but will stay within the bounds the God of moderation has set for us – leading us to you. We are not overreaching ourselves, as we should be doing if we had not bothered to come to you. But indeed we did get as far as you with the gospel of Christ. We do not boast immoderately of the work of others; we hope that as your faith grows our influence may also grow among you and overflow. Following the rule laid down for us, we hope to preach the gospel even beyond your borders without having to boast of work already done by another in his allotted territory. [As I said to you previously], "Let him who would boast, boast in the Lord." It is not the man who recommends himself who is approved but the man whom the Lord recommends.
Gospel
Mark 3: 28-35
The Lord said to his disciples: "I give you my word, every sin will be forgiven mankind and all the blasphemies men utter, but whoever blasphemes against the Holy Spirit will never be forgiven. He carries the guilt of his sin without end." He spoke thus because they had said, "He is possessed by an unclean spirit."
His mother and his brothers arrived, and as they stood outside they sent word to him to come out. The crowd seated around him told him, "Your mother and your brothers and sisters are outside asking for you." He said in reply, "Who are my mother and my brothers?" And gazing around him at those seated in the circle he continued, "These are my mother and my brothers. Whoever does the will of God is brother and sister and mother to me."
Icon courtesy of Jack Figel, Eastern Christian Publications – ecpubs.com
Wednesday, August 23 –